VILT Outsourcing: Making The Final Choice
A little investment now can save you a lot later on. Not only money, but stress, deliverable disappointments, and collaborative conflicts. Hiring Virtual Instructor-Led Training vendors gives you the opportunity to evaluate their skills, work practices, and ID methodologies firsthand in order to delve into their industry experience and design approach before you partner up for long-term projects. You can even use test projects to break the tie and determine which online training solutions are right for your VILT strategy—and budget. How do you even broach the subject with VILT vendors? What should you look for in the finished product? These 7 tips can help you hire the best computer-based training vendors for sample projects to mitigate outsourcing risks.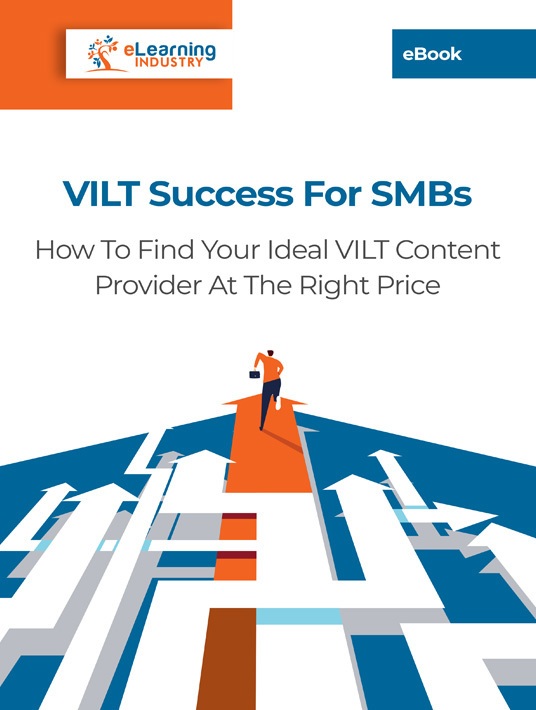 eBook Release
VILT Success For SMBs: How To Find Your Ideal VILT Content Provider At The Right Price
Get all the inside information you need to launch a VILT strategy on a tight budget.
1. Start With A VILT RFP
You should still lead off with a VILT RFP to solicit vendor proposals. In fact, you can include a brief clause regarding the sample project to request a separate estimate. This also lets outsourcing partners know that a test activity is part of your evaluation process, instead of catching them off-guard after they've already submitted their responses. Be sure to outline the online training objectives, budget, and expected deliverables for the sample, as well as the timeline and phases, if possible.
2. Draw Up A Test Project Contract
There must be a contract in place anytime you work with an outsourcing company, even if you've partnered with them in the past or the project has a very limited scope. Get it all in writing to avoid confusion. This also gives you the chance to evaluate their contractual negotiations and terms. Do they supply the contract or are you responsible for drawing up the agreement? Is the language clear and easy to understand? Does it include any surprise fees you didn't account for? Are they willing to bend a little when it comes to add-on services?
3. Outline The Evaluation Criteria
The RFP explains how your organization will evaluate proposals. But there should be separate assessment criteria for the sample project itself, given that it's more involved and delves into the work process and final outcomes. For instance, you get to gauge the VILT vendor's quality of service and communication guidelines throughout the sample project. As well as determine if their qualifications and skills translate into real-world benefits. They have all the tools of the trade and SME input. But can they transform that into an engaging VILT experience?
4. Agree On The Price Point And Deliverables Beforehand
You might hire the computer-based training provider for several deliverables to test the range of their talents. Or you prefer to stick with one activity to mitigate the financial risk. Whatever the case, you must clarify the pricing terms and deliverables included before finalizing the contract. They must provide you with these resources by this date, and this is the fee for each piece of content. If they're hosting a VILT event on your behalf, specify the length, visual aids, and supplemental online training resources included.
5. Provide Necessary Resources And Online Training Data
Supply the VILT vendor with reusable content and online training data, as outlined in the contract. For instance, they need multimedia from your asset online training library to stretch the budget. Or LMS metrics to identify existing gaps and develop relevant support tools. Another option is to hire them for a targeted TNA project before they create the VILT content. In this case, they must focus on a specific aspect of your online training program to disclose areas for improvement. For example, your customer service compliance program or the warehouse safety training certification course.
6. Host An In-House Review Session
This is when the tie-breaker comes into play. If you contracted more than one VILT provider for the sample project, you need to weigh all the options side by side. Gather your team and assess the finished products. Is there a particular deliverable that stands out and why? Can you immediately cross a vendor off the list due to a negative experience you had during the project? Is the end result worth the investment? Ask your staffers to point out what they like best and least about each deliverable. They should also feel free to share any personal anecdotes about working with the vendor. For instance, your L&D manager had to answer numerous questions about issues that were already addressed in the contract.
7. Schedule An eLearning Feedback Meeting
Meet with the computer-based training firm to discuss your concerns and recap the overall experience. They have the opportunity to clear up any issues that arose during the test project. For example, explain why it took a bit longer than expected or why they took one ID approach over another. The problems you disclosed during the in-house eLearning feedback session may be a simple matter of miscommunication. There was confusion about what the services involved or possibly even unclear objectives. Now is the time to work out all these issues rather than dealing with them in the long-term project. Especially if the VILT vendor has all the necessary qualifications and you only encountered minor sticking points during the test.
Sample projects are not the only vendor vetting tool in your arsenal. In fact, there are many free resources you can use in combination. For example, draw up a series of questions to evaluate eLearning content providers' work practices and insider expertise. Or create a good old-fashioned pros-and-cons list for your top choices to compare them side by side. Which VILT vendor has the most SME know-how and Instructional Design experience? Is there an eLearning content provider with more technical experience than the others? Of course, value for money should also factor into the equation.
You can discover even more tips on how to choose the right VILT content provider for your business in our eBook VILT Success For SMBs: How To Find Your Ideal VILT Content Provider At The Right Price. Benefit from top VILT vendors' experience and know-how and reach your online training objectives even if you are on a tight budget.