8 Features To Include In Your VILT Program
Virtual Instructor-Led Training involves synchronous sessions, online discussions, and real-time support. But web conferencing training events are just one piece of the employee development puzzle. There are countless other tasks to incorporate into your VILT strategy to hone in-house talent and enhance Performance Management. Projects that are ideally suited for eLearning outsourcing to alleviate the burden on your L&D team and stretch available resources. So, which items should you include in your RFP to training companies instead of tackling them internally? Here are 8 top VILT solutions that can boost your bottom line and remote employee engagement.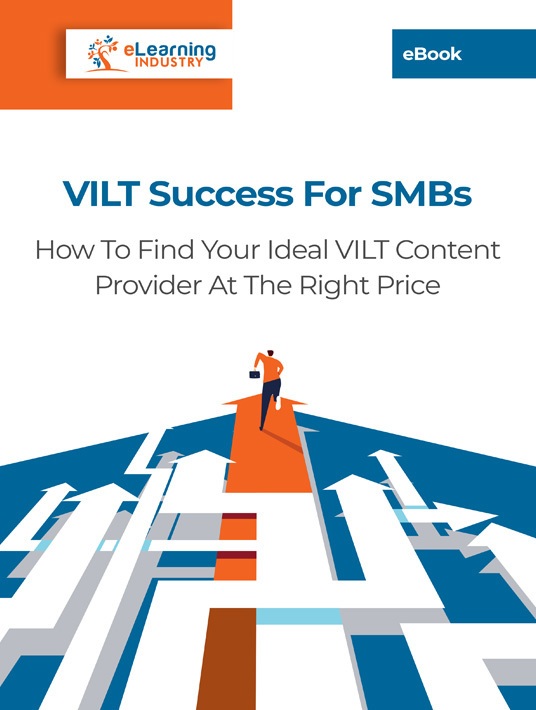 eBook Release
VILT Success For SMBs: How To Find Your Ideal VILT Content Provider At The Right Price
Get all the inside information you need to launch a VILT strategy on a tight budget.
1. Training Needs Analysis
You may want to involve VILT companies in the early stages of your online training strategy, long before you enlist them for live events or content development. Hire an outsourcing partner for a Training Needs Analysis to help you pinpoint gaps and clarify online training objectives. This might involve LMS metrics, employee surveys, and business reports to identify hidden areas for improvement. Keep in mind that these vendors are experienced in online training troubleshooting. They know where to look and how to analyze your current L&D strategy objectively, as opposed to in-house TNA, wherein staffers may be "too close" to the content to detect issues. For instance, they helped create support online training resources or the VILT curriculum. A fresh set of eyes can evaluate the plan from a different point of view and make a logical assessment.
2. Gamification Design
Gamification is a Virtual Instructor-Led Training pairing because it fuels employee motivation. Attendees who are reluctant to participate are more inclined to do so if there are rewards involved. If they can spark friendly competition and track their personal progress using badges, points, and leaderboards. Your VILT instructor can even incorporate games into the live session to boost employee training participants' engagement.
3. Online Training Content Customization
This VILT solution centers on online training content repurposing. You may have an online training library packed with outdated resources that just need a little TLC. Vendors can evaluate your asset repository and customize content so that it aligns with your current VILT strategy. Customization services also extend to bespoke content that's developed from the ground up. You outline the online training objectives, budget, and deliverables. Then the vendor utilizes eLearning authoring tools and SME knowledge to create the VILT curriculum.
4. Microlearning
Microlearning is another complementary solution for virtual online training as it enhances personalization and targets individual pain points. eLearning content providers can either develop a JIT support library from scratch or expand your existing repository. Employees use the bite-sized online training resources to broaden their knowledge base and fill in the VILT holes. For instance, they didn't quite grasp the COI protocols or task instructions during the live event. Microlearning demos, online training tutorials, and walkthroughs allow them to revisit the topic on their own time, at their own pace. Then they can follow up with peer coaching or one-on-one instructor meetings to address lingering gaps.
5. Social Learning
Social learning is an integral part of VILT because it facilitates remote peer interaction. Employees can log in to social media groups to discuss online training topics and ask questions. Or sign up for peer mentoring sessions to focus on areas of improvement in a more private setting. Another social learning outsourcing solution is online forums that require moderators to spark conversation and keep employee training participants on topic.
6. Simulations
One thing that's often missing from online events is hands-on training. You can always include real-world examples, personal anecdotes, and live demos. However, this doesn't give employees the opportunity to apply their skills and know-how firsthand. Simulations remedy this problem through practical application and mistake-driven learning. The eLearning content provider develops real-world simulations and branching scenarios that test employees' decision-making, creative reasoning, and interpersonal skills. They must use all the information from VILT to achieve the best outcome and avoid the most common pitfalls.
7. Online Webinars
Contrary to popular belief, online webinars and VILT are not the same. Online webinars are generally one-off events that focus on a specific topic or task, while VILT strategies are more comprehensive. They typically involve a series of live sessions that scaffold knowledge and provide continual support. Thus, you may want to hire a Virtual Instructor-Led Training company to host webinars, in addition to VILT courses. Another plus is that you can record webinars for later viewing and add them to your online training library. Or even repurpose them for future VILT programs to reduce spending and improve resource allocation. For instance, the recorded webinar is broken into 5 different demos or video clips the instructor can show during the synchronous session.
8. Podcast Development
Podcasts are one of the most underrated VILT tools. Your employees can simply slip in their earbuds and listen to tips and insider know-how after the event. Or even beforehand to prep for the next VILT session and refresh their memory. The eLearning content provider may even invite the guest host/instructor to produce a quick podcast while they're in the "studio" to reduce costs. Podcasts are also ideal for JIT support because employees can address emerging gaps right away instead of waiting until the next synchronous training session.
These are just a few VILT solutions to consider and you should feel free to expand the list based on your online training objectives and budget. You may also decide to handle some of these projects in-house because your team has the necessary experience and software. That's the beauty of VILT outsourcing. You have the flexibility to pick and choose VILT solutions that align with your organizational needs and available resources. For example, you may want to host the live session yourself and hire an eLearning content provider for supplementary support tools.
You can discover even more tips on how to choose the right VILT content provider for your business in our eBook VILT Success For SMBs: How To Find Your Ideal VILT Content Provider At The Right Price. Benefit from top VILT vendors' experience and know-how and reach your online training objectives even if you are on a tight budget.