Building A VILT Strategy On A Budget
VILT is quickly gaining popularity because it delivers face-to-face training on a global scale. Video conferencing tools, LMSs, and Project Management platforms allow you to host virtual sessions for your remote workforce and provide ongoing support. Everything happens in real time. This means that your team can engage with peers, instructors, and guest hosts to address gaps on the spot. However, as is the case with all online training initiatives, it all begins with a realistic VILT budget. You must identify your spending gap and do some market research to determine the ideal price range. Then leave a little buffer for those pesky unexpected fees. Here are 7 insider secrets to improve resource allocation and create an accurate VILT expense sheet.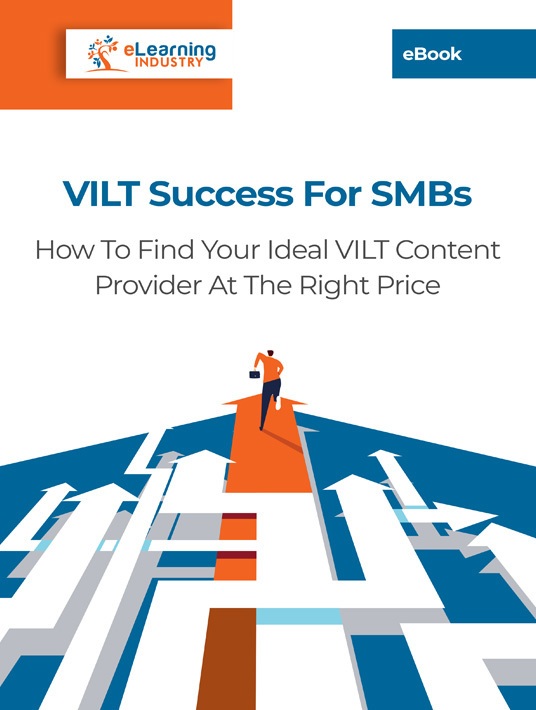 eBook Release
VILT Success For SMBs: How To Find Your Ideal VILT Content Provider At The Right Price
Get all the inside information you need to launch a VILT strategy on a tight budget.
1. Conduct A Thorough TNA
Budgeting starts with a Training Needs Analysis to identify pain points that your VILT strategy can improve on. Gaps that you must factor into your estimate to avoid overspending. For example, you need to focus on customer service skills to boost satisfaction scores and sales, which requires additional VILT resources and potentially hiring instructors with insider know-how and developing tie-in support tools. Another function of the TNA is to prioritize your Virtual Instructor-Led Training topics. Which performance or skills gaps should you target first to mitigate risks and improve on-the-job productivity?
2. Repurpose Existing Assets
Take stock of your asset library to look for reusable online training materials, such as webinars, video clips, and real-world examples that are just right for your VILT strategy. These can even be online training resources intended for the instructors or facilitators. Like online course outlines or demos that they can use to refresh their memory and create more effective online training plans. Repurposing assets helps reduce costs and implementation time because the basic building blocks are already in place.
3. Find Multipurpose Tools To Cut Costs
Many LMS platforms feature built-in video conferencing and authoring tools. This allows you to reduce your VILT budget and stretch resources even further. Concentrate on multipurpose tools—all-in-one systems—that facilitate remote collaboration among your team. For example, you're able to host live events, record the session, and incorporate supplemental online training tools, as well as foster peer-based support through PM features and social learning activities. Use an online directory to select platforms that offer the total package. This also prevents computability issues and long software learning curves, given that your team must only master one eLearning tool to develop, deploy, and track VILT initiatives.
4. Consider Off-The-Shelf Solutions
There are generally 3 approaches to VILT. The first is to handle everything in-house. You develop a curriculum, find the best instructors, and market upcoming events on your own. The second option is bespoke outsourcing. In this case, the vendor develops online training resources on your behalf and may even take care of the instructional portion. For example, they have a team of SMEs and guest hosts on hand. Then there are off-the-shelf solutions. These are pre-built Virtual Instructor-Led Training courses you can add to your online training library. The only caveat is that they don't occur in real time although you can host synchronous social media groups or IM chats during the event to facilitate peer-based knowledge sharing. Or even hire an SME to sit in and answer questions.
5. Identify In-House Versus Outsourcing Tasks
Separate internal tasks versus those you'll entrust to the Virtual Instructor-Led Training provider. There are multiple factors to consider. Does your team have the necessary experience or expertise? Are they already dealing with a heavy workload? Is it more cost-effective to outsource this aspect of the corporate eLearning project, even if you have all the essential tools and talents? You should also develop a separate budget for each to tally up the expenses and evaluate both sides from a financial standpoint.
6. Give Instructors Free Rein Of The Online Training Repository
Instructors can identify the best resources for the event based on their insider expertise. Invite them to search the online training repository to look for job aids, online training tutorials, and real-world activities. Or provide a list of online resources they may find useful. You can also launch an employee-generated library for JIT support. Instructors and facilitators can highlight these learner contributions during the next event to bridge knowledge gaps. This helps reduce online training costs without compromising employee engagement and peer-based support.
7. Leave A Little Wiggle Room
There's only one thing you can count on; unexpected fees are bound to pop up. Whether it's online training content revisions that take longer than usual or tech implementation delays. So, leave a buffer in your VILT budget for unwanted surprises. You should also reevaluate your budget regularly to ensure everything is accounted for. And that every item on the list is still worth the expense. A flexible budget gives you the opportunity to revisit outsourcing versus internal VILT costs, as well. For instance, you've been working on a VILT course internally for the past month and things are more challenging than expected. Thus, you can meet with the vendor to expand your contract and control spending.
These VILT budget tips can help you make the most of in-house assets and avoid unexpected expenses. It's also crucial to weigh all your options beforehand to determine if outsourcing is your best bet. In most cases, hiring an eLearning content provider improves employee engagement and reduces implementation time. These benefits are difficult to quantify but they have a significant impact on your business's bottom line. So, evaluate your budget holistically to choose the ideal implementation strategy and improve online training ROI.
You can discover even more tips on how to choose the right VILT content provider for your business in our eBook VILT Success For SMBs: How To Find Your Ideal VILT Content Provider At The Right Price. Benefit from top VILT vendors' experience and know-how and reach your online training objectives even if you are on a tight budget.