How To Evaluate A VILT Vendor's Website
Let's face it, the VILT vendor's landing page is designed to win you over to convince you that their customer service and L&D solutions are a cut above the competition and make a great first impression. Companies invest a sizable sum in their online presence and in building a solid reputation. So, the question is: how do you get beyond all the client success stories and USPs to evaluate your top choices? How do you sift through the abundance of information to find an outsourcing partner for VILT who truly aligns with your online training needs? This is what this article is all about. I'll highlight 8 things to look for in the VILT eLearning company's portfolio and website, as well as tips to weigh all the options and maximize online training returns.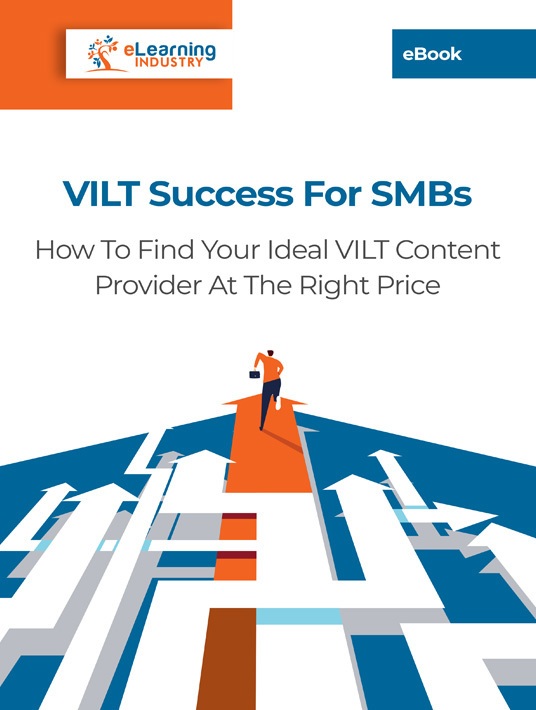 eBook Release
VILT Success For SMBs: How To Find Your Ideal VILT Content Provider At The Right Price
Get all the inside information you need to launch a VILT strategy on a tight budget.
1. Overall Aesthetics And Design Skills
Looks aren't everything, but you need VILT content that's attention-grabbing and aesthetically pleasing. Evaluate the landing page and portfolio visual elements, layout, and interactions. Are they easy to navigate? Are the aesthetics over-the-top or outdated? The goal is to find a VILT eLearning company that lets their content and solutions speak for themselves, instead of trying to dazzle you with busy color schemes, buttons, and hot spots. That said, they should take pride in their design skills.
2. Sample Projects With A Similar Use Case
Vendors tend to include a broad range of samples in their portfolio because they want to show off their tech talents and breadth of experience. However, you should focus on examples with a similar use case. For instance, this project involves the same industry, online training topic, and staff size. That being said, it's also wise to review the entire portfolio to look for cross-contextual items, such as activities or eLearning design components that could easily apply to your VILT strategy. Even though the sample centers on a different sector or specialization area.
3. Project Parameters
It's not enough for vendors to simply compile their work and try to wow you with the interactivity. Virtual Instructor-Led Training is all about results. You must achieve the outcomes for minimal investment to boost ROI. Therefore, VILT companies need to include project details like online training objectives, budget, and challenges. What was the client's primary aim, and did they accomplish the task? Did they come in under budget and how long did it take to develop content? Did they learn anything from the experience that they've carried over to other projects?
4. Additional Online Training Solutions
Computer-based training providers should have an extensive list of online training solutions on their landing page. Even if it's just a brief rundown of all the services they provide and the industries they cater to. Bonus points for separate pages that cover each topic or task individually and how they tackle relevant challenges. For example, they have a section devoted to microlearning development and everything it entails, from TNA to bite-sized performance support tools.
5. Satisfied Clients
VILT companies often feature success stories or client reviews on their site. It shows you that other organizations have benefited from the vendor's insider expertise and that there's minimal risk involved, as opposed to hiring an outsourcing partner with no client testimonials or third-party reviews. Granted, they probably won't include negative opinions, but that's what unbiased online directories are for.
6. Team Info And Background Experience
The eLearning content provider doesn't have to post a bio for every member of their team. However, they should have a brief intro for their leaders and points of contact. Such as their background, ID experience, and strong suits. They can also include a more generalized team overview to highlight collective talents, skills, and SME know-how. For example, their dedicated instructors and online training facilitators have 25 years of experience, while their SMEs can handle everything from interpersonal skill development to leadership Performance Management.
7. Support Services
Many organizations associate support services with online training software versus outsourcing partners. They add toll-free phone, online knowledge bases, and email support services to their LMS must-have list. But these are just as crucial for VILT content providers. The vendor must stand behind their service and ensure that you're satisfied with the final outcome. They also need to help you implement online training in your organization and overcome technical hurdles, rather than simply sending the deliverable and leaving you to your own devices. This is why it's crucial to include a support clause in your contract. From email contacts to login info for their client library.
8. Mission Statement Or USP
All of the elements above should help you differentiate the VILT provider from their competition. However, they must also include their USP and mission statement for the sake of clarity. What real-world benefits can they bring to their clients? What are their VILT development and implementation approach? Are there any unique services or qualifications that make them stand out from the crowd? The bottom line is: what value can they bring to your computer-based training program that you won't find elsewhere?
Sometimes it's good to step back and assess all your options objectively. Is there something that stands out about this vendor's site versus other VILT eLearning companies? Does their overall aesthetic fall in line with your brand image? Do they have specific examples that support your use case? Though cost is a crucial factor, you should also consider support, niche expertise, and turnaround time. When you're ready, submit RFPs to your top candidates for personalized estimates and implementation schedules.
You can discover even more tips on how to choose the right VILT content provider for your business in our eBook VILT Success For SMBs: How To Find Your Ideal VILT Content Provider At The Right Price. Benefit from top VILT vendors' experience and know-how and reach your online training objectives even if you are on a tight budget.