Tips For VILT Content Provider Vetting
SMBs face unique challenges that often revolve around finances. They must achieve the same goals and objectives as larger companies, even if it's on a smaller scale, as well as support their team and facilitate ongoing training. All while steadily increasing their market share and watching their pocketbook. Thankfully, outsourcing VILT can help you personalize the experience without bending your budget. It combines web conferencing software, industry experts, and peer-based collaboration to bridge gaps on the spot. But how do you know which outsourcing partners are worth the investment? Follow these 8 steps to choose a VILT content provider for your SMB.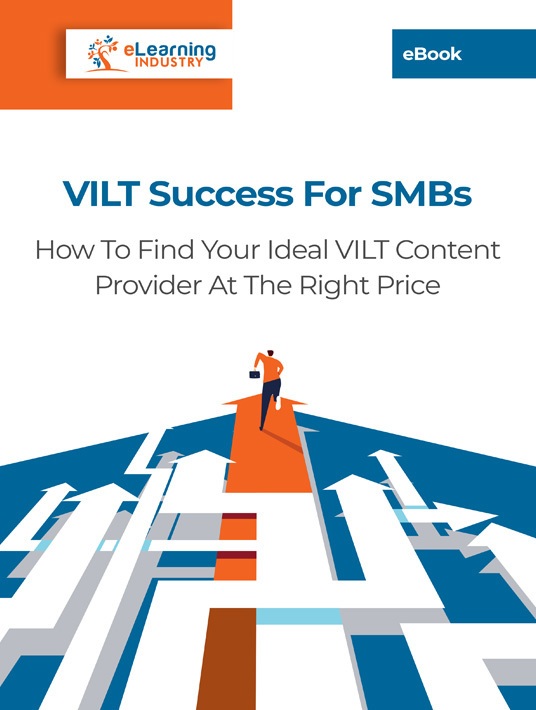 eBook Release
VILT Success For SMBs: How To Find Your Ideal VILT Content Provider At The Right Price
Get all the inside information you need to launch a VILT strategy on a tight budget.
1. Clarify Your Budget And Timeline
Price isn't everything, but it is one of the first hurdles to overcome. Evaluate your current budget through an outsourcing lens. How much can you realistically spend on the VILT content provider? Are there any tasks that your team can handle more cost-effectively? There's also the small matter of your implementation timeline. How quickly do you need to deploy training and is this even feasible with an outsourcing partner? Bear in mind that the schedule should be flexible to accommodate the vendor's workload. For example, you may need to add another 3 weeks to your online training development timeline because they're busy with other projects at the moment. Or your original schedule was unrealistic, given that they need more time for revisions or SME contributions.
2. Pinpoint Performance And Skill Gaps
Performance, skill, and knowledge gaps are the thorn in your side. That's why you're launching a VILT strategy to alleviate pain points quickly and get employees actively involved in Performance Management. But you must identify these areas for improvement to fine-tune your online training objectives and goals. Analyze LMS metrics, employee assessments, and on-the-job evaluations to narrow the VILT project scope.
3. Use Online Directories And Reviews To Compile A Shortlist
Online directories, user reviews, and ratings can help you identify top Virtual Instructor-Led Training companies in your niche. Each listing features a company bio, solutions list, and specialization areas to simplify the selection process. While online ratings and reviews give you the inside scoop regarding customer service, quality of work, and communication with the vendor. As a result, you can quickly compile a shortlist of prime outsourcing candidates who follow virtual training best practices.
4. Evaluate Vendor Sites
Sure, eLearning vendor sites are a bit biased. They only feature glowing reviews from satisfied clients, and they're filled with USPs and key selling points. However, you learn a lot about their work practices, design skills, and eLearning offerings. Their landing page should cover all the basics. From their mission statement to the solutions they provide for SMBs, as well as VILT benefits they can bring to your organization.
5. Check Out The Online Portfolio
Virtual Instructor-Led Training content providers must have a portfolio that shows off their level of expertise and IT skills. In the case of VILT, the portfolio must include the use case, associated challenges, online training objectives, and a clip of the live event. Or at least a snippet of the curriculum so that you can assess their qualifications. If the vendor cannot highlight past projects for confidentiality reasons, there should be samples that showcase their breadth of experience.
6. Submit RFPs
One of the top virtual training best practices for outsourcing is submitting RFPs to your top choices. This goes to vendors who specialize in your industry and fall into your price range. This request outlines everything from the deliverables and online training objectives to budget and implementation timeline. As a result, vendors can provide realistic estimates and roll out schedules to help you make your final buying decision. Remember to include evaluation criteria and follow-up protocols so that companies know what to expect. For example, your top 3 options should be ready and willing to complete a paid test project.
7. Compare All The Options And Their Price Points
You already have a handful of vendors on your radar. These are the VILT providers with a proven track record and impressive portfolio. Now it's time to weigh all your options side by side to declare a winner. One of the most effective ways to compare VILT companies is to draw up an expense sheet and list of tasks/solutions for each vendor. Then determine which outsourcing partner delivers the best ROI. You can also turn to social media for recommendations. Or host an internal meeting to break the tie. For example, invite key members of your L&D and HR team to gather their eLearning feedback. They can evaluate Virtual Instructor-Led Training providers based on their department gaps and goals as well as employee expectations and preferences.
8. Schedule A Follow-Up Meeting
VILT content providers should be willing to meet with clients who've already submitted RFPs and are serious about outsourcing. These follow-up meetings give you the chance to expand on the corporate eLearning project details, objectives, and cost concerns. You can also chat about their work process and how they can achieve the desired results without going over budget. Get a feel for their personality and professionalism to ensure they align with your brand image.
You shouldn't have to compromise on online training solutions or vendor support simply because you haven't made it to the Fortune 500 list (yet). There are numerous vendors that cater to smaller organizations with lower spending caps. This article can help you choose the best VILT content provider within your budget. The key is to clarify your online training needs, pricing parameters, and expectations beforehand. Then use free online resources to identify your top choices and reach out to qualified vendors for accurate cost estimates.
You can discover even more tips on how to choose the right VILT content provider for your business in our eBook VILT Success For SMBs: How To Find Your Ideal VILT Content Provider At The Right Price. Benefit from top VILT vendors' experience and know-how and reach your online training objectives even if you are on a tight budget.