Why VILT Outsourcing Is The Best Option
Many organizations immediately rule out online training content outsourcing right off the bat because they assume it's too expensive. Or that it will only lead to personality conflicts and power struggles. That you must relinquish total creative control in order to achieve the desired results. The tragedy is that all these businesses are missing out on third-party expertise because of myths and misconceptions. You can have your cake and eat it too if you find the right Virtual Instructor-Led Training provider and get everything in writing. But don't take my word for it. Here's a list of 8 proven perks VILT outsourcing can bring to your organization versus developing in-house.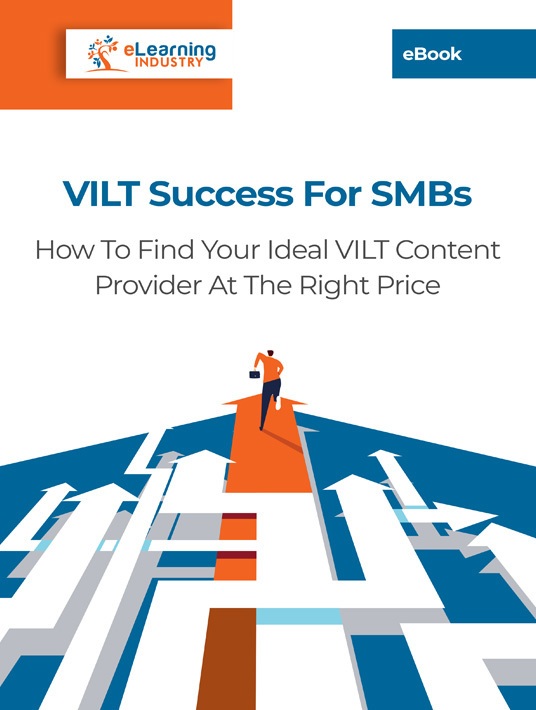 eBook Release
VILT Success For SMBs: How To Find Your Ideal VILT Content Provider At The Right Price
Get all the inside information you need to launch a VILT strategy on a tight budget.
1. Reduce VILT Expenses
The most notable reason to outsource—and the one that makes your accounting department happy—is to reduce spending. Think of all the software you'll need to launch a successful VILT strategy. Not to mention, the time it will take your team to master the online training tool's features and functions. Then there are payroll, content curation, and SME fees to add to the bill. All these costs are greatly reduced, if not eliminated, when you hire a Virtual Instructor-Led Training company. They already have the necessary tools and talents to engage employees and personalize the online training experience.
2. Gain Insider Experience
You could hire an SME, Instructional Designer, tech guru, and top-notch instructor for your VILT program. However, virtual classroom content providers have all the knowledge you need rolled into one. They've already compiled a team of knowledgeable eLearning pros who bring their insider experience. Another perk is being able to avoid more obscure implementation pitfalls because the vendor has seen it all before. Especially outsourcing partners who've been in the business for quite some time and learned from past mistakes.
3. Expedite The Online Training Timeline
All of the tasks I've mentioned thus far take time. From hiring your own VILT team to selecting the perfect software. Then there's still the small matter of building the online course infrastructure, developing the curriculum, and launching an internal marketing strategy. A third-party content provider helps expedite the online training timeline so that you can quickly bridge gaps. They also reduce online training seat time for front-end users because they know which information to include and how to maximize knowledge retention.
4. Boost Participation Rates
Employees are more likely to participate in computer-based training when it fosters emotional connectivity. When they're able to see how the ideas and concepts relate to their job duties and offer real-world benefits. The content is designed to grab their attention and eliminate external distractions so that they get the most from the VILT experience. Higher participation rates lead to better workplace performance and lower compliance risks.
5. Alleviate The Burden On Your L&D Staff
Your L&D and HR departments may already have ample tasks on their to-do list, ranging from administrative duties to content creation. Outsourcing Virtual Instructor-Led Training lightens their workload, even if you hire service providers for a small portion of the project. For instance, they're responsible for support tools and graphics so that your team can focus on hiring instructors and writing the script/outline. It's important to differentiate outsourcing versus internal tasks based on talents, experience level, and current work commitments, not only the costs involved.
6. Retain Top Performers
Top performers expect interactive, engaging, and collaborative online training experiences. They want to address gaps in real time and glean insights from more experienced industry thought leaders. Thus, hiring an eLearning content provider helps you retain top talent and improve employee satisfaction. Staffers are more self-confident on the job because they have access to personalized support in the form of VILT sessions that highlight individual pain points and facilitate instant eLearning feedback. For instance, the instructor responds to their question, which helps them identify limiting cognitions or habits that hinder productivity. They can apply what they've learned immediately instead of repeating mistakes they aren't even aware of.
7. Improve Knowledge Transfer
You can't simply barrage employees with information and hope that something sticks. You must deliver the information in an easily digestible format so that they gradually expand their mental schema as well as retain information for later use and reinforce positive behaviors. Virtual classroom outsourcing is backed by years of experience with pedagogical strategies. Virtual classroom content providers have tried and tested various approaches to fine-tune their design methodologies and delivery formats. In short, they understand what motivates employees and how to respond to certain training stimuli. This allows them to impart the key takeaways without causing cognitive overload or boring your staffers to tears.
8. Repurpose Online Training Resources
The tools I mentioned earlier also help you stretch available resources. Vendors can evaluate your online training library with a fresh perspective and identify reusable assets, materials that fit into your new VILT course, with a few minor modifications. For example, breaking videos and presentations into bite-sized visual aids that instructors can show during the live event. You can also enlist them for TNA services to identify underperforming assets that put a strain on your budget.
The caveat to all these benefits is that you must find virtual classroom content providers who value CX, support, and brand integration just as much as you. They need to know your niche and how to deliver information in a way that's easy to assimilate. Start with online directories and reviews. Then submit RFPs to your top choices for targeted VILT estimates. In some cases, you may have to contract a test project to see the vendor's skills and service in action.
You can discover even more tips on how to choose the right VILT content provider for your business in our eBook VILT Success For SMBs: How To Find Your Ideal VILT Content Provider At The Right Price. Benefit from top VILT vendors' experience and know-how and reach your online training objectives even if you are on a tight budget.