Here's How You Can Create Successful Virtual Training Programs
If you haven't noticed already, virtual training content development is on the rise. The COVID-19 pandemic has changed corporate training and team management by giving us a glimpse into the future. The recent events are reviving the need to explore online learning opportunities and remote working solutions. Your organization should be too.
Apart from affecting our everyday lives, Coronavirus has significantly altered the way businesses operate. Now is our chance to show that we can adapt and be resilient.
In this state of emergency, organizations react in different ways to overcome such challenges.
All of us need to adapt to the new reality by including solutions for remote work policy, online learning, virtual meetings, or even online shopping. However, no matter your industry, it is time to act fast without compromising the quality of your online training delivery.
Check the eLearning Industry's top eLearning companies for virtual training programs list to:
Solve distance learning issues for your remote teams
Increase convenience and flexibility in your employee training plans
Focus on customer training to ensure satisfaction and retention
Boost participation and engagement when training your remote workforce
Get immediate feedback and insights to improve your online training courses
Compare eLearning companies for virtual training
Find the right content provider for your business needs
In this special list, we've selected the top content provider companies for virtual training programs. Please bear in mind that this list is about virtual training content development experts. For all-around corporate training content, you can check out our vast content providers' directory.
Top-Notch Virtual Training Content Providers
Find The Ideal Content Provider To Kickstart Your Virtual Training Program
Save time and money. Compare top virtual training content providers by topic expertise, reviews, and rating!
What Were The Criteria That Determined Which Companies Made The List?
Companies around the world are facing a major challenge. We need to answer two questions: a) how do you train teams when working remotely? and b) what do organizations need to do when building a strategy for their virtual training programs? This list is a thorough guide that includes our top-selected companies for top-quality virtual training content—all in one place.
Globally recognized LMS experts, including C. Pappas, and our editorial team did a thorough review of each vendor's eligibility. By checking each eLearning company's website and relevant published content—articles, eBooks, webinars—we've reached a final conclusion. Our committee ranked the best content providers for virtual training programs based on the following 8 criteria:
Company's economic growth potential
Company's social responsibility
Customer retention
Customer reviews
Employee turnover
Learning industry innovation
Content development quality
Learning solution expertise
Reading our top list is all you'll need to kickstart your virtual training content development project. Please note here that this list is curated for those who are in search of creating virtual training programs for their remote teams. You may also check out our full eLearning content providers' directory for other types of content development regarding other corporate training use cases.
Also, make sure to read our tips on what you need to consider when opting to team up with a content provider for your virtual training strategy.
The Importance Of Virtual Training Content For Your Business
Maybe some of you are looking to increase customer satisfaction and retention, enhance team-building, or focus on product knowledge and sales training. We've got you covered on all these eLearning topics. Virtual training programs can bring evolution and business growth for organizations in any industry. Whether you need to increase employee engagement or boost your workforce's performance and productivity, this is an insightful guide. Focus on what you want to improve and go for it!
Which Organizations Can Benefit From A Virtual Training Process?
Frankly, I cannot think of a single organization that wouldn't benefit from a virtual training program. Times change, as a result, companies worldwide need to go forward and embrace the transition to online training and working remotely. The more technology-savvy your workforce is, the better.
Remote working is getting more and more advocates every day. By leveraging a virtual training process led by experts, as a reliable content provider, you'll be able to effectively establish new online training procedures for your business. This guide is meant to help you understand how collaborating with top-notch eLearning content providers can make your online training bring the results you need.
So, who can reap the fruits of a virtual training process?
Companies that need to rely on virtual training environments
L&D leaders who are looking to rapidly shift to remote learning (ILT to VILT)
Businesses that aim to bring business growth through employee development
Training managers who want to substitute a webinar with a virtual class
Companies that want their instructors to enhance their online presentations
Business leaders who want to create effective mobile learning experiences
Forward-thinking organizations that are eager to include gamification in their training
L&D professionals who have an interest in blended learning, microlearning, or video-based learning
Training managers who want to implement immersive learning, but don't have the means to do so
What Makes Virtual Training Content Effective?
Content is king, not only for content writers and marketers but also for deploying a successful virtual training program. What would your corporate training be without good eLearning content? Simple answer: not good.
Having the ideal LMS for your virtual training process is only the tip of the iceberg. You need to fill your LMS with quality virtual training content. Otherwise, you won't meet the outcomes you so much desire—no matter how amazing your LMS platform is.
Or maybe you rely mostly on mobile learning, and you need the right content to keep your employees and customers engaged. Still, you have to focus on providing quality eLearning content in your apps.
eLearning Content Development Best Practices
Your eLearning Content Should Be Consistent With Your Online Training Goals
You've set your business goals and online training objectives. Kudos to you! Sure, you can leverage a course authoring tool to create your online training program. But do you have the resources or the expertise to do it? Does your team include SMEs on a specific subject? In case your organization lacks the time or resources to build your own online courses, worry not.
There are several solutions when it comes to eLearning content creation. For example, one step you can take is to purchase online courses from a course library. Or for a more effective approach, you can request insights from a custom eLearning content development company. This can lead to creating custom eLearning content tailored to your online training needs.
Your Online Training Content Needs To Be Up-To-Date
In order to launch and maintain an effective virtual training program, you need to fill it up with engaging online training courses for your workforce. Your eLearning courses have to be up-to-date to deliver the results you need. If you have the team capacity to build your own online courses, that's great. If you don't, you should assign this demanding task to an expert content provider based on the topic that fits your needs.
Remember To Do Your Online Training Evaluation Regularly
If you want your online training content to be effective, you have to make it agile. The best way to accomplish this is by keeping evaluating and testing new procedures to ensure good results. Also, try different ways to assess if your learners meet your online training objectives. For example, when each training session finishes, you can use quizzes or tests to get valuable eLearning feedback. These responses will help you build knowledge checks. As a result, you'll have the opportunity to make your virtual courses even better. An expert content provider can help you with your training evaluation.
In conclusion, the virtual training content provider you'll choose to work with needs to have expertise in eLearning authoring tools, as well as deep topic knowledge. If you want to launch an eLearning mobile app or need to implement gamification, choose an eLearning company with expertise in these.
Evaluate And Compare eLearning Companies Before Kickstarting Your New Virtual Training Program
Training delivery is extremely important. The eLearning content experts that are going to bring your virtual training strategy to life have to identify any gaps within your teams. They should be able to make an accurate evaluation of the training needs of your learners. This will help ensure that your virtual training program brings the outcomes you desire.
For your eLearning content to have an impact and be relevant, the content provider you'll choose to work with needs to be top in training program design. There is a variety of online training delivery methods that you can choose. So choose wisely and always keep your goals in alignment with your desired learning outcomes. This is vital because each training type might have a different effect on your teams' performance.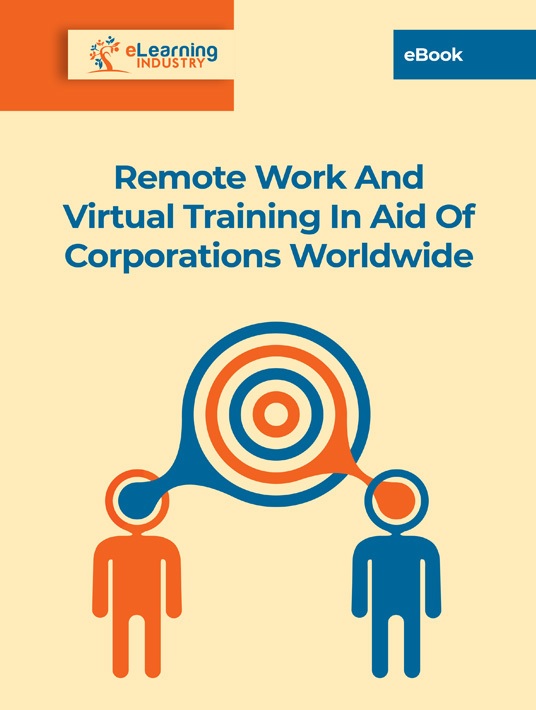 eBook Release
Remote Work And Virtual Training In Aid Of Corporations Worldwide
Explore how launching a virtual training strategy will help you get your L&D program back on track when your workforce has to work from home.
Things To Consider Before Partnering Up With An eLearning Company
Their online training materials should be engaging
Research if they have expertise in the topic of your interest
You should ask for virtual training content samples
Consider exploring if they have case studies on successful projects
Check out if they've won any awards on their content delivery
Make sure to visit their website and ask for an online training strategy consultation
How To Define Objectives And Goals For Your Virtual Training Content Strategy
Virtual training programs give your learners the freedom to learn at their convenience. This is what makes this a great eLearning solution when you need to train your remote teams. Such training is accessible to all, from employees to external partners to vendors. Virtual Instructor-Led Training (VILT) can provide equal content quality, learning experience, instruction expertise, training results, and an increase in productivity if done right.
When trying to define if your organization is ready for a virtual training program, there are certain areas you'll need to evaluate. At least, this is what most business leaders take into consideration until now. But have in mind that sometimes, certain events call for immediate action and transformation. This is when virtual training might become a go-to solution. So, what do you do then?
Shifting To A Virtual Training Environment
When you have to move your training to a Virtual Training Environment, there are several things you'll need to consider when creating your online training strategy. Before switching to online training, it is key to educate your key stakeholders.
You have to prepare them on how a Virtual Training Environment works. You'll need to demonstrate to the decision-makers of your organization the cost savings and value of a virtual training program. Ensure that your stakeholders realize how virtual training is different from webinars. Explain to them the importance of virtual training labs for a hands-on learning experience. Explore all the reasons why VILT is a good Return On Investment.
However, the most important of all is to design and implement a virtual training program that includes quality content. So, here's where a content provider can help you out. By leveraging SMEs and their expertise, you'll have the chance to create timely training that actually brings results.
Writing Down Learning Objectives And Goals For Your Remote Teams
Writing down the objectives of your virtual learning strategy is one of your main tasks when aiming for success. You'll need to decide which eLearning tools or web conferencing software you're going to use to make your courses comprehensive for your learners.
Learning objectives in virtual training or mobile learning are important for the effectiveness of your project. This will help you and the content provider that you choose to work with to create the best eLearning content for your needs.
Questions You Should Answer Before Deciding On A Virtual Training Strategy
How fast do you want to launch your virtual training program?
What's your online training budget?
What are the must-have elements of a successful virtual training program?
What kind of eLearning content development will you need?
Are you interested in mobile learning or gamification?
How many virtual classes are you planning to offer? To how many learners?
Are you and your team familiar with eLearning authoring tools, LMSs, or mobile apps?
Will multi-language virtual training courses be ideal for your case?
Are your learners going to need virtual training labs?
Describe your expectations and what kind of results you're looking for. Please, be objective and clear. Such objectives might focus, for example, on behavioral changes. Others could deal with skills development, customer training for retention and satisfaction, etc. So, these are actually the results you expect to have for your business growth after the end of the course.
Note that it is better to describe a single result for each online training objective. This is what makes an objective well-written and more effective. Be it a skill you need to develop or a sales boost, your goal should measure your employees' performance.
Next Steps After Checking Out eLearning Industry's Top Virtual Training Content Providers List
Take time to research each of these eLearning companies for your virtual training content development. The more thorough your research, the better chances you've got to find the ideal virtual training content provider. Decide on the one that meets your online training objectives without exceeding your budget. The above is essential in order to equip your employees with the knowledge and skills they need to get the job done. If you are interested to find, choose, and compare top eLearning vendors for specific types of training, simply check out eLearning Industry's directory.
Are you still unsure about which eLearning content provider is ideal for you? Read the 7 Tips To Accurately Calculate eLearning Content Development Costs. It will help you choose the best eLearning company to partner up based on your budget and online training expectations.
For an LMS consultation tailored to your needs, don't hesitate to contact us. Our LMS matching process is very simple. With only 5 steps, you can find the Learning Management System that works best for you.
Last but not least, if you are an eLearning content provider, you are more than welcome to create a free listing on eLearning Industry!