Estimate The Costs Of Outsourcing Your eLearning Content Development
Online training costs can quickly spiral out of control and force you to dip into other areas of your budget. Simple formatting issues or unclear online training objectives may cause your expenses to skyrocket. But eLearning outsourcing adds another element of surprise. How do you know how much to allocate? What are the fees involved? Is there a way to tally up all the tasks before you hire an eLearning vendor for employee online training? What will you handle in-house, and is it more cost-effective to outsource the job to external experts? Follow these 7 tips to estimate your eLearning content development costs accurately and avoid overspending.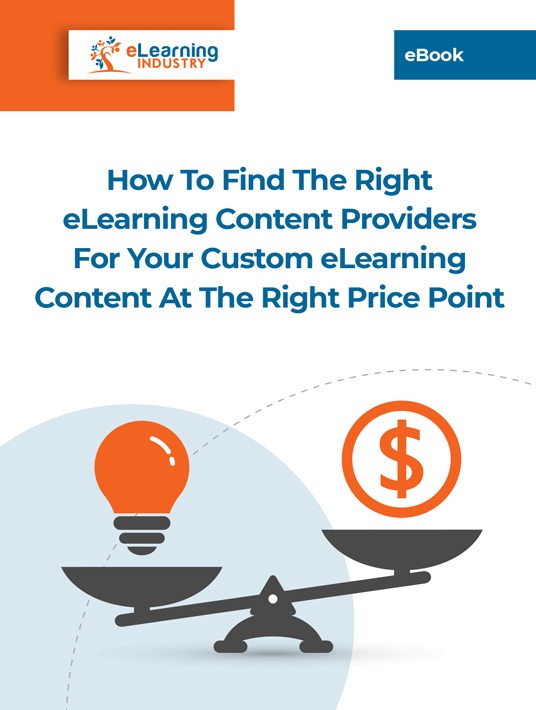 eBook Release
How To Find The Right eLearning Providers For Your Custom eLearning Content At The Right Price Point
Discover all you need to know about custom eLearning content.
1. Evaluate Your Online Training Library
Redundancy is the root of overspending. You don't realize that there are assets in your online training library that can be reused for today's online training, even if they do need a major overhaul from the custom eLearning content provider. An online training resource inventory helps you calculate the eLearning content development costs more accurately because you know what you're working with. For example, identify videos or images the eLearning vendor can repurpose to reduce fees. But an in-depth evaluation also allows you to pinpoint gaps you've overlooked. Gaps that you need to consider when calculating costs to get the best online training ROI. Maybe you're missing branching scenarios or simulations that foster real-world application. Or you've completely ignored a skill that your employees need in order to improve on-the-job performance.
2. Conduct A Training Needs Analysis
Conduct a TNA for your online training program. Resources are limited, so you need to prioritize your L&D and figure out which tasks to outsource to eLearning companies. Where are the gaps? How can an eLearning vendor help you address them? What are the costs involved and is it really worth the investment? Some eLearning vendors even offer Training Needs Analysis services to help you disclose problem areas and troubleshoot. Just be sure to clarify whether that's included in the price or if they charge additional fees—which is usually the case.
3. Map Out The Online Training Timeline
Time equals money. Thus, mapping out the eLearning development and implementation timeline is part of the budgeting process. How long does the eLearning vendor need to create online training content? How much time should you set aside for online training deployment? Will your team need time, which means payroll hours, to familiarize themselves with the new online training tools? What about seat time for front-end users—although it's not strictly a cost? Online training time still has an impact on your custom eLearning content creation budget. For example, employees can assimilate information more rapidly, which leaves more money for back-end eLearning development.
4. Use An Online Training Storyboard To Break It Down
This is your opportunity to map out all the online training activities, modules, and JIT support tools you need to factor into the eLearning outsourcing budget. You normally use an online training storyboard at the design stage. However, it's also a valuable tool for calculating eLearning development costs because it gives you a visual outline of everything you need to maximize employee online training benefits. For instance, you must hire a custom eLearning content provider for 5 new skill-based simulations. How much can you spend on each activity? Are there any online training resources the eLearning vendor can reuse? Are there certain aspects of the task you can tackle in-house versus outsourcing the entire corporate eLearning project?
5. Consider eLearning Content Upkeep
Developing eLearning content is just the beginning. You must also consider maintenance to recoup your investment in the form of employee performance and compliance. Assets become outdated or there are new behaviors to reinforce. This is all part of the budget. In some cases, the eLearning vendor may include periodic updates in the pricing, or you can hire them on a temporary basis for eLearning content upkeep. Another option is to invest in rapid eLearning authoring tools to modify the eLearning template yourself. But this requires other fees, such as payroll hours, software licensing, and third-party assets—new images, videos, etc.
6. Request eLearning Vendor Estimates
Reach out to eLearning vendors for free personalized quotes. This offers two advantages. The first is that you find eLearning companies who work within your price bracket. The second is that you can expand your eLearning development expense sheet based on their itemized breakdown. As an example, you didn't even realize that support services or eLearning software were additional fees on top of the base price. You'll be able to compare your eLearning content development costs checklist with theirs to ensure everything is accounted for.
7. Host A Team Risk Assessment Meeting
You might not know all the development hurdles, but members of your team have experienced them firsthand. Host a risk assessment meeting to get their feedback and identify hidden costs. For example, they are unable to design certain aspects of the online training course because they lack the necessary tools or know-how. Thus, you need to outsource them to the eLearning vendor and add that to your estimate. You can also set up a back-up plan meeting with your eLearning outsourcing partner to prevent overspending. For instance, what will you do if the corporate eLearning project hits a snag and they require more online training resources to address emerging gaps?
There's always room for error when you tally the figures for eLearning outsourcing. Maybe you forgot to include eLearning software licensing renewals or eLearning content conversion fees. For this reason, it's best to have some leeway in your budget and host regular recap meetings. Discuss corporate eLearning project hiccups and how they've impacted your eLearning content development costs. Chat with outsourcing eLearning vendors during the corporate eLearning project to ensure the expense sheet is still accurate. Finally, always overestimate the amount you need for every milestone or design task.
Custom eLearning content development can be fraught with obstacles if you don't get everything written and clarify your concerns. Download the eBook How To Find The Right eLearning Providers For Your Custom eLearning Content At The Right Price Point to discover all you need to know about custom eLearning content.