Crucial Video Conference System Features To Look For
You're ready to take the leap and purchase a new video conference system for your organization. But where do you even begin? You certainly aren't starved for choice, which makes the selection process even more challenging as there are so many platforms to choose from and so little time to vet them all. Thankfully, there's one question that can jump-start your search and point you in the right direction. Which selling points set the best video conferencing software apart from the rest? First and foremost, you need a tool that lives up to team expectations. Here are 9 crucial features your new video conference app must deliver to warrant the investment.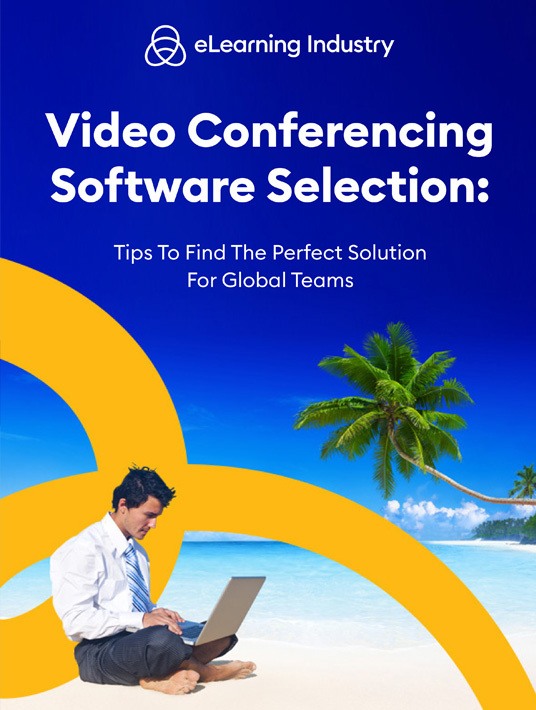 eBook Release
Video Conferencing Software Selection: Tips To Find The Perfect Solution For Global Teams
Discover how video conferencing software can help you maximize ROI and reduce ILT expenses!
Must-Have Features For Your Video Conference System
1. HD Video
HD is a must to enhance immersion and boost employee engagement. They expect to see clear, crisp images, not pixelated blurs that are supposed to be their coworkers or online instructors. That said, slow internet connections can compromise the picture quality. So, provide some pre-event instructions to ensure that everyone gets the best viewing experience, for example, mention the minimum tech requirements such as supported devices and ideal bandwidth.
2. Screen Sharing
The screen sharing feature allows participants to cast whatever is on their screen in real-time, which is ideal for task walk-throughs and team troubleshooting. They can also reference documents to get peer input. For instance, your L&D graphic designer shares their work-in-progress and asks for revision notes. You can also use this during live events to teach employees how to access online training resources or master new tool features.
3. Recording
Maybe an employee can't make it to the meeting, or you want to expand your online training library quickly and cost-effectively. This video conference app feature gives you the opportunity to record your event and send users the link. You can also edit the footage and upload it to your repository in the form of a webinar. Another option is to break it into bite-size modules for JIT support. Just make sure the new software is compatible with your rapid authoring tools. That way, you can add transitions and visuals before you upload it to your library.
4. Brand Integration
Many modern video conferencing systems allow you to incorporate your own branding elements such as your logo and color scheme. As such, you can develop webinars and workshops that align with your image. But it also makes your meetings with clients and external partners more professional. Ask vendors about white labeling and customization options beforehand. Better still, include this feature in your RFP.
5. Voice Over Internet Protocol (VoIP)
VoIP lets participants switch between audio calls and video conferencing without any lag time. The sessions are hosted online, which also improves accessibility. For example, employees log in to the platform using their mobile device. Halfway through the voice chat, they need to share their screen. So, they enable the webcam and give peers a brief presentation. Other participants can choose whether to switch on video or stick with audio based on their personal preferences.
6. Live Chat
Whether they need to share resource links or communicate with peers (minus mics), live chat features are a must-have. This is also ideal for large group meetings because everyone can provide input without chaos ensuing, for example, everyone trying to speak at once and drowning each other out. In some cases, the instructor or presenter might also mute everyone else's microphone so that they can focus on the subject matter, and live chats give them the chance to actively participate.
7. User-Friendly UI
Staffers shouldn't have to spend hours acclimating to the new video conferencing software. In fact, your new system must be user-friendly and intuitive, which includes clear labels/buttons and a streamlined UI. For instance, they can quickly switch between audio and video, or turn off their mics in the middle of a meeting. First and foremost, the software should be accessible on any browser or mobile device.
8. Breakout Rooms
Breakout rooms allow users to host individual sessions away from the online crowd. As an example, break off into peer coaching groups after the live event, or work on group activities during an online training workshop. Another perk is personalization. Employees are able to discuss important issues and focus on individual gaps in a more private space, instead of trying to broach sensitive topics during the main event where 150 people are listening in.
9. Top-Notch Support
Vendor support has two levels. There's the direct support they provide for customers such as phone, email, and live chat. Then there are online training resources that help you troubleshoot issues on your own, like tutorials and video demos they feature in their online knowledge base. Some companies even have user communities where you can ask questions and search the archive. Every top-notch video conference app should have support services that align with your needs. For instance, you're looking for a tool with phone support during business hours, so that you can get immediate assistance and added peace of mind as the vendors are always there to offer insights and tech expertise.
Conclusion
All these video conference system features maximize functionality and ROI, but you should also consult with your team to expand the list. This also helps you identify the right level of support based on their skills and experience. Then you can use the online directory to choose the best video conferencing software for your budget. Every listing features a detailed list of platform features and support services, so you don't have to look far to vet vendors and see which system delivers top value for money.
How do you choose a video conferencing system that fuels team collaboration? Our eBook Video Conferencing Software Selection: Tips To Find The Perfect Solution For Global Teams covers every step of the buying process.