Stress-Free Tips To Set A Realistic Video Conference Software Budget
Most organizations can create a video conference software budget with minimal stress. However, following through is a different story. All those hidden fees pile up and, before you know it, you're in the red, which has a domino effect on other business operations. For example, you have to borrow from your marketing budget to make up the difference. Those added expenses might even derail your entire software implementation plan since you can't sustain the investment over a long period of time. Fortunately, there are tips to help you set an accurate video conferencing services budget and stick to it, even if you're already working with limited resources.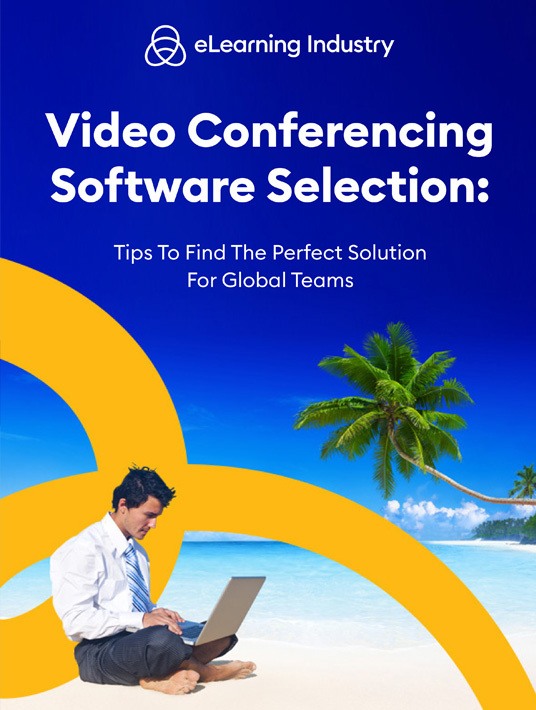 eBook Release
Video Conferencing Software Selection: Tips To Find The Perfect Solution For Global Teams
Discover how video conferencing software can help you maximize ROI and reduce ILT expenses!
How To Set An Accurate Video Conference Software Budget
1. Evaluate Your Current Expense Sheet
What's the state of your current business budget and how much can you realistically set aside for video conference software? Another area to focus on is your existing toolbox. Which systems do you already own and how much did you spend on setup and implementation? Looking back at past purchases can help you identify patterns and avoid costly mistakes. For instance, the audio conferencing tool or PM platform you bought last year pushed you over budget, but that was simply because you underestimated the learning curve.
2. Research Popular Pricing Models
Every video conferencing vendor has its own pricing plans and models. For instance, some require a one-time licensing fee, while others charge monthly subscriptions and have different pricing tiers. So, check out the most popular fee structures and find one that works best for your budget. Maybe you prefer a monthly subscription so that you don't have to cover all the costs upfront. Then again, you might want a video conference system that locks in the price, in which case a one-time license is the best option.
3. Determine Needs Versus Wants
There are probably a few key features that you can't do without, while others are optional, especially if they put you over budget. The secret is to differentiate needs versus wants to take control of spending. For example, you may not need advanced support services, like 24/7 phone, if they cost extra. Then again, it may be worth the investment if it helps you improve functionality. It all boils down to your business priorities. Get feedback from your team since they're the ones using the tool to collaborate and host live events. You can also check out the vendor's full feature list in an online directory, which gives you the opportunity to see what's available based on your use case and L&D requirements.
4. Outline All The Tasks Involved
Every step of the implementation process should factor into your video conference software budget, so outline all the tasks involved and how much you need to allocate for that phase of the project. For instance, you estimate that your team will have the tool up and running in two days. That includes setup, customization, and exploring the features. This requires payroll hours and possibly additional support resources like a quick tutorial to bring them up to speed. If the vendor doesn't provide any customer training tools, you need to account for resource development in your budget too. This implementation timeline also gives you the chance to quickly move funds around if tasks are more or less involved. As an example, you thought it would take longer to incorporate branding and adjust the tool settings, thus you can use those unused funds for other aspects of the project that require more time or resources.
5. Submit RFPs For Personalized Estimates
An RFP tells vendors how much you want to spend and what you expect from the investment. They respond with personalized estimates and product specs, which allows you to fine-tune your budget based on actual pricing plans. To illustrate, you expect to spend X per user. After receiving several proposals, you realize that per-user costs are slightly higher, especially if you want to add on support services or advanced features. Thus, you need to go back to your budget and see if there's any room to expand, or you can look for other vendors with lower upfront costs even if that means opting for another pricing model.
6. Prioritize Value For Money
Value for money should be your top priority, even above the price tag. Many organizations focus so much on expenses that they forget about returns. For instance, a platform may cost more in the beginning, but it has all the features you need and flexible pricing plans. In short, your team can get more from the video conference software because it's user-friendly and feature-rich.
7. Re-evaluate Your Expense Sheet
Budgets aren't set in stone. You need to revisit your expense sheet from time to time to improve ROI. For example, maintenance is more than you expected, but the learning curve was much lower. Another reason to re-evaluate your budget is to gauge tool efficacy. Is it still the most cost-conscious choice for your team? Or should you consider other video conferencing systems that accommodate more users or align with your current L&D needs?
Conclusion
Setting a realistic video conference software budget and putting it into action can be a daunting task. But with these tips, it doesn't have to be. In fact, you can itemize all your costs and prevent overspending minus all the accounting headaches. Just make sure you leave a little wiggle room for unexpected fees. You can also use our free online directory to evaluate pricing options for top video conferencing services. It even includes ratings to help you get the best value for money and avoid buyers' regret.
How do you choose a video conferencing system that fuels team collaboration? Our eBook Video Conferencing Software Selection: Tips To Find The Perfect Solution For Global Teams covers every step of the buying process.