Web Conferencing Software Features For Online Training You Should Know
Video conferencing used to be the stuff of sci-fi movies—think of Marty McFly and that iconic business call. But it's now a pivotal part of online training that connects every member of the team and makes L&D isolation a thing of the past. You can host live events, group collabs, and one-on-one coaching sessions with the click of a button. The trick is to find web conferencing software that has everything you're looking for at a price you can afford. Here are 7 features you need in order to improve ROI and facilitate team building with your new video conferencing software.
1. Screen Sharing
It might be difficult to describe certain processes, especially ones that involve multiple steps or sub-tasks. That's why your new web conferencing software should have screen sharing capabilities that allow you to create live demos. Show employees how to access the training platform, complete software-related tasks, or avoid common IT errors. Walk them through the process with visual aids and audio narrations that occur in real time. This way, they can ask questions on the spot instead of saving them until after the live session.
2. Messaging Tools
Messaging tools let everyone participate via text so that nobody feels left out from the group. One of the perks of webinars is being able to interact with the crowd. It shouldn't be a one-sided discussion, with the instructor or presenter merely lecturing to employees. Instant messaging gives staffers a platform to voice their opinions and share ideas during the live event. They can also communicate with peers to build a stronger team dynamic and discover new points of view. Try to set some guidelines beforehand to keep the discussion civil and prevent arguments. People tend to speak their mind more freely when they're behind a screen as opposed to in person. So, ensure they know what's acceptable and what's not tolerated during the live session.
3. In-Sync Presentations
Screencasting or synced presentations is one of the most popular web conferencing tool features. Everyone sees your presentation at the same time, regardless of their device or time zone. You can develop a polished slideshow or demo that's error-free, then add the live voice-over during the event. Some instructors even choose to package the audio and visual elements, hit the play button, and then field questions at the end. Just keep in mind that this limits employee interactions. They're still able to comment via instant messaging, but that's about it.
4. Built-In Recording Tools
Not everyone can take time out of their workday to attend live meetings or training events. This doesn't mean they should miss out on the fun though. For this reason, you need web conferencing software with built-in recording tools. Then you can upload the raw footage to your rapid authoring tool to add special effects, edit for time, and publish it to your LMS. Some video conferencing platforms even have these editing features so that you can skip the authoring tool step entirely.
5. Support Services
The tool may be easy to use but there's still room for error. Employees can't log in to the platform or you're unable to export the video after the event. As such, your new video conferencing tool should have support services to improve functionality. The thing about IT obstacles is that you never know when they'll pop up. The vendor should be able to field your questions via email, phone, or online knowledge base. Certain tools have user forums where you can draw on collective troubleshooting resources.
6. Multi-Cam
Several people can switch on their webcams and participate in the discussion at once if your new video conferencing software has multi-cam support. Think of it as a group Skype session where employees meet face-to-face, even if they're thousands of miles apart. It adds a more personal element to online training since attendees can see facial expressions and body language. No more misinterpreted text to cause conflicts and disrupt the experience. Just make sure that everyone is comfortable being on camera and always give them the option to stick with instant messaging.
7. Whiteboard
The whiteboard feature allows you to jot down notes for everyone to see, and other members can share their ideas in real time too. For example, draw a diagram or chart that illustrates the point and draws their attention to an alarming trend. This is also a great way to get attendees involved since they can add their own ideas to the mix. Start a mind map and invite them to expand on it. Or post a blank flow chart and have employees fill in the gaps via the whiteboard.
Bonus Tip: Compatibility Is Key
The web conferencing tool you choose must be compatible with your existing software. All these features won't be of much use if you can't upload the recorded video to your LMS or the software doesn't mesh with your PM platform, which leads to collaborative roadblocks. Sign up for free trials to verify compatibility and avoid future headaches. Read online reviews to look for red flags. For instance, numerous users mention that the software is difficult to integrate with existing systems. Lastly, look for LMS integrations for your web conferencing tool of choice to bypass all these issues.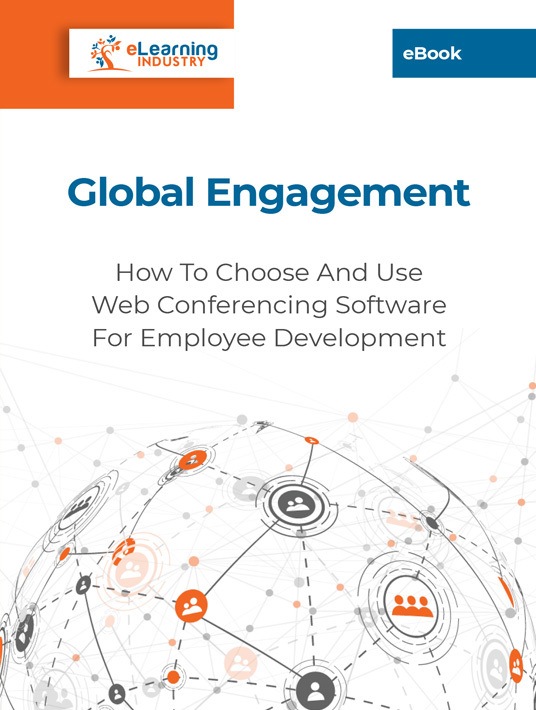 eBook Release
What Makes A Good Web Conferencing Tool?
Read this Guide and choose a solution that fits your needs!
Contrary to popular belief, web conferencing software isn't reserved for large organizations with money to burn. SMBs and startups can use video conferencing tools to connect the geographically dispersed team and keep up with compliance. Or even to facilitate collaboration among their back-end employees who need to develop content remotely. It's a multipurpose platform that's worth the investment if you find a tool that's feature-rich and affordable.
Web conferencing tools have become valuable in the eLearning industry, but what benefits do they really bring to your online courses? Read the article Top 7 Benefits Of Web Conferencing Software For eLearning Professionals and discover how you can collaborate, host webinars, and communicate with clients from around the world with the click of a button.