Investing In The Right Web Conferencing Software
Many modern organizations rely on remote collaborators. Even if the admins and IDs are in the same building, external SMEs and eLearning content creators are scattered all over the globe. How do you bring everyone together to monitor outcomes and measure online training effectiveness? The solution is web conferencing software for L&D content management. A platform that gives everyone a chance to exchange eLearning feedback, revision notes, and vital LMS reports. Below are 7 ways to find the ideal web conferencing tools in your price range. Since you're probably investing in a single platform for back and front-end tasks, these tips also apply for live event platforms. For example, hosting webinars, workshops, and other synchronous training sessions.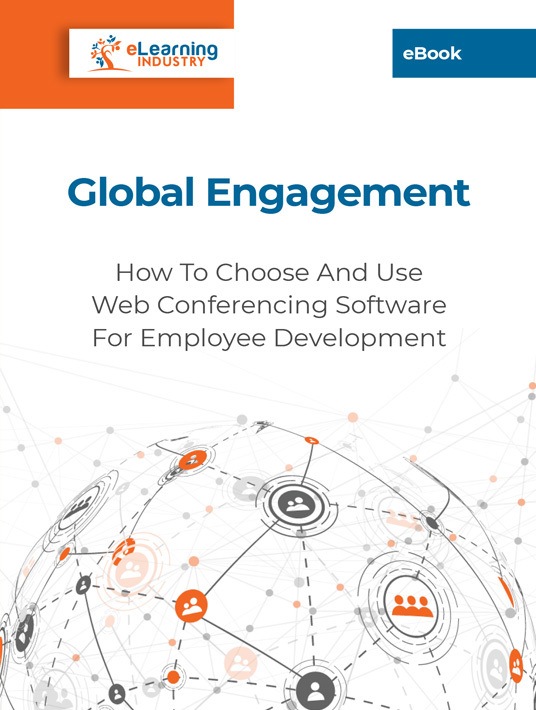 eBook Release
Stay Locally. Engage Globally!
Looking for a web conferencing tool? Read this guide and make the best choice according to your needs!
1. Identify Essential Features And Budget
What do you expect from the web conferencing software? Every time you invest in new eLearning tools, you must determine how they fit into your overall online training strategy. Do they warrant the investment or can you repurpose another tool in your arsenal? How will the new online meeting tools help you achieve the online training objectives and improve ROI? Identify your must-have features and calculate an accurate budget. How much can you realistically spend on the new platform, taking all the "hidden fees," such as payroll, presentation development, and software upgrades/updates, into consideration?
2. Use An Online Directory To Weigh The Options
Many organizations dive into web conferencing software search blindly. They have a general idea of the price range of key selling points. However, search engine queries only reveal so much about the vendor and product features. You should start with an online directory that lists all the top web conferencing tools for your use case. An exclusive directory that provides a product overview, deployment options, and pricing models.
3. Consider Solutions In Your Niche
Does the web conferencing vendor cater to your industry and business size? Look for solutions in your niche that ease the burden on your L&D team. For example, online meeting tools with built-in whiteboards and instant messaging so that they can quickly revise online training content, as well as host breakout rooms where collaborators can discuss secondary tasks in a more private setting. The online directory should include a features list that you can contrast/compare with your own.
4. Evaluate Online Reviews And Ratings
Honest user reviews and ratings give you a sneak preview of what's to come, the benefits of ownership, the drawbacks of the platform, and the overall usability. Would they recommend the web conferencing software? What are the pros and cons? Does the reviewer have a similar use case? The keyword here is "honest." Look for online directories that feature unsponsored reviews from genuine users, fellow LMS admins and L&D managers who've used the online meeting tool in the real world and offer an inside look at the UI.
5. Compare Pricing Options
Pricing isn't the only factor to consider, but it can be a deal-breaker. How does the vendor price their product, and does it align with your budget? While some web conferencing tools involve a one-time licensing fee, others require a monthly subscription. Another important consideration is the deployment type. Is the platform cloud-based or locally installed? Does it feature native online meeting apps for better mobile accessibility?
6. Sign Up For A Free Trial
Even ratings and reviews are relative because they involve different online training requirements and outcomes. The most effective way to evaluate online meeting tools is to test drive them for yourself. Some web conferencing vendors offer limited-time trials, while others provide demo videos that showcase all the features in action. Some host live demo events that allow you to ask questions and analyze the key selling points. Before you register, evaluate the vendor's site. How many users and customers do they have? Are there any notable names on their client list?
7. Assess Vendor Support Options
Web conferencing vendors must stand behind their product and provide support, even after the purchase. Do they have "buying" guides to help you maximize ROI? Is there an online user community that features tips and troubleshooting advice? Do they have a strong social media presence where they frequently answer questions and address user issues? Is there a contact phone or email where you can reach an experienced sales rep or IT expert? Another support option to add to the list is an online knowledge base. This often features how-to videos and online training tutorials to help you navigate the platform and overcome common challenges.
8. Map Out Your L&D Workflow
I've saved the best—and most important—selection tip for last. The only way to find online meeting apps that enrich the eLearning experience is to outline your eLearning development tasks and protocols. Which content is currently in your online training library? How do your L&D staffers generally revise online training resources and evaluate LMS metrics? These questions help you determine which web conferencing tool is best for the team based on their work habits and practices. For example, do they need web conferencing software with integrated group calendars to keep track of due dates?
You deserve a web conferencing platform that delivers the total package without having to compromise on essential features or support options that, ultimately, hinder functionality. Do your homework and sign up for free trials, then follow up with vendors to address your concerns. Read online reviews to see how they stack up against other products on the market. Finally, make the selection process a team effort. Everyone who uses the web conferencing tool should be involved to some degree, including front-end users who attend webinars and peer coaching events.
Want to learn more about the benefits web conferencing software can offer to your organization? The eBook Global Engagement: How To Choose And Use Web Conferencing Software For Employee Development is full of helpful tips and innovative solutions that will help you retain the effectiveness of your online training strategy and build a strong company culture even if your workforce is working from home.