How To Find The Best Web Video Conferencing Software In Your Price Range
Every organization has a limited web video conferencing software budget. Even global companies with thousands of staffers need to calculate costs and set a spending cap. But your price point is just one piece of the puzzle. You also need to research pricing models and plans to see what vendors have to offer. That way, you can find a video conference app that minimizes financial stress and brings everyone together. So, let's look at some of the most popular pricing models, followed by top tips to choose the best provider for your budget.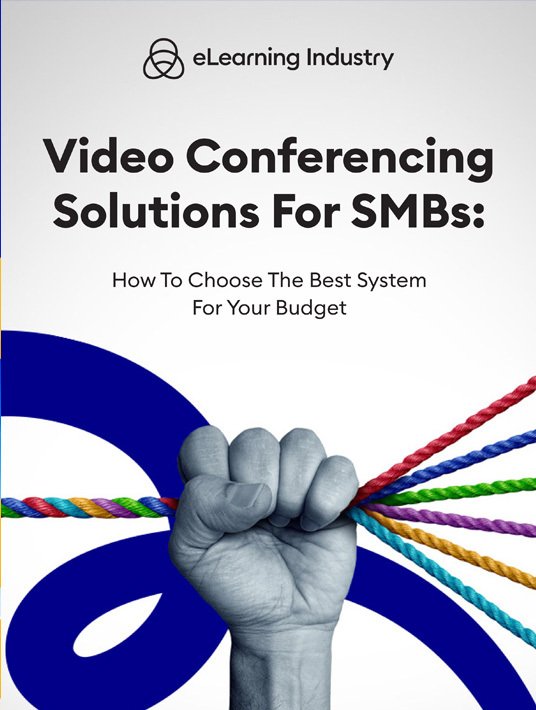 eBook Release
Video Conferencing Solutions For SMBs: How To Choose The Best System For Your Budget
Is there a cost-effective way to vet vendors and choose the best tool in your price range? This ultimate guide walks you through every step of the process.
Popular Video Conference Software Pricing Models
One-Time Licensing
You pay a one-time fee to purchase the software license, which means that you don't have to worry about price fluctuations. The downside is that you do have to foot the bill upfront. Plus, you may have to purchase upgrades or new versions of the tool to keep up with tech. On the other hand, subscription-based services usually include free updates for paying customers.
Monthly Subscription
These video conferencing systems are pay-as-you-go. They require a monthly fee and there are usually different pricing plans. For instance, the first level covers up to 25 users and you get 100 hours of recording time, while the highest package is for 500 users and offers unlimited recording. The main negative is that prices may go up over time. You start with a plan that fits into your budget but a year from now the fees double and you have to look for a new tool.
Free Or Freemium
Free video conference systems don't involve any software fees, while freemium comes with basic functions and you have to pay to unlock more advanced features. Free platforms are the most popular options for personal use. However, they may not be the best choice for businesses that need to boost team collaboration.
Quick Overview Of Video Conferencing App Deployment Types
The most common deployment types are locally installed (or self-hosted) and cloud-based. Cloud web conferencing platforms are often associated with monthly subscriptions. However, there are some one-time licensing tools that are accessible on the cloud, as well. As such, you need to clarify deployment options with the vendor in your RFP. Ask them about the login process, tech specs, and mobile device support.
Tips To Choose The Best Web Video Conferencing Software For Your Budget
1. Evaluate Up-Front Costs
Even monthly subscriptions come with up-front costs. For example, your team needs a solid week to get used to the tool. That requires payroll and possibly even IT experts to help you customize settings and master the new features, especially if the vendor offers limited customer training resources to help you get started. Another up-front cost to consider is all the video conferencing tie-ins, from marketing your live events to incorporating your brand elements. All these tasks take time and money to make the most of your video conference software investment.
2. Estimate Future Video Conferencing Needs
You may have 20 staff members now, but what does the future hold for your SMB? Which features do you need now and in the future? It's best to look for a video conference app that grows with you instead of having to go through another round of vendor vetting next year when you need to host bigger events. Or maybe you require more features to improve team collaboration. The best tool for your budget is one that's easy to scale and easy to use.
3. Factor In Additional Expenses
Aside from implementation and maintenance costs, there are other software fees to factor into the budget. For example, some vendors charge extra for advanced support, like live chat or phone, or to view analytics for events and sales integrations. These costs are in addition to your licensing fee or monthly subscription. This is yet another reason why RFPs are so crucial. They allow you to specify your buying needs so that the vendor can provide accurate estimates, as well as map out additional features that improve value for money.
4. Calculate The Cost Of Free Video Conferencing Software
The thing about free video conferencing systems is that they're rarely free. Sure, you don't have to pay to download the software and it can accommodate a limited number of users. However, you typically don't get the same features as paid platforms. Plus, you may have to pay for add-ons and integrations to maximize functionality. As an example, the tool doesn't come with recording or screen sharing and you need to pay extra for these features.
5. Do Your Homework
Research the pros and cons of various pricing models based on your L&D objectives and business needs. There are plenty of online guides to help you evaluate costs and hidden fees so that you can choose the right pricing plan for your organization. Another great resource is ratings and reviews, as users often mention unexpected costs and issues that negatively impact ROI—just make sure it's from a reputable source.
Conclusion
Now the question is: how do you know which video conference system vendors fall into your price range? The usual process is searching for video conferencing solutions on the web, then visiting every product page one by one to evaluate plans. Or you can use our free online directory to filter results by pricing model. For example, only display web video conferencing software that's subscription-based. This saves you the time (and frustration) of looking through all the listings to find vendors in your budget.
Is there a cost-effective way to vet vendors and choose the best tool in your price range? Our eBook Video Conferencing Solutions For SMBs: How To Choose The Best System For Your Budget can help you find the best tool for your business!