Ready To Upgrade Your PowerPoint Training?
If your organization is like most, then you have a lot of useful training materials that are stuck inside of PowerPoint slides. The content is there, but it needs a way to be transformed into something engaging, accessible, and trackable, such as what you can get from an eLearning format.
What's Wrong With Learning By PowerPoint?
PowerPoint presentations are not meant to be used as stand-alone learning materials but are instead intended to be used to supplement live, instructor-led teaching. If you are just handing your teams' PowerPoint files with the hope that they will learn the material just by going through the slides on their own, then you aren't using PowerPoint the way it was designed to be used.
Even if the file has detailed notes included, it can't match the interactivity of eLearning. This is because learning by PowerPoint is a linear experience. As such, the learner must go through each slide one-by-one regardless of their prior knowledge or experience. eLearning, on the other hand, is non-linear whereby learners are presented material dynamically and ultimately effectively.
Beyond its shortcomings with interactivity, PowerPoint files are also a poor choice in terms of learning retention. There's no way to test if the trainees have comprehended a subject and there is no opportunity to distribute modern learning tools like spaced repetition or distributed practice, which allows the learner to retake lessons at increasing intervals until knowledge is fully embedded in long-term memory. With eLearning, you can add comprehension questions anywhere or set up an automated spaced repetition schedule to seamlessly reinforce learning at optimal intervals. Backed by scientifically proven cognitive research, these concepts greatly improve learning retention and can be found built into leading Learning Management Systems (LMS).
Furthermore, getting a PowerPoint file to display on a mobile device is a clunky experience at best. Learners will need to download a proprietary app that takes up a lot of space on their device. Conversely, top eLearning LMSs can be delivered in HTML5, which simply runs in any browser.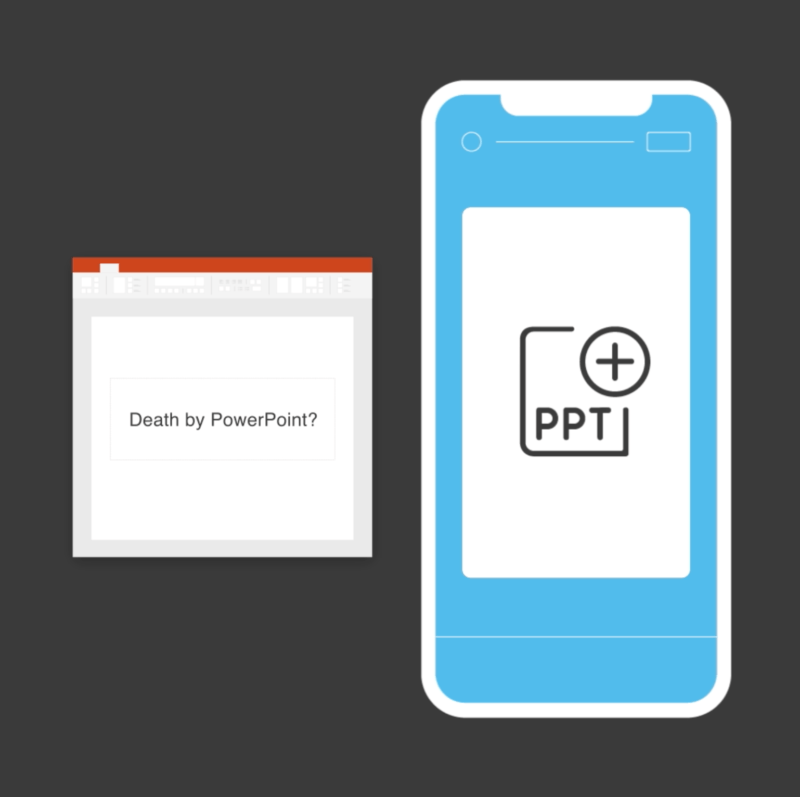 So, wouldn't it be great if there were an easy way to convert those files to a responsive eLearning format, meaning that it looks and behaves great on any device? Well, you are in luck. Did you know that it's actually easy to transform those static PowerPoint files into jaw-dropping eLearning courses with EdApp's simple-to-use PPT conversion feature? It's easy to use and completely free for you to use as many times as you'd like.
A Quick Example
Consider the following example. You run an Italian restaurant called Lumario's that has been seeing phenomenal growth, and you need to hire additional kitchen staff. You ordinarily have new employees meet with the head chef who presents the training together with a PowerPoint slideshow. This type of training can be effective, but it's clearly not the most efficient.
The chef presents the training and maybe shares the PowerPoint or hard copies of the presentation slides with the new employee so that they can refer to them later. The employee never checks the material again because viewing PowerPoint files on his phone is too buggy and inconvenient. In essence, this training situation is a disaster.
Much of the information that needs to be relayed to the new employee in this situation can be done without also wasting the head chef's time. Furthermore, assessing the new employee's comprehension can also be time-consuming. This old method of delivering instruction is slow and inefficient for both the head chef and the new employee.
Now, imagine if you could easily present the training material in a more exciting and engaging way. You have probably seen some forms of eLearning online and thought that it would take an army of developers and designers to make your own materials look that polished. In reality, an authoring tool like EdApp enables you to easily input a PowerPoint presentation and have a beautiful eLearning course outputted on the other side—all within a matter of minutes.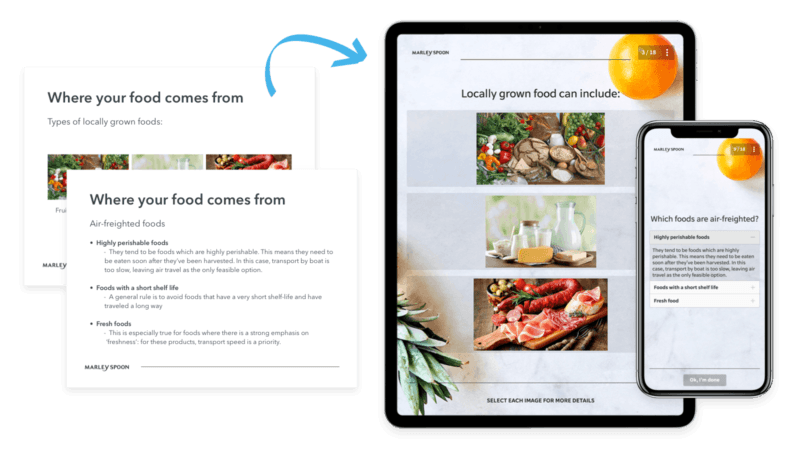 What's Next?
Once you've imported your PowerPoint file, you can now modify it and add eLearning components just as you would with any other lesson. If you haven't made any lessons before, don't worry. Modern LMSs use graphic interfaces that are intuitive and make creating lessons simple and pain-free. These tools are designed for you to create eLearning content like a pro, no previous design or coding knowledge necessary.
Beyond importing your PowerPoint lessons, you can further enhance the training experience for your teams by taking advantage of built-in features to boost results. The best learning platforms host tools like gamification to encourage participation, virtual classrooms which host third-party platforms like Zoom and Microsoft Teams to simulate face-to-face training, and even an editable courseware library full of content for you to pick and choose, customize and brand to train your teams. All these features should be easy to integrate into your learning experience.
And there you have it! You've turned a boring old PowerPoint file into an exciting eLearning experience, and all your employees will be grateful for making their training a more fulfilling experience.
Additional Thoughts
Note that even though we've used the example of a restaurant here, this can certainly be applied to training in any other industry. Train your hotel staff in proper hospitality, your health inspectors in proper procedures, your summer camp employees in first aid, or your construction workers in safety. Any previous training materials made in PowerPoint slides can be instantly transformed into an eLearning format in EdApp. The possibilities are endless!
EdApp
EdApp is simpler & smarter workplace learning. A better mobile LMS and integrated authoring tool designed for today's digital habits, delivering more engaging and effective microlearning directly to your users devices, anytime, anywhere.