Upskilling Your Workforce With Foundation Skills Development: Essential Training For Everyone
Having Foundation Skills means obtaining the big picture and that you are fully equipped to top perform after acquiring general business literacy. In order to become an all-rounded employee, who is both knowledgable and confident about their skill set, the employee needs a very clear set of expectations. They also need to have the relevant training, related to their specific field to be the best they can be. They need support and to be facilitated. To clearly indicate what Foundation Skills training helps expedite, here is a description by Learning Pool themselves:
Foundation Skills training includes a variety of subject areas and topics. It covers new and existing legislation like GDPR and Health and Safety Legislation. It incorporates management skills like leading teams or resolving workplace conflicts. Foundation Skills training can equip you to act as a coach or provide performance appraisals. It can improve and develop individual abilities such as writing and presentation skills or producing a CV.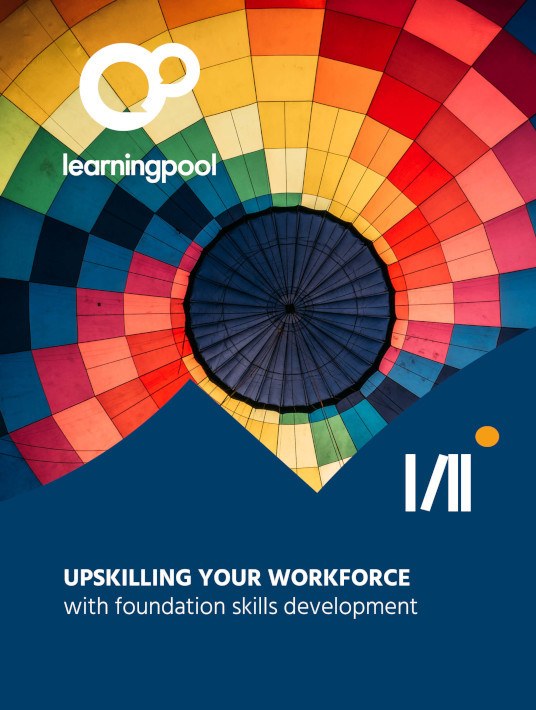 eBook Release
Upskilling Your Workforce With Foundation Skills Development
Learn why training must be closely aligned to an organization's business strategy and goals
About The eBook: Upskilling Your Workforce With Foundation Skills Development
The eBook Upskilling Your Workforce With Foundation Skills Development grants a magnificent insight into what Foundation Skills are, how you should approach developing them and how to reach a maximal effect. From the basics, which every employee should contain, establishing workplace effectiveness to bridging performance gaps and measuring the effectiveness of your program through the gathered data. The structure is very clear and overall an interesting read. It may seem to speak for itself, however, some skills such as good communication or the ability to lead and manage are essential for almost any employee. An employee who can grasp these basic skills is able to apply them to their own workload and work processes. Determining very clearly for themselves how to handle deadlines, when to say no and how to say it. Great work stems from managing yourself first.
An optimized onboarding process is accompanied by great Foundation Skills development. Later on, current employees will also need further exploration or freshening up of these skills. Their level of knowledge might be outdated, and there is never an excuse to steer clear from learning. As long as it is clear why there is going to be training, why it is necessary and why it is relevant to their further development, it will be very likely that this will increase an overall sense of engagement.
Even before you have started, it is key to motivate your employees, being a real driver of performance and facilitator when it comes to enhancing general skills across an entire organization. Besides a classic, intrinsic motivator to avoid pain or gain pleasure, a simple explanation of "why" something is important, goes a very long way. The fact that they hear a causal effect is already sufficient for them to feel motivated to do. Or put more simply; If they see the point of training, employees are more likely to sign up for it and engage with it. Learning Pool proceeds to explain what Continuing Professional Development (CPD) consists of, which is an important part of the process of Foundation Skills development. The advantage for companies who advance in CPD is that they obtain a motivated workforce that proceeds proactively to improve its skill set.
Investing in employees who don't stay within the company and take their knowledge elsewhere is probably one of the highest costs for a company. You lose your investment. I suppose you could say that the ROI, in that case, goes all the way down to zero. We could also state that investing in Foundation Skills training offers your business a system to produce more motivated employees and offer them better opportunities while improving execution. Keeping employees at their most efficient.
We have already covered generic skills every employee in a company should possess, for a variety of beneficial reasons. Some skills are almost obligatory to be able to keep up with a fast-changing business environment. Words which come into mind are flexibility and adaptability. The ability to adapt to new situations, functions, and opportunities. Put very simply, steering those who desire to grow in the right direction as well as those who possess huge potential but are hesitant to further develop themselves. Basic skills the eBook explores and emphasizes their importance are:
Managing others
Teamworking
Communication and facilitation
Changing management
Great topics if you are eager to learn, listen and thrive in an environment. And absolutely necessary if you deem these topics irrelevant. After covering the basics, the chapter "How to effectively address Foundation Skills training" explains the best possible build-up for a Foundation Skills training plan. Be it that you need to manage your own time or if you need to manage other people and aid teamworking. From very topic-specific training about GDPR regulation to finance or compliance, health, and safety, Project Management and management of processes of change. All of the aforementioned topics are useful and applicable to new employees as well as to seasoned employee, knowledge-hubs, alike.
Being The Change You Seek And Need
If change is the only consistent factor in today's working environment, you better master that change. Learning Pool grants us an ideal base to start building an excellent Foundation Skills training program. It should become very clear along the way why their eLearning modules enhance your ability to improve your Foundation Skills program, going beyond the quality of content or masterclasses on delivering engaging presentations. By creating a definite environment where adaptability and flexibility reign supreme and by integrating them into your organization's structure and culture. A go-to read if you intend to overdeliver. Download the eBook Upskilling Your Workforce With Foundation Skills Development to learn what your future Foundation Skills training can realize and above all, how it can be executed correctly from the start.