Implementing A Gamification LMS: Tips, Tricks, And Misconceptions
Some organizations swear off gamification because they think it will distract employees from the grand prize. Which should be achieving the online training objective instead of earning a top spot on the leaderboard. However, there is something to be said for a gamification LMS. In fact, there are numerous advantages to offering L&D rewards to your remote workforce, from improving intrinsic motivation to facilitating subtle feedback. Our eBook, Beyond Badges: How To Use A Gamification LMS To Retain Your Top Talent And Boost ROI, shows you how to select and implement a successful gamification system. Before I sum up all the tips and techniques you'll find in the eBook, let's dispel some of the most common gamification misconceptions.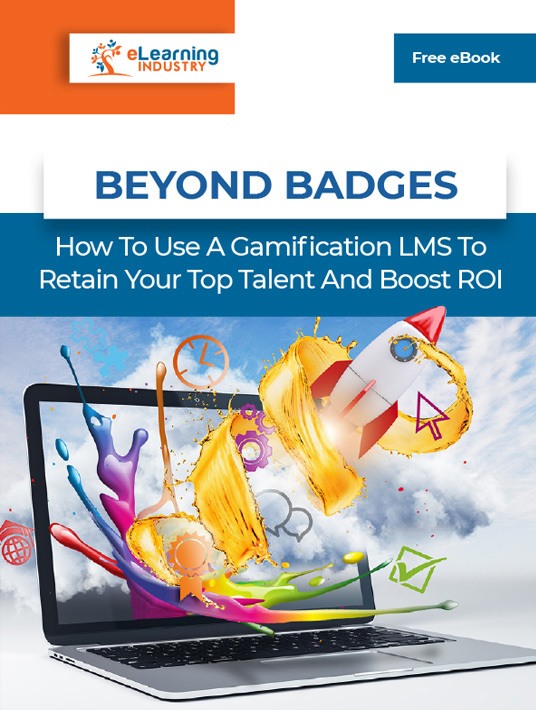 eBook Release
Beyond Badges: How To Use A Gamification LMS
Discover the surprising perks of investing in a gamification LMS for your online training program.
Separating Gamification LMS Fact From Fiction
Implementing a gamified LMS can improve employee participation and help you achieve your objectives. But many companies let the myths stand in the way of incentivizing their online training program. Our eBook features tips to launch successful gamified learning apps after overcoming these common misconceptions:
1. Gamification Equals Serious Games
Contrary to popular belief, gamification is not the same as serious games. Gamification involves incorporating badges, points, and other mechanics into your strategy. While serious games are often used as support tools or standalone activities, they facilitate mistake-driven learning, which makes them a great addition to your gamified LMS. Gamification is a more embedded approach, as employees earn rewards for completing tasks and accomplishing goals. Think of it as virtual applause for improving their performance behaviors and achieving desired outcomes.
2. Employees Will Focus Solely On Rewards
Earning a badge should not be the objective. Employees must know why they're trying to earn points or move up the leaderboard. Otherwise, rewards become distractions and your staff is being consumed by the incentives. When done correctly, implementing a gamification LMS can fuel motivation without spotlighting rewards. The mechanics should work behind the scenes to nudge employees in the right direction to prompt them to spend a bit more time training or to prepare for the upcoming simulation. For this reason, it's crucial to outline the purpose behind your gamification rewards and how they align with practical applications. For example, earning that colorful badge they can share on social media is great. But the primary purpose is to improve communication skills and identify customers' needs.
3. Competition Is Too Steep
Some employees shy away from gamified online training because they don't want to compete. At least, not to the point where co-workers battle for the top spot on the leaderboard and create a hostile workplace. Once again, this is avoidable with a solid gamification infrastructure. Choose game mechanics that align with employee preferences and personalities. Don't force introverted learners to compete against peers. Instead, use points to help them track progress autonomously. Also, ensure that everyone is on a compatible level playing field. For instance, new hires shouldn't be on the same leaderboard as seasoned veterans, unless you restart the rankings every so often.
4. Gamification Is Too Costly
Your organization can't afford to buy gift cards in bulk or pay for extravagant vacations. After all, that's what training gamification is all about, right? This is one of the biggest misconceptions regarding gamified learning apps. The rewards should spark intrinsic motivation, which puts monetary incentives out of the equation. Giving them a customizable badge should suffice if the employee is focused on developing their talents. In fact, you may reach a point where incentives are no longer required because their drive takes over. In the meantime, gamification shouldn't cost you an arm and a leg. Just look for a gamification LMS that allows for personalization. As an example, it features templates and themes so that you can create virtual display cases and progress maps.
Launch A Winning Gamification Strategy To Retain Your Top Performers
Leaderboards, badges, and points are merely a means to an end, not the ultimate prize. They give employees the morale boost they need to accomplish their goals and tap into a friendly competition. Here are just a few gamified LMS pointers you'll find in our eBook, Beyond Badges: How To Use A Gamification LMS To Retain Your Top Talent And Boost ROI…
Surprising perks of investing in a gamification LMS for your online training program
Essential gamification features to keep on your radar during the selection process to get maximum ROI
Techniques to use an LMS directory to find a worthy gamified LMS for your organization
Tips to use a gamification LMS to keep customers in-the-know with a consumer education program
The importance of using leaderboards and an LMS with rich gamification functionality
Game mechanics to look for in your new gamification LMS
Tips to use gamified learning apps to improve mobile training motivation
A step-by-step guide to creating gamified learning apps for your extended sales channels
Reasons to invest in a gamified LMS for your customer service department
Costly pitfalls to avoid when launching your new gamification training software
Winning L&D gold doesn't have to cost a tidy sum. Now that you know behind some of the most common gamification myths, your organization can profit from online training rewards. Beyond Badges: How To Use A Gamification LMS To Retain Your Top Talent And Boost ROI walks you through every step of the selection and implementation process, from features that boost ROI to creating gamified learning apps for remote employees. Get your copy today to hold on to your top talent and keep them fully engaged.