The Truth Behind 6 VR Training Myths
Nothing should stand in the way of your company's success. You and your team have worked diligently to build your brand, expand your customer base, and get that bottom line in tip-top shape. But there may be one uncharted growth opportunity you're a bit apprehensive to explore: VR training. It's all those pesky VR training myths that force you to think twice about implementing immersive technology. Let's clarify 6 common Virtual Reality training misconceptions that may be hurting your online training program so that you can let your team soak up all that real-world goodness VR has to offer and mitigate costly mistakes.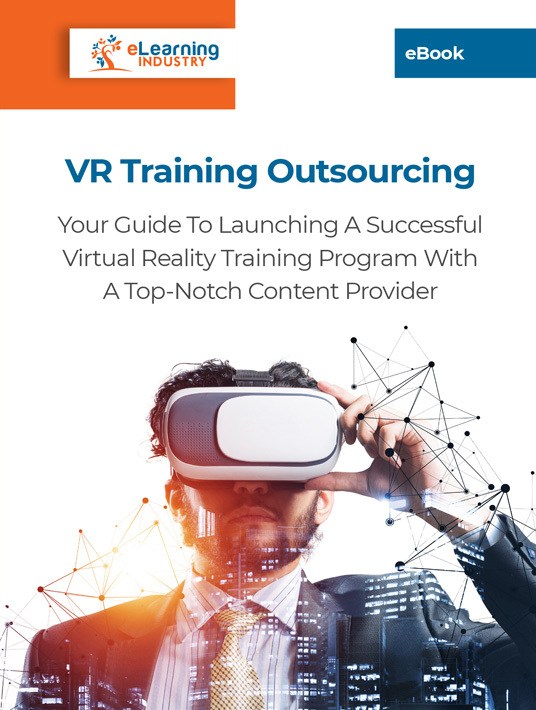 eBook Release
VR Training Outsourcing: Your Guide To Launching A Successful Virtual Reality Training Program With A Top-Notch Content Provider
Find the ideal partner for Virtual Reality training and transform employee training into an immersive and engaging experience.
1. Virtual Reality Training Is All About Gaming
There's a common assumption that VR training is reserved for serious games, while others don't even give VR that much credit, claiming that it's only suitable for casual gaming. The truth is that Virtual Reality has multiple training applications. Immerse employees in simulations to improve task performance or in branching scenarios to encourage mistake-driven learning and test their decision-making abilities. Limiting VR to gaming is a great disservice to your organization as there are many ways to achieve your online training objectives through VR contextualized learning.
2. VR Technology Is Too Expensive For SMBs
Launching a VR training program is too costly. You have to purchase new eLearning software, headsets for everyone on the team, and maintain the VR content. The fact is that SMBs with limited resources can still benefit from Virtual Reality training. You can outsource VR content development to avoid software costs and ongoing maintenance. Likewise, not everyone in the organization needs their own headset. Start with one—or a few if there's enough room in the budget—to give employees a taste of what's to come. Then gradually expand your online training program as you grow your business and staff size. Also, keep in mind that there are low-cost VR options, such as cardboard headsets. You always have the option to purchase high-end accessories when your budget allows.
3. You Can't Repurpose Existing Online Training Content For VR Training
You'll have to develop all your VR training content from scratch, even if you have an online resource library. This falsehood is a major hurdle for most organizations. Even if they have the funds for headsets, online training content development costs hold them back. In reality, you can use simulations, serious games, video demos, and other pre-existing online training resources for VR training. You might need to invest in new eLearning authoring tools to make minor adjustments or additions. But repurposing is a great way to roll out VR training and see how employee training participants respond before you invest in VR-exclusive content.
4. VR And L&D Aren't Destined For A Long-Term Relationship
Virtual Reality and L&D may be getting along right now. But it's just a passing fad. So, why waste your resources on VR instead of other tried and tested learning technologies? On the contrary, Virtual Reality will only grow in popularity as the technology evolves and becomes more affordable. More companies will see the real-world value of employee immersion and invest in VR solutions for their team. It may be the new L&D trend on campus, but it's here to stay. Gamification, video-based training, and mobile learning had their fair share of critics in the past. Today, they're eLearning staples.
5. VR Training Will Distract Employees From The Online Training Objectives
Employees will get so lost in the VR scenario that they lose track of time and the online training objectives. Virtual Reality is such a new concept that employees might think it's a novelty. In reality, VR training eliminates distractions so that employees can focus on the desired outcomes. They don't have to worry about chatty coworkers or email notifications pulling them away from the experience. VR training is the ultimate immersion, short of on-the-job apprenticeships. You should also preface each activity with practical benefits and how it helps employees overcome performance challenges. This way, they know what's expected of them and which behaviors to cultivate during the simulation.
6. Only In-House Tech Gurus Will Use VR Training
Virtual Reality is only for digital natives and tech experts. Everyone else will be so confused by the "newfangled" technology that they'll feel isolated or excluded from the online training program. The truth is that everyone in your organization can use VR tools. It might require some support on your end, such as walkthroughs that show them how to access the platform or navigate the VR landscape. You can also pair them up with a resident tech guru who can show them how it's done. There must also be a diverse range of VR content that has something for everyone. For example, task demos that include pop-up text explainers or audio cues. It's multisensory, but employees still have personal preferences and online training needs.
Virtual Reality is not going to turn employees' brains to mush. Or make them gain an excessive amount of weight by forcing them into a sedentary lifestyle. Even if sci-fi blockbusters would have you believe otherwise. Don't let these popular VR training myths limit your online training potential. Anyone can use Virtual Reality to impart practical experience and improve employee engagement, including SMBs with tech novices on their payroll and tight L&D budgets. The secret is strategy. Use online training resources you already have to cut costs and make sure VR is the right approach. Give employees the tools they need to acclimate and overcome tech barriers. Finally, focus on online training objectives and real-world application to maintain their focus and avoid the "fun and games" pitfall.
You can launch your own successful VR training program with the right eLearning outsourcing partner, regardless of the resources and size of your business. Download the eBook VR Training Outsourcing: Your Guide To Launching A Successful Virtual Reality Training Program With A Top-Notch Content Provider and find out how to warrant your investment while boosting your employees' performance and self-confidence.