How To Identify Emerging Talent With Leadership Training Programs
Many organizations limit their leadership development because they underestimate its applications. Contrary to popular belief, leadership training programs aren't just for managers. They can also help you spot emerging talent within your organization. The secret is knowing how to use existing tools to identify top performers and then how to cultivate their skills and core competencies with targeted online training resources. As a result, launching Project Management training is always worth the investment, even if you have limited staff size and budget. Plus, you can outsource content development to cut costs and reduce the L&D workload. Here are 7 innovative ways to identify emerging managers with leadership training programs.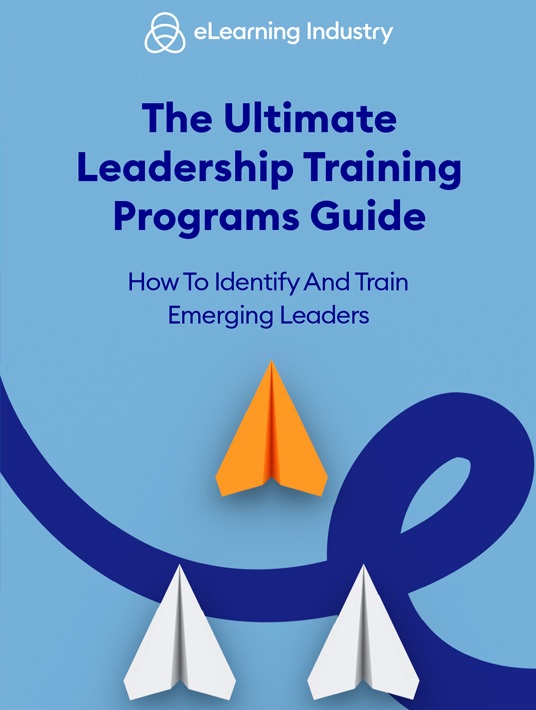 eBook Release
The Ultimate Leadership Training Programs Guide: How To Identify And Train Emerging Leaders
Launch a successful leadership training strategy for your top performers today.
1. Add Gamification To Your Leadership Training Programs
eLearning gamification uses rewards and game mechanics to boost employee motivation. However, it can also help you spot tomorrow's team leaders. For example, leadership development training points or levels allow you to track progress as well as determine which employees have the core competencies you're looking for. The key is to align incentives with performance behaviors and skills. Such as offering badges for advanced communication skills. These employees may be ideal candidates for customer service management, especially if they have tie-in badges like company policy and conflict resolution.
2. Host Live Brainstorming Sessions
Many organizations already host live leadership development training events for managers. So, why not schedule a live brainstorming session to identify future leaders? Start with a problem or challenge. Then ask attendees for their input. You can even host departmental events to narrow the field. For instance, sales employees are invited to the sales leadership training event. You know they already possess the fundamental know-how. Another option is to host job opening events. This covers all the competencies you're looking for. This is also the time to mention leadership challenges so that they know what to expect.
3. Create Group Collab Projects
Ultimately, team leaders stand out from the crowd. It's true, they're effective team players. But they also know how to lead their peers to success and delegate tasks. So, develop group collaboration projects to see who seizes the leadership opportunity. For instance, one of your top call center employees automatically assigns roles. They're the first to offer fresh ideas. And, most importantly, they're always willing to lend a helping hand. You can even do this via video conferencing. For example, invite online training attendees to break into groups. Then use breakout rooms to troubleshoot or create a presentation.
4. Use eLearning Branching Scenarios To Test Decision-Making
eLearning branching scenarios have various paths and decision points. Online training participants must make the right choices to achieve the best outcomes. Thus, it's the perfect tool for assessment. Namely, real-world performance evaluation as you can see how employees handle pressure and if they're able to use their skills and knowledge to overcome challenges. After all, making a tough decision on the spot is part of the manager's job description. Can your staffers make the right choice when there are extenuating circumstances? Do they struggle with every decision or click with confidence?
5. Start An Employee Online Training Library
Encourage employees to develop their own online training content. Then upload it to the LMS library. There are two notable benefits for employee contributions. Firstly, you can evaluate how much they know and how well they know it in a practical context because they need to summarize the key points in their own words. Then you can decide which information is relevant. This helps you identify emerging leaders who understand policies and protocols inside-out. Secondly, it allows you to expand your repository for free as all the assets are created by top talent. Just be sure to keep a running list of topics to avoid repetition. For instance, five employees may produce video demos that cover the same sales task.
6. Launch Certification Leadership Training Programs
Certifications are the ideal way to evaluate specific competencies or skills. For example, a certification course centers on team building. Staffers must complete all the related modules and activities, from simulations to final assessments. Every resource helps you assess their talent and knowledge base. Best of all, you can develop new certification paths based on job openings. For instance, you're looking for a new warehouse manager. Thus, the certification course might include safe handling and proper gear as well as skills that leaders must possess to support their team.
7. Develop Time Simulations That Feature Everyday Stressors
This is another great way to test employees under pressure. In this case, simulations are timed so that employees complete all the necessary steps while racing the clock. The simulation should also feature common stressors since managers must contend with a variety of obstacles every day. The caveat is that you need to know the employees' limits. Don't apply so much pressure that they buckle. Ideally, the activity should help them improve performance and identify areas for improvement, not make them feel defeated. For example, they may be so discouraged that they give up on becoming the next sales manager.
Conclusion
Effective leadership training programs aren't reserved for managers who need knowledge refreshers. Or even emerging leaders who must hone their skills. You can give every employee exclusive access to the JIT online training library and certification courses. Granted, it may just be a small section of the repository. This way, they can reevaluate their own career trajectory when the time is right and identify knowledge gaps they must work on to step into a leadership role.
Our eBook can help you launch a successful leadership development program for your top talent. Download The Ultimate Leadership Training Programs Guide: How To Identify And Train Emerging Leaders to find your next team leaders. It covers everything from outsourcing RFPs to crucial marketing leadership training topics.