How To Use LMS Reporting To Gauge Training Outcomes
One of the trickier aspects of L&D is tying your training to business outcomes. There must be an underlying reason for every resource in order to get the best ROI. This requires ongoing analysis of your team's performance and the overall effectiveness of your eLearning program. One weak link could spell disaster for your entire business strategy, so diagnosing issues as soon as they emerge is crucial. Thankfully, you probably already have the analytical tools you need to measure results: online training metrics. These are just some of the ways to use LMS reporting to track your desired training outcomes.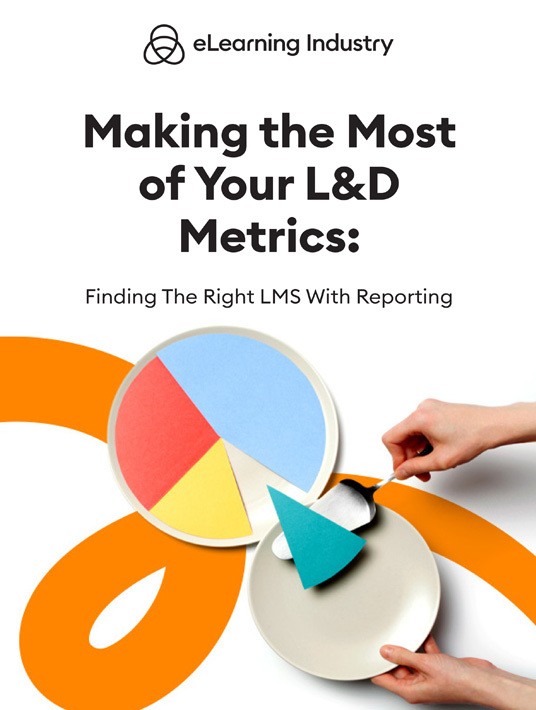 eBook Release
Making the Most of Your L&D Metrics: Finding The Right LMS With Reporting
This eBook can help you choose the ideal system for your business needs and track your training program.
7 Top Ways To Track Training Outcomes With LMS Reporting
1. Monitor Employee Progress To Identify Outcome Obstacles
You can see the finish line and you know what employees need to do to reach it. The challenge is overcoming all the obstacles that stand in the way of their success. Fortunately, you can quickly detect these outcome hurdles with LMS reporting tools. If their progress stalls, evaluate metrics to see where they stumble and detect the underlying issue. The course design may be the root cause as it doesn't align with their needs or preferences. It may also be a matter of JIT shortcomings. The employee doesn't have the support resources to bridge tie-in gaps that lead them to the desired outcomes.
2. Evaluate Completion Rates To Gauge Emerging Gaps
Low completion rates usually indicate one of two things. The first is that there's a hole in your strategy. The course is causing cognitive overload, or it simply doesn't offer them real-world value. The second is that there are hidden gaps hindering their progress. Employees are unable to complete the course in a timely manner because there is something holding them back—a wrench in the works that prevents them from achieving the desired training outcomes. They might have trouble moving theory to practice or need to hone a skill to improve performance.
3. Use Task Proficiency Metrics To Connect Training To Real-World Performance
It's not a matter of how much your employees know. Experience tells us that quantity always takes a back seat to quality in the training sector. Use task proficiency LMS reports to see how well they apply what they've learned, as well as disclose real-world performance risks that might lead to injuries and compliance violations. Both of these can seriously hamper your training outcomes and business objectives. Simulations, scenarios, and serious games are ideal proficiency gauges.
4. Analyze Time Logs To Find The Ideal Difficulty Level
Many organizations make the mistake of linking speed to efficiency. An employee races through the course, so they must know the topic inside out, right? The truth is that quick completion times aren't always a good thing. In fact, it's one of the most glaring signs that your design isn't challenging enough for the team. Employees need to be tested and challenged in order to grow and achieve the outcomes. On the same note, slow completion times may indicate that the difficulty level is too high or that learners lack the know-how.
5. Set Assessment Benchmarks To Measure Employee Growth
Pre-assess to find out how much they know and do periodic checks to measure their growth. Any LMS worth the investment will have built-in assessment reports. Use the LMS reports generator to monitor their development through every stage of the employment cycle. Or when they have a specific outcome that involves multiple tasks, courses, and milestones. If they fall below the minimum requirement (assessment score) you can intervene and offer additional support tools. In addition, they can use their statistical "growth chart" to fuel motivation by seeing how far they've come.
6. Conduct Progress Checks Using The Role Assignment Feature
This LMS reporting functionality involves multiple metrics, ranging from individual performance to completion times. Use the role assignment feature to form groups within the system and hold each employee accountable. You're able to see how they measure against their peers and troubleshoot areas where they're falling behind. For instance, an employee's badge count or certification path tells you they're on par with their coworkers. While another team member may be dipping below the status quo, in which case you can hold them accountable for their training performance.
7. Schedule Reports To Ensure Timely Follow-Up And Support
It may seem as though your L&D team has eyes everywhere. After all, they always seem to know about performance gaps or aspects of your training program that need a closer look. However, you can't expect them to keep track of every assessment score, time log, and certification path. That's what LMS custom reports scheduling is for. This LMS feature allows you to dictate who receives which reports, how often, and the preferred delivery method. That way, managers and supervisors get the reports they need to follow up with subordinates and provide continual support. Data sitting in the system won't do much good if leadership can't access or organize it. These scheduled reports should also have data visualizations that help them detect patterns that need their immediate attention.
Conclusion
Spotting common obstacles and using proficiency metrics can help you improve employee performance so that they achieve the training outcomes. You should also check up on their progress every so often to ensure they're on track, as well as pre-assess to set the benchmark and gauge their growth along the way. Lastly, make it easier on your L&D team by automating report delivery so that they can spot emerging challenges.
Invest in an LMS with a custom reports generator to track your training outcomes and achieve your objectives. Our online directory has the leading platforms and you can filter results by use case, pricing model, and deployment type. Simplify your search and find a system that allows you to schedule reports and measure KPI-driven metrics.
Download the eBook Making the Most of Your L&D Metrics: Finding The Right LMS With Reporting to fully leverage your eLearning data.