Looking To Manage Your Extended Reality Training?
Does your organization struggle to manage your extended reality (XR) training at scale? Are you excited to deploy your XR training program, but worry about managing and updating XR training content?
Look no further than an extended reality system (XRS).
What Is An Extended Reality System?
To understand the full capabilities of an XRS, let's first explore what extended reality (XR) training is. Extended reality (XR) training is inclusive of immersive learning technologies: virtual, augmented, and mixed reality. This type of training "extends" reality by transporting learners to a safe, multisensory learning environment that simulates real-world training scenarios.
As a way to manage, deliver, and assign this type of training, organizations may choose to use an extended reality system (XRS). An XRS uses cloud-based API technology to allow organizations to seamlessly administer their XR content and users from one convenient platform. Put simply, the main goal of an XRS is to make managing XR training easy.
Capabilities Of An Extended Reality System
While capabilities vary from platform to platform, an XRS generally enables an organization to perform a combination of the following tasks:
Deliver and assign XR content directly to any user or device
Automatically track and collect key training metrics [1] (e.g., user progress, choice selection, eye, and body movements)
Integrate with an existing learning management system (LMS)
Updates XR training [2] over WiFi without any additional software required
Create custom XR training via accompanying software kits
How Is An Extended Reality System Priced?
The cost of an XRS depends on the number of licenses your organization purchases. Typically, each XR device (e.g., a VR headset) requires a single license and a baseline fee for a web-accessed portal.
It can be expected that the more licenses for an XRS that an organization purchases, the less expensive the monthly license fee is per device.
How Can An Extended Reality System Bring Value To Your Training?
The main way an XRS adds value to an organization's training initiatives is by helping them scale their XR training regardless of a learner's location. This provides a high level of scalability and accessibility for learners near and far, while also keeping the training material itself consistent and effective.
Without an XRS, organizations will need to require devices in person to make updates and may even need to juggle multiple training applications, causing an inefficient management process. An XRS provides a level of convenience and ease of use that wouldn't occur with manually managing XR training.
In addition, an XRS gives internal users (e.g., administrators, team leaders, L&D managers) access to dashboards and other essential training information all from one platform. This allows multiple personnel within an organization convenient access to key insights into the training's effectiveness.
3 Pros Of An Extended Reality System
Conveniently deliver XR training to devices: Without needing to manually access devices, an XRS wirelessly delivers XR training and updates to devices over an internet connection.
Track key performance indicators: Capturing training metrics is quite a challenge. With an XRS, organizations can automatically gather key performance metrics (e.g., attempts, completions, scores) and display them on easy-to-read dashboards for further analysis.
Precisely assign training to learners: Each system is different, but typically an XRS allows organizations to assign training to the user, the device, or both. This gives organizations an added level of flexibility and control over their users' individual learning paths.
3 Cons Of An Extended Reality System
File size and WiFi can affect content deployment and updates: More extensive XR training programs with advanced functionality may negatively affect download times of content. Additionally, WiFi with low bandwidth may further draw out deployment and update times. To avoid this problem, organizations should ensure the content required for training is downloaded onto the device well before training begins.
Compatibility varies: Not every XRS is compatible with every operating system and device. To avoid compatibility issues, organizations should check that their XRS is compatible with their learning devices, software, and existing content prior to the start of their training.
User education may be necessary: Given the advanced nature of XR technology, learners may need a tutorial or additional training on what to expect with this newer technology. Luckily, most XR technology is intuitive enough that learners won't have to worry about unexpected issues or difficulty navigating their training.
By eliminating the hurdles to efficiently manage XR training, an XRS allows L&D professionals to take control of their XR training like never before.
References:
[1] Training Metrics and ROI: Formulas and Descriptions
[2] Is An XRS The Best Way To Update VR Content?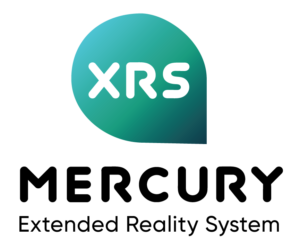 Mercury Extended Reality System
Mercury XRS unleashes the full potential of your extended reality (XR) training with effortless management, delivery, and reporting on one web-based platform.