Are You Ready For The Next Evolution In Learning?
What is immersive learning and why should you consider it for your L&D strategy? New and emerging technologies are driving the future of learning innovation and creating excitement across the business community. As the world prepares to return to a post-Covid world, the "new normal" has become clear: employees are willing and able to work and learn from home. The technology has arrived. The desire to work remotely has arrived. The digital revolution has arrived — and it's here to stay!
Our immersive learning guide provides you with an overview of the emerging technologies designed to support innovative learning programs. It can help you take the next step in becoming a successful learning champion at your organization. But first, let's explore the basics of online immersion and how it fits into the post-pandemic world.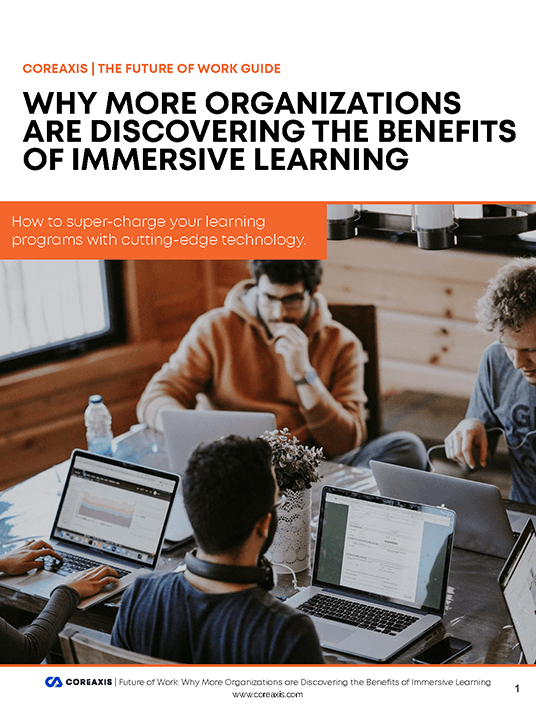 eBook Release
The Future of Work Guide: Why More Organizations Are Discovering The Benefits Of Immersive Learning
Discover how to super-charge your learning programs with cutting-edge technology and tap into the benefits of immersive learning!
Preparing For A Post-COVID World
Before the tumultuous year 2020, remote work and learning were becoming well-established strategies and preferences for many people. In 2019, 99% of employee respondents claimed an affinity towards working remotely, even partially, for the remainder of their careers. Moreover, the past 12 years have seen a 159% growth in remote work. At the same time, 2019 saw employers embracing the myriad of benefits of supporting remote teams. Working from home has proven to provide greater flexibility and happiness for employees while also boosting productivity. Makes sense, doesn't it? Less stress equals happier, healthier employees.
A year later, 2020 demonstrated how (albeit forced) both organizations and their employees could transition to a virtual environment. Not only is it possible to maintain productivity, but existing and emerging technologies can create even more efficiencies. The rise in new and more affordable virtual reality headsets and the ubiquity of smartphones is making learning more engaging and accessible.
Even as restrictions are lifted in a post-COVID world, many companies are choosing to remain either entirely or partially virtual moving forward. Facebook has announced that more than half of their employees will continue to work remotely. At the same time, Twitter claims that they will be moving into a 100% virtual set up.
The impact of emerging technology on learning
Perhaps there is a silver lining to the COVID-19 crisis. In a single year, people have been given a crash course in using technology to maintain continuity in their personal and professional lives.  And it's not only Gen-Z employees who are jumping on the trend wagon. Technology for communication and collaboration has seen adoption rates rise across multi-generational demographics.
What Is Immersive Learning?
In short, immersive learning leverages cutting-edge technology to deliver enriching learning experiences that drive retention and behavior shifts. Immersive learning technologies range from the deeply engaging virtual reality, to interactive augmented reality. Immersive learning helps to remove distractions and allows learners to devote their entire attention to learning programs. In a virtual environment such as a VR experience, participants can have more impactful and emotional learning experiences. VR encourages a deep level of presence, and learners become more emotionally engaged with course content.
They can "feel" what it's like to be in a given scenario. They react according to their emotional responses, and in the end, they reflect upon their experiences. Experiences that impact emotion and memory can lead to better retention and result in behavioral shifts.
Learners are given a greater sense of autonomy over where and when they choose to engage with content. For example, AR and AI-driven chatbots allow workers to access just-in-time learning to access knowledge and training at exactly the right moment. Consider a sales rep about to go on an important call. She or he can quickly search for and call up a company-issued best practices worksheet on their phone. They can run a few branching scenarios to practice their pitch.
Conclusion
Immersive learning provides practical help, on-demand and at their fingertips—not the traditional data dump. This is ultimately how learning can help change behavior and support business success.
What is immersive learning from a practical point of view? Download the eBook The Future Of Work Guide: Why More Organizations Are Discovering The Benefits Of Immersive Learning for more tips and techniques to launch an immersive learning strategy for your telecommuting teams.