Is An eLearning Niche Directory Right For Your Corporate Training Company?
The hardest part of marketing is knowing how to reach your audience. You know that your expertise, skills, and support services will win them over. But how do you draw them in? Is there a way to get more eyes on your landing page so that you can promote all your key USPs? An eLearning niche directory gives you the chance to make a proper introduction. It features your training solutions, specialization areas, and client reviews, which makes it the ideal addition to your current marketing strategy, especially if you want to cut costs and stand out in the SERPs. Below are 7 profitable perks that eLearning directories can bring to corporate training companies.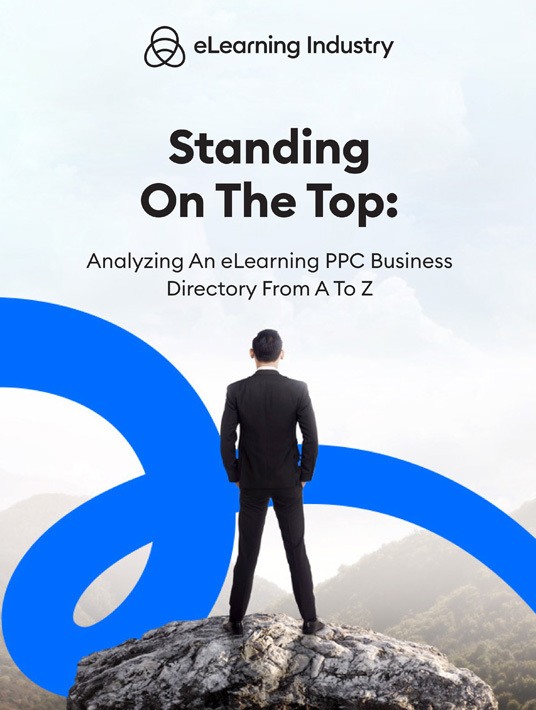 eBook Release
Standing On The Top: Analyzing An eLearning PPC Business Directory From A To Z
Should you list your online training solutions? An eLearning directory of companies outshines other marketing tools because it serves a single purpose, which is to help visitors make the best buying decision.
1. Generate Qualified Leads
The reason why many eLearning content providers list is to get lead qualification out of the way. Visitors who click on the directory know what they're looking for. They're there to find the best corporate training companies for their organization. As such, every click on your listing means something. You don't have to sort out casual site visitors from serious buyers. The eLearning niche directory targets all their vendor vetting needs, from solutions to support services. Therefore, it attracts leads who are more likely to convert into clients.
2. Rise In The Ranks
Most companies use some form of digital marketing these days. The main aim is to show up on the first page. Since everyone's vying for the top spot, it's challenging to rise in the ranks. On the other hand, an eLearning directory of companies has proven its relevancy. Google has given it a high-quality score because it meets all the criteria, for example, there are outbound links and targeted keywords. When you list, your company improves its SEO by association, not to mention you drive more traffic to your landing page, which improves your own site's rankings.
3. Show Off Your Specializations
Organizations don't usually look for generalists who offer a broad range of solutions. Ideally, they want content providers who specialize in specific training topics, such as conflict management or employee onboarding. A niche directory allows you to showcase your strengths. You can choose up to five specialization areas to include in your listing. However, you should also mention them in your company overview to provide some context. For instance, you've worked on over 100 performance management projects, with an emphasis on JIT support.
4. Welcome Corporate Training Companies Customer Reviews
There's a section in the eLearning niche directory dedicated to ratings and reviews. Clients evaluate your online training company based on achieved results, communication, and quality of service, as well as a variety of other criteria. They can also share what they liked best and least about their experience. Either way, your business benefits from social proof. Even constructive feedback can help you improve your strategy. Finally, this gives you a place to send satisfied clients. Link to your listing and invite them to share their honest opinions.
5. Stretch Your Marketing Budget
Tight budgets shouldn't limit your marketing potential. An exclusive directory helps you maximize resources and improve conversions. It's free to create a basic listing. However, you can always add on PPC to optimize the benefits and take control of your spending. For example, you set the max bid amounts and can adjust your budget at any point. Maybe you want to rev up your marketing strategy this month to increase signups or promote an upcoming event. Finally, listings with PPC feature transparent geo-bidding, so you're able to display ads in over 200 countries.
6. Promote Your Complete List Of Online Training Solutions
How do buyers know which vendors offer everything on their must-have list? The directory gives them a complete list of your training solutions. You don't even have to jot them all down. Just select those that apply to add them to your listing. Visitors can always visit your website for more info. In fact, that's what the list format is designed for. Every category gives buyers a quick overview of your services, but they have to click through to your landing page for the details as well as an expanded list of training solutions and off-the-shelf courses that you offer.
7. Focus On Specific Industries And Customer Types
The built-in search filters also cover industry and customer type. Visitors can find online training companies that cater to their needs, as well as understand the unique challenges they face like compliance issues and skill gaps that only pertain to your sector. As a result, you can land projects that align with your talents and design background. For example, you're looking for more clients in the human resource field because that's where your strengths lie. Maybe you already have the necessary tools and assets to create bespoke content for that industry. In addition, you might prefer to team up with smaller organizations versus large enterprises.
Conclusion
Should you list your online training solutions? An eLearning directory of companies outshines other marketing tools because it serves a single purpose, which is to help visitors make the best buying decision. As a result, content providers have the chance to connect with clients who wouldn't have found them otherwise due to the steep online competition and ever-changing SEO algorithms. In fact, there are over 30,000 directory visitors which makes it the largest global eLearning community.
Looking for a way to boost conversions and click-throughs? Our exclusive online directory gives vendors a results-driven marketing opportunity. See for yourself why hundreds launch listings to attract more qualified leads.
Download the eBook Standing On The Top: Analyzing An eLearning PPC Business Directory From A To Z to launch your listing and achieve PPC success.