Steps To Create A Niche-Specific eLearning Business Directory Listing
The COVID-19 crisis has moved many L&D programs online. It's a new business boom for eLearning content providers, but that also means that competition is growing steeper by the day. Fortunately, a niche-specific eLearning business directory can help springboard your marketing strategy. It's free, low-maintenance, and you can add PPC to generate even more qualified leads. Unlike general directories, niche-specific listings feature all the key selling points and solutions that buyers are looking for, as well as ratings and reviews to build social proof. Follow these 8 steps to drive more traffic to your landing page and make the most of a free directory listing.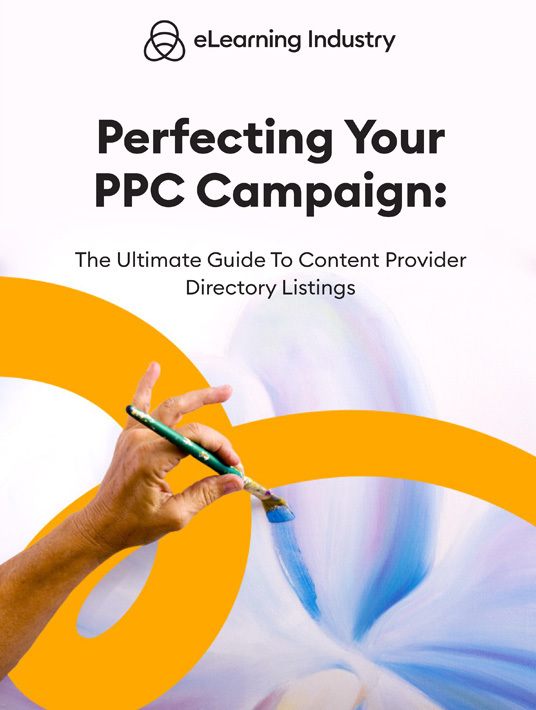 eBook Release
Perfecting Your PPC Campaign: The Ultimate Guide To Content Provider Directory Listings
Learn all the insider tips you need to launch a successful PPC listing.!
8 Steps To Make The Most Of A Niche-Specific eLearning Business Directory Listing
1. Register Your eLearning Solutions Company
You need to set up a free account with eLearning Industry first. This provides you with a username and password so that you can log in and review your listing at any time, as well as evaluate your performance reports. All it takes is your name and email address to get started to register your eLearning company and access the listing customization page.
2. Include A Brief Company Bio
After logging in, you're able to add your company info beginning with a brief overview of your services and pre-built solutions. There are actually two spots for your company bio. The first should be a quick summary that shows up alongside your logo. The other is a more detailed explanation of what you can offer clients. Finally, don't forget to add your website link so that buyers know where to find more information. You're also able to include your social media links to improve customer outreach.
3. Highlight Specialization Areas
Every online training solutions company has their strong suits, and we give you the opportunity to highlight your specialization areas. Visitors can also use the embedded search filters to look for content providers who fit the bill, for instance, only display eLearning companies that specialize in employee onboarding or leadership development. You're only able to add your top areas of expertise. So, focus on training niches that bring in the most business, or maybe specializations that you need to expand your online portfolio.
4. Choose Your Target Industries
Another filter visitors can use to simplify the search is industries. Thus, you need to select your top five to attract the right crowd. This is another drop-down menu, which makes it easy for you to add industries to your listing ranging from hospitality to health care. You can also mention additional sectors in your company overview, as well as skills and services that tie into your target industries.
5. Select All Training Solutions That Apply
Directory visitors usually have specific training solutions in mind, namely, activities or L&D tasks they want to outsource to experienced professionals. Rather than listing all your services one by one, we have a pre-built list with all the essentials. It's even divided into categories such as content authoring, gamification, and mobile learning. You can pick and choose solutions that you provide so that clients add you to their shortlist. Best of all, we've done our homework and know which training solutions are most popular, therefore you can concentrate on products and services that matter most to qualified leads.
6. Provide Contact Info
Of course, buyers need to know how to contact your company for more info. Some even look for content providers who are close to home so they can meet face-to-face, or they need a company for localization services. There's a spot for your headquarters in the directory listing. They can also click through to your landing page if they want to evaluate your portfolio or submit an RFP.
7. Create A Compelling Call To Action (CTA)
The goal is to get them to click and convert into paying clients. For this, you need an attention-grabbing CTA that's compelling and concise. This usually comes at the end of your company overview. They already know about your specializations and industry expertise, but it's the call to action that convinces them to visit your website. So, create a sense of urgency without being too forceful. You want to motivate qualified leads, not make them feel uncomfortable.
8. Invest In A Listing With PPC
That brings us to the final step, which is to add PPC to your eLearning business directory listing. PPC campaigns include a CTA button, personal account manager, and landing page consulting. You also have access to data-rich reports to help you optimize your listing and monitor daily performance. Plus, you can set your own spending cap to stay within budget and get premium placement in the directory. For this reason, many eLearning content providers choose to launch a listing with PPC since it's so cost-effective. It even improves your SEO because the site is already established and has a loyal following. As such, you can expand your marketing reach and see immediate results.
Conclusion
Our niche-specific eLearning business directory is a golden opportunity to attract more leads and showcase your industry expertise. Best of all, launching a listing with PPC starts at just 5 cents a bid, so you can reap even more rewards without spending a small fortune. It's easy to launch your targeted PPC strategy and set your max bid amount. In fact, it only takes a few minutes to customize your campaign and boost those conversion stats.
Take a moment to check out the eLearning content providers directory to see why hundreds of vendors promote their products and services with us. Buyers can evaluate all your key selling points and training solutions in one spot, as well as compare their top choices and read the latest user reviews.
Download the eBook Perfecting Your PPC Campaign: The Ultimate Guide To Content Provider Directory Listings to launch your listing and achieve PPC success.