What's The Link Between Cultural Transformation And Long-Term Success?
Adapting to new team leadership, task protocols, or company policies is never easy. Online training and ongoing support can ease your team into the transition and alleviate stress. Staffers are introduced to the new brand values, corporate beliefs, and key policies of your changing organizational culture.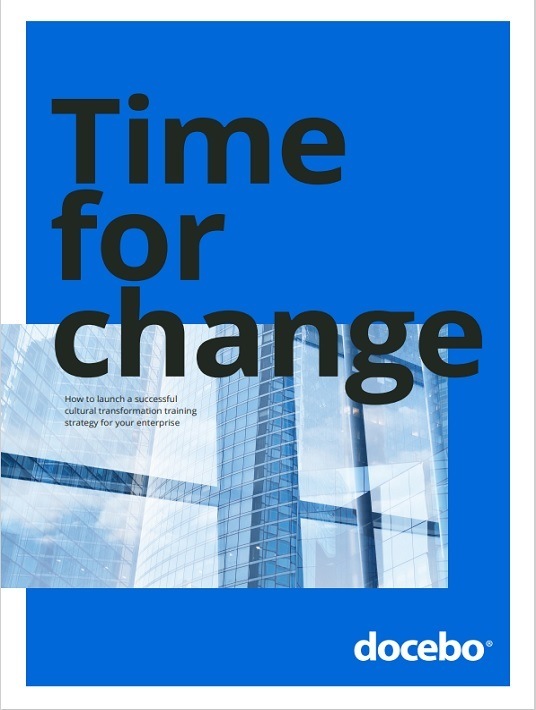 eBook Release
Time For Change: How To Launch A Successful Cultural Transformation Training Strategy For Your Enterprise
Discover how to continually evolve your brand with the right cultural transformation training strategy.
8 Long-Term Benefits Of Changing Organizational Culture
1. Align Employees With Company Values
Everyone associated with your organization needs to reflect its core values. That might be honesty and integrity, or an amazing customer experience backed by trustworthiness and industry knowledge. Cultural transformation helps employees re-align with current values and beliefs so that they put their best foot forward.
One benefit of this, for example, is that customers always get the same level of service when they interact with your brand. They know what your company represents and that your messaging is clear across the board, whether they're reaching out to a call center employee across the world or getting a product pitch from the local sales rep.
2. Improve Employee Satisfaction
Employees are more satisfied in the workplace if they know the brand's purpose, as well as their role in the organization. One of the most effective solutions for how to change organizational culture is to get employees on board from day one. They need to be involved in your company's transformation so that they understand the why and how behind it. Effective cultural change training personalizes the process so that they evolve with your brand and shift their performance behaviors to meet new standards.
3. Boost Workplace Productivity
Satisfied employees who know what your brand stands for are more productive in the workplace. They understand how to perform tasks that align with company protocols, and how to streamline processes so that co-workers don't have to pick up the slack. Another productivity perk is fewer on-the-job mistakes since everyone is aware of company expectations and the consequences associated with misconduct.
4. Increase Sales
Regardless of your industry or staff size, your company is in it to make money. You need to turn a profit in order to achieve long-term success and get your share of the market. The only way to do this is to keep up with the times. You need to stay relevant and one step ahead of the competition. Cultural transformation can help you increase sales and service scores so that your business weathers future financial storms.
For example, there may be a slump in the economy but you're able to ride it out because of repeat business and wise investments. This is due to the fact that you're willing to grow and adapt your company to meet current demand.
5. Enhance Brand Image
Organizations that are immediately recognizable have one thing in common: flexibility. Their logo and messaging change over time, but they keep their image and reputation intact. In fact, they enhance their brand by meeting modern expectations. As such, cultural transformation is one of the most effective ways to build your brand identity and public image. Customers recognize when you are stagnant. Your enterprise must be ready to identify its faults and address them in order to provide top-notch customer care. Whether that's developing new products or re-evaluating your business strategy.
6. Retain Top Performers
Top performers want to align themselves with brands that have a clear agenda and purpose. But there's more to it than that. Talented staffers are also looking for organizations that value positive change and professional evolution. Because that's what is supposed to happen at the individual level. Staffers constantly build their skills and knowledge, trying to achieve their true potential. The company they work for should follow the same rule. Your organization must overlook corporate growing pains and always strive for excellence, even if that means overhauling your entire identity or switching up management to achieve the best results.
7. Uphold Industry Standards
Other companies within your niche are competition. However, you're all governed by the same industry standards and protocols. Enterprises that fall short won't last long, as they simply don't reach the bar that's been set. Organizational culture change ensures that you always meet industry requirements instead of lagging behind, which also mitigates compliance risks. For this reason, it's crucial to keep up with industry trends and regulations so that you don't fall out of favor.
8. Reduce Operational Costs
All of these benefits contribute to your bottom line. Increased work productivity and lower employee turnover reduce operational costs, as you don't have to hire new employees to fill gaps. A better brand image increases repeat business and customer loyalty while adhering to industry standards. Not to mention, it keeps employees safe in the workplace so that you avoid high insurance premiums and workers' comp claims. If you're undecided about whether organizational culture change training is worth the investment, consider the costs of maintaining the status quo.
Conclusion
A major challenge that companies face when changing organizational culture is a tight timeline. You need every member of the team up to speed before the transformation can begin. To help, you should look for a feature-rich and intuitive LMS to flatten the learning curve without compromising functionality.
Many organizations overlook the emotional ramifications of change, such as how new team leaders or company protocols affect staffers' stress levels and on-the-job productivity. Download Time For Change: How To Launch A Successful Cultural Transformation Training Strategy For Your Enterprise to ease employees into the transition and retain top performers.
Docebo
Docebo's LMS transforms how enterprises & corporations onboard, develop, enable and educate customers and partners. Docebo scales from 500 learners to thousands - from content creation, management, delivery, to measuring business impact.