Bridging Gaps With A Workforce Development LMS
What is workforce development? From retaining your top talent to avoiding compliance complications. There are countless reasons why you should invest in an effective employee growth program. One of the biggest benefits is being able to stretch your budget by not having to replace staffers or recover from task errors. For example, an employee who incorrectly processes a return and leaves you in the red. But what does it take to implement a successful L&D plan that addresses everyone's needs and organizational objectives? Below are 7 elements missing from your current online training strategy and tips on how to bridge them with the right workforce development LMS.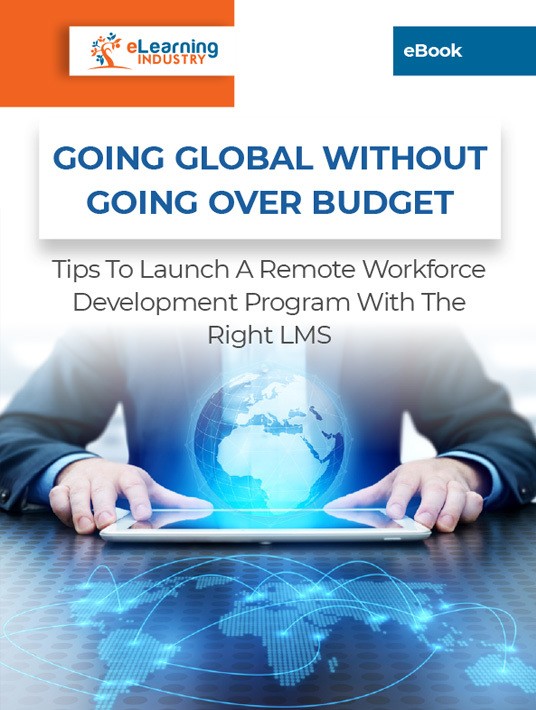 eBook Release
Going Global Without Going Over Budget
Discover how to implement a remote workforce development program with the right LMS.
1. Practical And Personalized Training Paths
Offering a one-size-fits-all development plan leaves everyone in the lurch. Your employees won't be able to focus on their respective areas for improvement. Which impacts their on-the-job performance and productivity. In turn, your bottom line suffers. A workforce development LMS can provide employees with personalized and practical personalized online training paths that align with their needs. For example, a member of your customer service team participates in simulations to test their communication skills. Or serious games that expose them to different customer personas. As a result, they're able to gain the practical experience they need to tackle work-related obstacles.
2. Targeted Skill-Bridging
Along the same lines, every member of your organization has unique strengths and skill gaps. One of the most significant challenges facing businesses today is developing a workforce development program is a balance. Being able to address the needs of the organization and the needs of the individual. A new employee development LMS facilitates targeted skill-building that's learner-led. A staff member can simply login to the system to access the skill-based library from anywhere in the world. Or take self eLearning assessments that help them disclose hidden gaps. In addition, the LMS features built-in reports so that you can track every aspect of their development. From which aspects of the online training course they struggle with, to the skills they need to hone based on their branching scenario performance.
3. Individualized Performance Management
You want your employees to work at peak performance. Quickly handling troublesome tasks in a flash and minimizing on-the-job errors. In order to achieve this, they need individualized performance management tools to identify pain points and hone their strengths. A workforce development LMS allows you to provide this all-important employment requirement so that they mitigate risks and boost productivity. For example, you can assign online training tasks based on their past performance issues. Or specify LMS roles so that they get targeted recommendations via their online training dashboard.
4. Peer-Based Collaboration
Even the most introverted employee needs a helping hand from time to time. After all, we are social creatures. Workforce development Learning Management Systems facilitate peer-based collaboration so that your team can interact with ease. Even if they're thousands of miles apart. This is all thanks to video conferencing support, social learning integration, and other collaboration-boosting tools that are built right in. Peer-based activities can range from online discussions and live events to group projects and blog posts.
5. Ongoing Employee Support
As any successful HR manager or L&D supervisor will tell you, online training doesn't work if it's a one-time event. Your employees need continual follow up to hone their talents and bridge emerging gaps. Thus, your new LMS must be able to provide ongoing online training support. Such as moment-of-need libraries that employees can access whenever they discover a fresh sticking point. In addition to real-world activities that allow them to gain practical experience and work through challenges risk-free. You might also consider built-in video conferencing tools that allow you to host webinars and live roundtables. Wherein employees can ask questions and interact with their managers/instructors directly.
6. Built-In eLearning Feedback
Some employees might be able to detect a weakness or mistake right when they come across it. On the other hand, others need a bit of nudge to stare down the error and figure out a way to resolve it. Therefore, your new workforce development LMS should have a built-in eLearning feedback system that prompts reflection and self-evaluation. This comes in many forms. It might be something as direct as pointing out mistakes after they complete a simulation and providing a list of online training resources. Or it could be subtler. Such as incorporating gamification elements that reward them for their hard work. Employees who don't earn a badge are told why and given the opportunity to improve.
7. Employee-Centered Onboarding
Successful employee development begins long before the new hire clocks-in for their first day. You need a workforce development LMS that offers employee-centered onboarding that easily transitions into continual skill-building. Basically, every stage of the employment cycle must be taken into consideration when you're looking for a new LMS. In the case of your fresh recruits, the Learning Management System should be able to bring them up to speed and target areas for improvement. For instance, support social learning so that they learn from their more experienced peers. As well as impart real-world experience in regard to compliance issues and work-related tasks.
Before you even start to search for a new LMS to discover what is workforce development for yourself, a Training Needs Analysis is in order. Surveys, assessments, and task performance evaluations are just a few diagnostic tools at your disposal. Figure out where the problems reside, how you can address them with a replacement platform, and which budget-breakers are draining your online training resources. For example, your current Learning Management System may be lacking in report functionality. Which prevents you from pinpointing improvement areas and providing more targeted training resources.
Do you want to discover more about the benefits a new LMS can bring to your business? Download the eBook Going Global Without Going Over Budget: Tips To Launch A Remote Workforce Development Program With The Right LMS, explore ways to bridge the gaps and enhance your business strategy.