How To Select The Right Learning Platform To Prove Learning Outcomes
Your learning platform can only find acceptance if it can demonstrate proper outcomes. Running a proper Training Needs Analysis will open the room for discussion. You can use the input from this research to understand the needs of the employees and key stakeholders. If you already have an LMS or a learning platform, here are a set of guidelines that will help you demonstrate learning outcomes; if your platform cannot do all of this, one recommendation is to consider using it alongside a world-class learning platform such as CALF™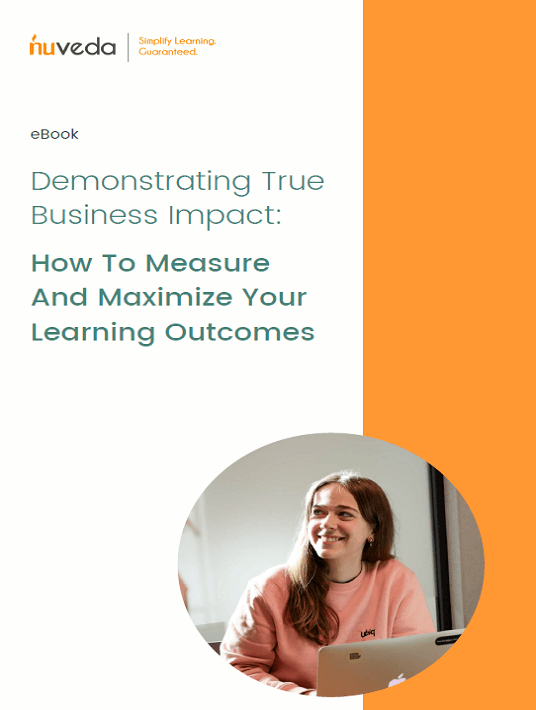 eBook Release
Demonstrating True Business Impact: How To Measure And Maximize Your Learning Outcomes
Discover how to measure learning outcomes and choose a learning platform that can help you demonstrate real business impact.
5 Tips To Choose The Best Learning Platform
1. Assess And Baseline
The ability to assess a population to understand the gaps is a critical need for Learning and Development professionals. This allows you to create a proper baseline and then understand whether the learning interventions made a difference or not in your population - whether it is just a single cohort, multiple cohorts, or an entire employee set.
Assessing with the right tools and techniques is also important. When a top eye hospital in the world discussed their issues with NuVeda, they had a very specific problem. Their standardized certification process for onboarding new Allied Ophthalmological Personnel (AOP) was a rather cumbersome process, heavy on manual inputs and therefore human errors. The reporting process was also difficult and had to be constantly verified for accuracy. To streamline the process of skilling, reskilling & certification, the CALF™ platform was deployed with a powerful assessment engine that accurately provided a baseline on a particular nurse's strengths and weaknesses.
In some cases, assessments could be provided through tools such as nu360 Feedback which provides a 360 Feedback assessment report for candidates or a psychometric tool that is typically used for Coaching interventions. Your LMS should be able to integrate with these assessments seamlessly just as the CALF™ Learning Platform integrates with nu360 Feedback seamlessly or other assessments as needed. CALF™ also allows you to use the LAP as a potential assessment tool in understanding behavior as well. In the Kirkpatrick Model of Learning Measurement, these assessments are best if they are done at Levels 2, 3, and 4.
In other words, your LMS should be able to cater to all the demographics of your constituents - from early-in-career employees, functional teams, new managers, mid-level managers, and senior leaders.
2. Personalized Learning Journeys
Once the assessment is complete, the LMS should offer personalized learning journeys to the users as much as possible. The power of personalization may not be underestimated as it is critical to demonstrating learning outcomes for the employee or the participant. Take the case of a person who did not do well in a particular competency - does your learning platform suggest courses or approaches to mitigate that particular weakness? If it does, great! If not, you may wish to consider the flexibility of the CALF™ platform to help your participants with personalized learning journeys. Of course, the use of Artificial Intelligence (AI) and Machine Learning is critical to personalizing these journeys for effectiveness.
Of course, integrating with various content providers, including MicroLearning and flashcards and providing the flexibility to craft those journeys in the way you want is non-trivial, and must be an integral part of the LMS you choose. Specifically, learning platforms must not only provide the capability to craft self-paced and self-directed user journeys, but also any other kind such as a blended user journeys - with a mixture of self-paced and instructor-led offerings for best learning outcomes.
3. Engage And Gamify
All of us remember a time when we enjoyed classes with a particular teacher or a situation. Most often, learning happens when there is a joy of discovery or just sheer fun. The ability of good facilitators and teachers to engage with their participants is what distinguishes active learning and passive learning.
Active learning allows people not only to enjoy what they are learning but also practice and apply it in specific cases and contexts. Passive learning, on the other hand, may tend to be cognitive in nature for the most part. Today's technology platforms give users the ability to interact in ways that make learning fun - and the CALF™ platform provides various avenues for gamifying learning including tools such as drag and drop, match the following, leaderboards, and more. The ability to engage and gamify is a critical need today, especially in remote learning environments.
4. Reassess And Report Improvements
Once the journeys are complete, it is important to reassess what improvements were made by the participants as a result of these learning interventions. Did they cognitively improve in their understanding (Level 2)? Or did they actually make behavioral changes (Level 3)? Or even better, are they able to meaningfully affect business results (Level 4)? Your LMS should be able to give you reports that demonstrate such improvements so you may share them with your stakeholders and clients. With the CALF™ platform, such reports may be easily generated and shared with the constituents.
5. Analysis And Insights
Of course, with all the reports that your LMS generates, it is important to analyze and gather insights: Why is this learning program not working with this particular set of cohorts? What changes are required in order to move the needle for this particular function? Which content works best with our employees?
Your LMS must be able to provide you with the analytical capabilities right at your fingertips; CALF™ does this with integration with PowerBI, a Microsoft Product, and provides integration possibilities with Google Data Studio among other Business Intelligence (BI) tools.
Conclusion
It goes without saying that you must have Mobile Learning and very good support in today's world of smartphones. Over 90% of learners today are stuck to their mobile devices and it's imperative that your LMS supports these learners. Platforms like CALF™ come with native iOS and Android mobile apps that make a positive difference to such learners.
Download the eBook Demonstrating True Business Impact: How To Measure And Maximize Your Learning Outcomes to drive L&D initiatives in the right direction and achieve your desired business outcomes. You can also join the webinar to learn whether your L&D initiatives really align with the organizational objectives. The webinar also explores how to leverage the full capabilities of CALF™️, the learning platform that measures the behavioral and business impact of your learning interventions.

CALF™
CALF™ is the only LMS with the Kirkpatrick Model of Training Effectiveness built right in with the platform. The user-friendly LMS can be used as a stand-alone LMS or one that coexists with other LMS-es. Integrates easily with other systems.