Benefits Of The 70 20 10 Model
In a nutshell, the 70 20 10 model states that people obtain:
70% of their knowledge from job-related experiences,
20% from interactions with others,
10% from formal educational events.
Using this strategic learning framework provides you with a holistic way to acknowledge and support all of the learning and development activities that happen within your organization. This helps you to account for, and measure, the impact of each so you can ensure your business is on track to achieving its employee development goals.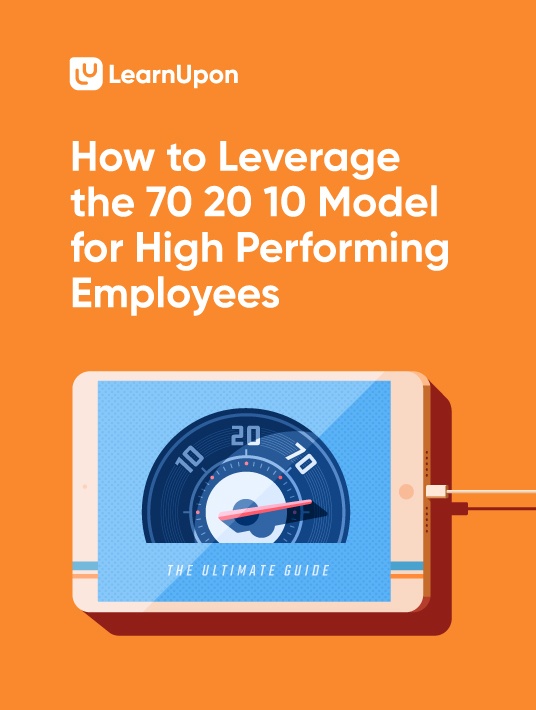 eBook Release
How To Leverage The 70 20 10 Model For High Performing Employees
Discover what the 70 20 10 model is, its benefits and how to implement it, in this complete guide.
1. Offers Flexibility
The 70 20 10 model is more of a flexible guideline than a set formula so organizations can adopt it in a variety of ways. Some use it to target specific outcomes, like improving employee performance. Others use it strategically, to help employees with wider learning, like professional development. Having a flexible L&D model is crucial to supporting the diverse learning needs of all of your employees, where a one size fits all model may hinder your workforce's professional development.
2. Enhances Employee Engagement
Organizations that implement the 70 20 10 model observe an increase in employee engagement. This is primarily down to the fact that it supports multiple learning styles. Learning through experience enables your employees to better understand what they need to do to complete their assigned tasks. Social learning enables them to interact with their peers so that they can learn from, and with them. Formal training, when planned, designed and delivered correctly, encourages employees to learn so they can perform their role to the best of their ability. Supporting all of these different learning methods results in an engaged workforce and improves your organization's productivity levels.
3. Increases Manager Involvement
By using the 70 20 10 model, organizations can increase supervisor and manager involvement in day-to-day employee training and development. Think about it; social learning, which makes up 20% of the model, requires employees to learn from their peers or higher-ups. This means managers and co-workers are best placed transfer on-the-job knowledge by demonstrating tasks and facilitating questions. This approach to learning, in turn, creates an environment of mutual respect, understanding, collaboration, and team spirit.
4. Faster Productivity
Supporting employee development in all its forms enables your organization to nurture a high-performing workforce. 70 20 10 is a catalyst for change, it takes learning and turns it into productivity. Learning doesn't just happen when an employee is completing a course—they're always learning. And as they're continuously learning how to do their job better, they're fully equipped to execute their role within your organization.
5. More Efficient Way Of Learning
As employees can learn by observing, consuming and doing, using this model is a great way to support active learning. For example, if you're stuck on a task at work, you're likely to ask a colleague you trust and know to help you. Through on-the-job experiences and guidance, employees are more likely to both acquire and retain the information they need in a timely manner, making it an efficient and effective way for them to learn.
6. Encourages Collaboration
The social learning side of this model encourages employees to share their learning experiences with each other. Learning with and through others, sometimes without being conscious of it, creates a collaborative working environment. Employees can exchange different ways of approaching a given task, enabling them to determine the best way to tackle it. Collaborating in this way also creates a strong culture of learning within your organization.
7. Fuses Different Ways Of Learning
The 70 20 10 model combines different learning methods into one model, allowing for a more blended learning experience. By supporting experiential, social, and formal learning, you're ensuring your workforce is more likely to acquire and retain the information they need to become high performing employees than if they were learning through a single method.
Achieving Your Employee Development Goals
Organizations engaging with this model understand that a purely training-based approach to learning may not work for all their employees. 70 20 10 recognizes that learning new skills and retain knowledge isn't just about formal training.
Before you can use 70 20 10 to support workforce learning and achieve your employee development goals, you need to know it's fit for purpose. Think about how you'd apply it to your current learning and development strategy and, more importantly, identify if it will meet all of your workforce's learning needs. Download the eBook How To Leverage The 70 20 10 Model For High Performing Employees and get to discover all about the 70 20 10 model, an L&D theory that encapsulates all of the different ways that people learn. Join the available webinar, too, to find out more insightful information about the 70 20 10 model.