Banner Ads Advertising For Beginners
A banner ads advertising campaign grabs the viewer's attention. As a result, it can drive traffic to your preferred landing page or even generate more leads! But what exactly is a banner ad? Can targeted popups help your business increase sales and stretch the marketing budget?
In this article, I share everything you need to know about targeted banner ads, from use cases to unexpected perks. I'll even highlight the different types of ads you may want to consider for your product or service that way you can make the best marketing investment based on your specific needs and KPIs.
Achieve Your Marketing Goals With Display Banner Advertising
Drive website traffic, build awareness and generate higher quality leads with a banner ads campaign on eLearning Industry.
What Can You Promote In A Banner Ad?
What are banner ads? Think of banner advertising as the more attractive and engaging cousin of PPC ads. Instead of a text block, targeted banner ads and popups rely on attention-grabbing visuals; for instance, images of your product and your logo to build brand awareness or content that highlights your USPs. Add some animated visuals to the mix and you've got everyone hooked on your solution!
That said, you can run banner ad campaigns on several websites. The more related the website's audience is to your target buyers, the better conversions you'll get. In addition, you can also create banner ads and popup banners on your own website to grab your visitors' attention and lead them to visit your valuable assets.
Below are a few top ways you can incorporate banner ads into your marketing strategy.
eLearning Events And Upcoming Webinars
Fill those empty virtual seats and increase signups with targeted banner ads and popup banners. Promote major online events like webinars, conferences, and workshops as well as live demos so that qualified leads can see your product perks in action. You can even use category-specific popup banners to highlight the key topics and notable guest speakers. By segmenting your audience and your campaigns, you increase the chances of reaching the right prospects.
eBook Launches
eBooks help you build niche expertise and establish yourself as an industry authority, not to mention, explore the many ways that your product or service addresses customer pain points. But how do you spread the word about your value-added guide? Banner ad marketing drives more traffic to your eBook landing page, hence it helps you generate more leads!
Product Announcements
You've just unveiled a new product that will revolutionize the eLearning industry, or maybe you've added new services to expand your market reach. Banner advertising allows you to promote your product page or blog to attract your target buyers, you just have to decide the best banner ads tool to promote it. Be it run of site banner ads or compelling popup banners, you must be loud about your new accomplishments!
Free Trials Or Consultations
Are you offering a free consultation to land new clients? Do you want to give prospects a tool test drive to show off your USPs? Banner ads are also ideal for promoting special promos or services that help buyers get top value for money. If you want to expand your reach, it's best to find the right partner. Your website is not enough, so what better than taking advantage of someone else's visitors or members? Thankfully, there are plenty of publishing platforms, online communities, and business-related websites that your buyer personas visit to gain information. By getting your brand out there, you display your solution to top-quality prospects!
Research Events
Market research is crucial to the success of your corporate training business. Popup ads give you the opportunity to boost participation and gather targeted data. You can use them to promote surveys, polls, questionnaires, and even live research events.
Insider Tip: How To Make Banner Ads
Figure out the dimensions of the banner ad so that you know how much space you're working with. For example, some dimensions might work better for your authoring tool or LMS campaign. A/B testing is a crucial part of this process, it will help you identify the best approach.
Create the artwork and include a CTA to boost traffic. It's best to keep the needs and pain points of your target audience in mind. What are they looking for in a new authoring system? Which talking points should you mention to increase event signups? You have a limited amount of room so concentrate on the essential info and graphics. Choosing the right visuals and CTAs is key to getting the conversions you need.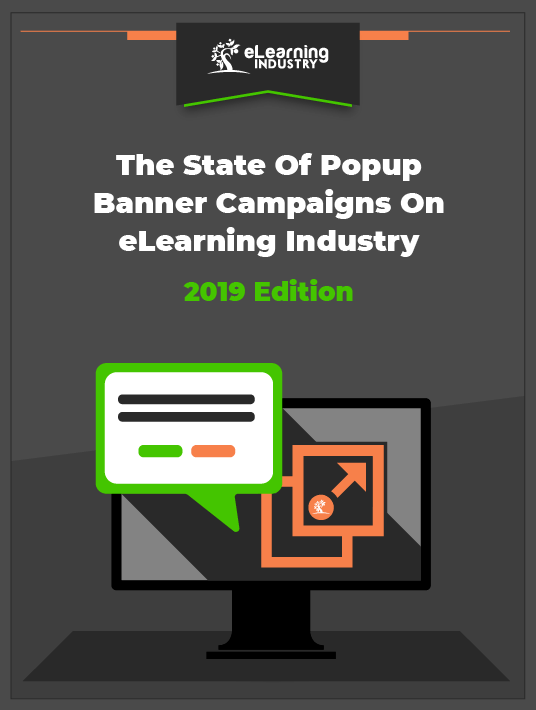 eBook Release
Do You Want To Learn More About Creating Successful Popup Banners?
Download this eBook to get the hottest tips on designing popup banners that actually convert.
4 Perks Of Banner Ads And Popup Advertising
Increase Site Traffic And Conversions
Banner ads benefit websites by driving more traffic (to important landing pages) and improving conversion rates. Visitors that click on the ad are already interested in your product or service. They've shown buying intent and they're further down the marketing funnel. Targeted popups put your brand front and center so that you stand apart from the crowd.
Expand Your Reach
Customers who may not be familiar with your brand learn about your special promos or upcoming events. Thus, you have the opportunity to expand your reach and target new buyer personas, people who wouldn't have found you otherwise due to market saturation and steep online competition. Leveraging banner ads on niche websites may very well drive top-quality traffic to your product pages or other valuable assets.
Focus On Specific Promotional Events
Another perk of banner ad marketing is timing. You can schedule your campaign to run right before your live event or eBook launch or even the release of your brand new eLearning software. For instance, you may want to focus on a webinar you're hosting next month so launch targeted popup ads a month before to draw in a larger crowd and increase attendance.
Stretch Your Marketing Spend
When running banner ad campaigns on other websites, you can custom tailor them to better suit your marketing budget. For example, you're able to choose the type of banner ads and quantity. Furthermore, a banner advertising agency can help you optimize your strategy to improve ROI, such as monitor the performance of certain ads to fine-tune your approach.
Conclusion
Popups and banners attract corporate training buyers with visually compelling ads that are brand-centric. They form an instant connection with your target audience instead of just blending into the background. Running banner ads also gives you control of your marketing budget. Hence, you're able to choose the best ad strategy for your business and reach the ideal buyer personas when it matters most.
Do you want to design an impressive banner and make a great first impression on your target audience? We've created an epic guide that features copyrighting secrets to boost conversions and increase brand awareness.
Discover additional benefits and optimization tips by checking out our Complete Popup Banners Guide For eLearning Companies!