Content Marketing Experts Keep Secrets—Let's Unravel Them!
Content marketing experts are responsible for producing content for digital marketing campaigns. How do they manage to ensure each campaign's goals are met? They have their secrets. And we're here to unravel them!
It might sound simple enough to write an article or create a blog post. You just have to post it on your website, right? Content marketing is not just jotting down whatever you feel like saying. More skills and strategies are lurking in the shadows than simply being a good writer or having a decent idea. And a solid business USP can only get you that far.
Content marketing specialists know what people want to read. That's why they are highly in demand. You see, the best content marketing experts out there are extremely skilled. They've trained their minds to understand the way consumers think.
Content is king, but these experts have specific aces up their sleeves. Hence, content marketing is one of the most critical aspects of any digital marketing strategy. Take notice.
Let's explore how you can create content that sparks engagement and speaks to the hearts of your potential buyers.
Unraveling top secrets in 3, 2, 1...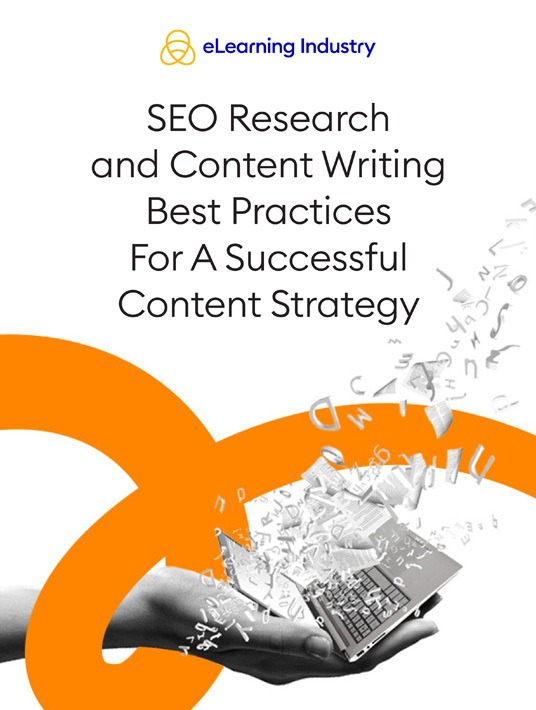 eBook Release
Increase Your SEO Performance With Valuable Content
Learn how to reach your audience organically with SEO. Top tips and latest strategies to rule the SERPs!
4 Content Marketing Secrets You Didn't Know
eLearning businesses have joined the party of content marketing and are using it as a strategy to reach and convert prospects. Be it inbound lead generation, lead nurturing, or simply ranking higher on Google, content marketing can get you there.
But how are they getting the best results possible?
If you want to achieve results for your business, you need to focus on certain strategies and also improve your content marketing skills. That's how the best digital marketing agencies do it. However, budgeting might be an issue. And maybe you lack the resources for now. But it doesn't mean you can't apply these tips to your eLearning marketing strategy.
Let's find out how digital and content marketing managers in eLearning can boost their content strategies.
1. Content Marketing Skills Experts Possess
Simply put, a content marketing specialist is in charge of writing and editing content. These experts deal with content for various digital marketing campaigns. There are times when they might need to join forces with other teams to develop a more extensive content marketing strategy.
As essential marketing team members, they have a knack for creating stellar content. Their creations can be put into blog posts, articles, and social media pieces to drive traffic and increase engagement. It can even include bigger items, like white papers, eBooks, journals, and even technical guides.
Here's a short list of the essential content marketing skills you need to make it in the digital marketing realm:
Keyword research skills
SEO skills
Analytics skills
Now that you know the basics, it's clear that content marketing experts know how to use basic SEO tools. Of course, there are tons of great tools out there. Make sure that the content marketing experts on your team have a good idea of how to handle tools like Moz, Semrush, Google Analytics, and Google Keyword Planner.
Try some demos of these tools at first, or even take some product training courses. Also, certification programs could help prove your expertise and take content marketing skills a step further.
Plenty of content marketing experts go on to add specialized skills to their resumes. For example, don't be surprised to learn that many website designers, digital marketing strategists, and SEO specialists have also been content creators before changing careers.
The best content marketing experts really stand out not only because of their overall credentials but because they can keep up with trends and what people want to read.
So, if as a leader you're aiming to build a high-performance marketing team, upskilling and reskilling your assets is key.
2. Why Learning From Your Competitors Is Key
Successful organizations have a good understanding of how to implement an effective content marketing strategy. That's key if you want to outperform your competitors. Competition is a good thing. If you try to compete with others for a spot in Google's top 10, choose a search term that can potentially generate a lot of money for your business.
It's all about finding profitable keywords and making the most of them. But the idea behind creating effective content has many parameters to make it work. Not only do you need to build relevant contextual links, but you should master landing page optimization best practices to outperform your competitors' pages.
Want to learn more about how to increase your website conversions exponentially? Try following these steps:
Start monitoring competitor content
Implement a backlinking strategy
Spy on your competitors' top keywords
Unravel long-tail opportunities
Content marketing and inbound marketing are not just buzzwords we like to throw around. Trust me, eLearning brands of all sizes have started using both to get more customers. And they see results. If you want to drive targeted organic traffic and have better search rankings, then you must know what your competition is up to. Search Engine Optimization and competitor analysis can help you reach your goals. That's how we've managed to skyrocket our search traffic.
When it comes to startups, a content marketing strategy is an affordable and effective solution for accelerating company growth. After all, it costs 31–41% less than paid search. Make sure to focus on creating quality content. Then uncover opportunities for backlinks from various referring domains. Anchor texts also matter. Be strategic and choose your links wisely.
As content marketing experts, we are proud to have a high lead-to-customer conversion rate.
Do you want to learn how to create content that outranks your competitors? An SEO competitor analysis can bring tons of new opportunities to go after.
3. How To Write Awesome, High-Quality Content
When it comes to eLearning marketing, many startups use content marketing to scale and become multimillion-dollar businesses. By using a well-thought-out content marketing strategy, you can build your audience and scale your startup in the eLearning industry. But for content marketing to be effective, you need to have spot-on content.
So, what is quality content, and how do you create it?
Users determine if the quality of your content is good or not. And we all want it to be great, not just "good." That's how you get more visitors, lower bounce rates, and higher conversions. However, the fact that there are different users browsing your website makes things more difficult. Most of them also have different search intent.
There are a few steps content marketing experts follow. You can do the same to deliver well-thought-out, readable, and attractive content.
Let's take a look:
Make sure you write content your audience is looking for
Produce easy-to-read and engaging content
Take search intent into consideration and match it to your goals
Show your audience you're trustworthy
Update your content from time to time to keep it relevant
Improve site structure and article structure
Writing quality content is a must if you want to rank high in the SERPs. It's about more than just having a good SEO strategy. When your content is high-quality, you can ensure it hits the mark. First off, you'll need some creative writing skills. Worry not, though; it's not that the audience expects you to become the next Hemingway. Following the right best practices will help you create high-ranking quality content. Most importantly, you'll be able to produce content that your target buyers will happily read.
There are plenty of content marketing strategy tips you can follow. But if you truly want to rank higher on Google, quality content should be your main focus.
4. Giving Back To The Community
The first question you should be asking consumers is why they subscribed to your marketing emails or email newsletters. It's apparent that most consumers decide to sign up for emails that can get direct value back to them.
What I love about email marketing and newsletters is that you can send out deals, discount promo codes, and coupons. It all depends on how well you can take advantage of your audience interests. Another way you can leverage email marketing is by sharing links to valuable content from your eLearning brand. Not all subscribers are looking to get the latest deals on your products. Many times, people just subscribe to your emails for the sake of learning new things.
These emails impact the bottom line more than you think. And that's the magic of content marketing. It empowers you to demonstrate why your eLearning brand is a trusted voice. The more your audience consumes your valuable content, the more often they'll think of your company as the solution to their problems when they are ready to purchase a product that you sell. However, to avoid unwanted unsubscribes, you must leverage email segmentation. By breaking up your list of contacts into separate lists, you can make sure you can send content to people with specific interests.
Speaking of community, networking and paying attention to referrals are extremely important. Also, it's good to monitor blog comments and social posts. Not only can you get content marketing ideas from your actual audience, but you can improve your online reputation by having conversations with your potential customers.
Finally, you can get a little deeper into consumer behavior and basic human psychology. Keep monitoring user behavior on your channels, and also check what's going on with your competitors.
Remember that you must write for the customer, not for your product.
Summing Up
No more secrets. After reading this article, you've got the gist of what you need to do to create effective content marketing campaigns.
If you've already defined your content strategy, you're one step closer to your goals. But you're not done just yet. You need to assemble a team to create top-quality content for your audience. In case you don't have the capacity or means to do it in-house, you can always reach out to one of the best content marketing agencies out there.
Finding content marketing experts to work for your business is key. Be it an in-house content creation team or outsourcing, that's your best bet if you want to start creating content that your audience wants to read.