How To Increase Your Rankings On Google And Stand Out In Your Competition
Need an answer? Google it! How many times have you heard this sentence? People are addressing the search engine more and more every day for anything from simple tasks to corporate solutions. This fact increases the importance of answering how to rank higher on Google in every business, and eLearning companies are no exception.
Ranking high on Google is a popular choice in the eLearning industry. Top rankings in valuable keywords can eventually provide your business with relevant organic traffic. Moreover, appearing on the first page of the search results can increase your visibility, traffic, and revenue. In the following article, we are going to present some strategies which are ideal for eLearning companies like yours to increase SEO performance.
In a nutshell, the answer for how to rank on Google is the following:
Keyword research
Site optimization
Content creation
Link building
The above-mentioned tactics can set the foundation for the SEO success of an eLearning business. Let's explore further the process below.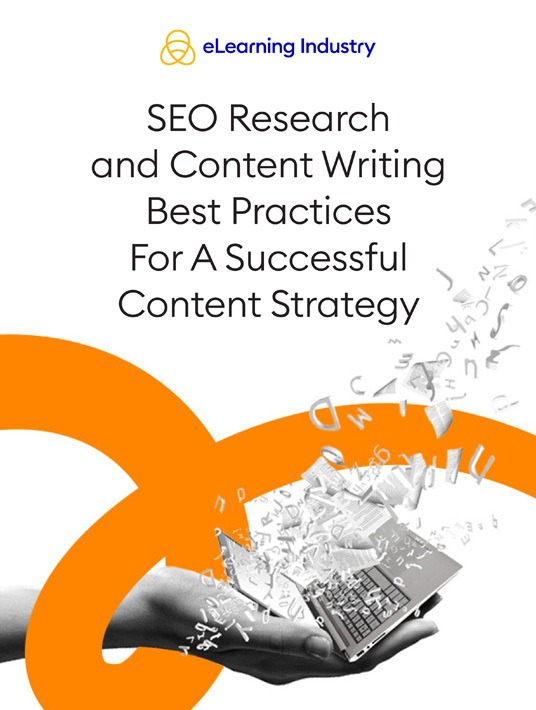 eBook Release
Increase Your SEO Performance With Valuable Content
Learn how to reach your audience organically with SEO. Top tips and latest strategies to rule the SERPs!
4 Basic Ways That Promise High Rankings On Google And Relevant Traffic
There is no secure manual for achieving high Google rankings. However, certain methods are proven to increase your chances of doing so. In simple terms, you must ensure that you target the right keywords, acquire do-follow backlinks, and inspect the technical aspects of your website. To enlighten you, we present the 4 top methods below.
1. Perform Keyword Research
When searching for answers on Google, people type certain words or sentences. In terms of SEO, these are called "keywords" or "search queries." They are among the most important aspects of a high Google rank. In order for your company to appear in the search results, you need to target keywords or phrases that are relevant to the content your ideal buyers are looking for. Moreover, you need to optimize your eLearning website to be trusted by search engines and rank higher in SERPs.
Regardless of the industry, the first tricky step to follow is to conduct the appropriate keyword research. The reason why we call it tricky is that, even though it seems appealing to target keywords with high search volume, it might not lead to the expected results. You need to take a few things into account, like:
What is your product?
Who is your target audience?
Which are the relevant keywords in your industry?
Who is your competition?
Knowledge is power, they say. In SEO, this is no exception. In order to build the right keyword list for your SEO efforts, you need to answer all the above questions. This information will help you understand your business better and uncover valuable keywords to target in your content marketing strategy.
Pro Tip: When conducting keyword research, start by adding the long-tail keywords or keywords with low CPC and difficulty. Such keywords might be easier to rank if you are just starting off your SEO journey. To find relevant keywords like these, you can perform an SEO competitor analysis to see where your competition stands in terms of industry-related keywords.
2. Make Your Website SEO-Friendly
Before you plant the seeds, make sure the soil is ready! In SEO terms, make sure your website is optimized for SEO initiatives before you invest your time and effort in it. There are certain technical aspects of SEO you need to address that may impact your website's ranking on Google. Such aspects include loading speed, mobile-friendliness, and website structure. Of course, there are plenty of landing page optimization best practices you need to test to see what works and what doesn't. Don't be discouraged. Trial and error is how you get the results you need.
a) Page speed
Page speed is a vital technical factor that affects Google rankings. In general, a slow-loading website can result in poor User Experience and bad engagement, which can hurt your SERP rankings. To improve your page speed, you can compress images, minify code, and use a content delivery network (CDN) to cache your website's content.
Search engines are constantly evolving. This evolution allows them to view your website from your audience's point of view. Therefore, making sure that your website provides the best User Experience possible will allow the search engine crawlers to consider it a quality perk.
b) Mobile-friendliness
Something that ten years ago would be optional and now is vital. Of course, we are talking about the mobile-friendliness of your website. Since more and more people are using the web via their multifunctional smartphones, you need to make sure that your site is up for the task. As stated in the section above, User Experience is crucial for your SEO performance. Therefore, you might want to consider factors such as responsive design, optimization of your images and font size, and ensuring that your website's content is easy to read and navigate on mobile devices.
c) Website structure
When search engine crawlers view your website, they take into account how easy it was to find every possible page. This can be measured by the crawl budget. The less you spend, the better the rankings your website might achieve.
In this quest, the website structure is your map. As a term, website structure refers to the organization and hierarchy of your website's pages and content. A well-structured website can make it easier for Google to crawl and index your content, which can improve your ranking. This includes using descriptive URLs, creating a sitemap, and organizing your content into categories and subcategories.
Pro Tip: Technical SEO errors are not always visible to the naked eye. If you want to uncover any technical obstacles that affect SEO performance, you might want to conduct an in-depth technical SEO audit. This will help you fix ongoing errors and prevent possible future ranking declines.
3. Create High-Quality Content
More often than not, you will hear the phrase "content is king" among marketers. No wonder why, since content is the key to ranking high on Google.
To rank higher on Google, it is important that you create high-quality and engaging content that provides value to your target audience. This may include content marketing ideas like informative and educational blog posts, videos, webinars, and courses that address your audience's pain points and interests. If you want more tips on how to improve your SEO, make sure to read all about getting better at SEO content writing.
High-quality content can be found in various formats and styles, such as tutorials, case studies, interviews, and infographics. You can also incorporate multimedia elements such as images, videos, and audio to make your content more engaging and memorable. However, the most commonly used and effective format is blog posts. Blog content can be an informative asset that provides value to your audience and helps guide them towards your services.
There are also effective methods to measure and monitor your content marketing performance to spot potential errors and uncover areas for improvement.
Pro Tip: Target top-of-the-funnel (ToFu) keywords by generating evergreen content in your blog. By building and maintaining a ToFu-filled blog, you can rank for important industry-related keywords and guide your prospect clients through your marketing funnels. Alternatively, you can always reach out to content marketing agencies that offer services tailored to your eLearning niche.
4. Link Building
If content is the main course, then link building is the dessert. In general, link building is the process of acquiring backlinks to your website from other domains. These links operate as vouchers for your content in the eyes of the search engine and, hence, they help your website rank higher on Google.
There are multiple link building strategies to help you rank higher on Google. Some of the most commonly used ones are the following:
a) Guest posting
There are several websites online that allow you to write an article for them, also known as guest posting. By writing articles, you can add a link leading to your website. The quality of this link will determine its effect on your SEO performance.
b) Social media
Social media activities can also be a fruitful method of acquiring backlinks. You can create and share content like infographics or blog posts with a link to your website. This method not only helps you rank higher on Google but also assists you with referral traffic and community management. So, don't be surprised that there's an actual link between social media and SEO.
c) Broken backlinking
More often than not, we find ourselves on a 404 page when online. This can be frustrating, right? All website owners know that, and yet we still find broken links around. This can be an opportunity for you to reach out to that website and offer your link as a replacement for the broken backlink. It is a win-win situation for both you and the other website's owner.
d) Reach out
At the end of the day, you can always make a list of the relevant websites that may value your link and start reaching out to them. Craft an email that is not generic, compliment their content, and prove the value of your link to them. This is a rather slow process, but still, it is a long-term gem to get high-quality backlinks.
Pro Tip: We understand that not all businesses have the capacity of doing link building themselves. As an SEO process, link building requires valuable resources, like time and staff, that not all businesses can afford. In this case, you can always consider reaching out to a reliable link building service that can take the burden off your shoulders and offer the results you need.
Key Takeaway
Nobody knows Google's algorithm to answer definitively how to rank higher on Google. SEO professionals know that better than anyone. Yet, your eLearning competition is still out there fighting for a top spot in SERPs for valuable keywords. Your audience is also out there seeking solutions to their problems—solutions you can offer.
We have presented in this article the methods and tactics that have already been proven to boost SEO performance. All the above-mentioned techniques revolve around content and the effort to promote it effectively with links. In a nutshell, find the right keywords for you, make your website SEO-friendly, craft top-quality content, and promote it with valuable backlinks. In this way, you may increase your organic traffic, fill your marketing funnels, and eventually, make your sales team happy with qualified leads.
Increase Your Organic Traffic With Content Marketing
Learn how an SEO content strategy can get the top spots on Google.