Lead Nurturing Strategies To Drive Positive Results For Your eLearning Business
Have you set any lead nurturing strategies to get the results you need? In the ever-evolving eLearning market, maintaining and growing relationships with potential customers has become more difficult. Thankfully, there are plenty of lead nurturing examples that businesses can use to gain the eLearning audience's trust and increase sales. It is a powerful strategy, but it needs some effort on your part.
Nurturing leads is essential to any eLearning business that aims for company growth. So, take a deep breath as this article explains how eLearning marketing professionals can build stronger relationships with customers via lead nurturing.
Obviously, there's an abundance of lead nurturing strategies you can try, making your choice even harder. Be it focusing on your content marketing campaigns or using data to target eLearning prospects by email marketing, there are so many things you can explore! For example, you can even send out surveys to learn more about your audience and what they are facing now. In the hopes of creating content that interests our audience, we created such a survey ourselves. You are more than welcome to take a look at our eLearning audience survey insights. It will surely help you fuel your marketing strategies—as it has helped us.
Did you know that companies that are successful at lead nurturing generate 50% more sales-ready leads? That's what I found in a recent Forrester research, and it happens at a 33% lower cost. However, not all companies know how to nurture leads successfully. If you haven't already implemented a lead nurturing strategy for your eLearning business, I suggest you start thinking about it.
But until you figure out how you want to handle this, let's see which lead nurturing examples are essential and what strategies you can apply to your own eLearning business.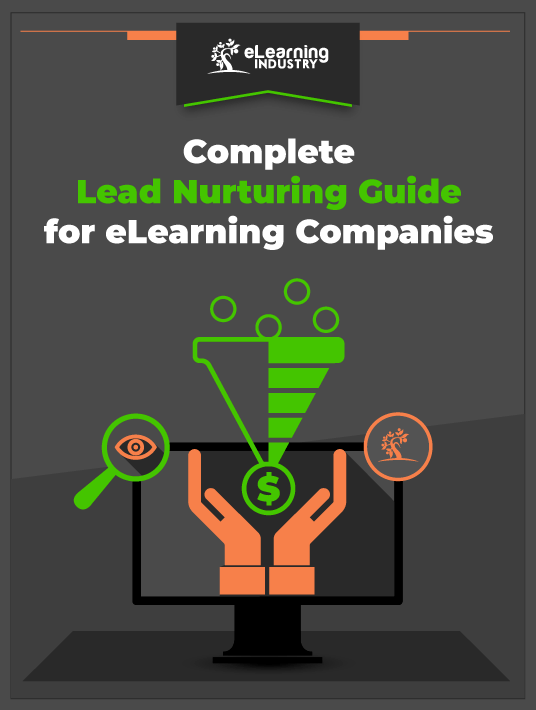 eBook Release
Complete Lead Nurturing Guide For eLearning Companies
Learn how to attract and nurture eLearning prospects in order to increase conversions.
What Is Lead Nurturing And How Can It Persuade eLearning Buyers?
To put it plainly, lead nurturing is a strategic way through which businesses build relationships with prospects. Hence, having a variety of lead nurturing strategies at hand is an important aspect of inbound marketing. Plus, you can also leverage the process through the use of content marketing and social media to attract customers' attention.
When potential customers find your eLearning business, they may not be ready to purchase your products or services. Therefore, nurturing leads is essential because it keeps your brand top of mind for eLearning prospects. That alone can drive sales, as they come back when they are ready to purchase.
Lead nurturing is all about building a trusted relationship with prospects. And as in every relationship, the more you put into it, the more you get out of it. So, it's essential to strengthen relationships with potential buyers rather than letting them naturally drift apart.
If you're looking for proven lead nurturing examples, buckle up as I'll explain in detail which steps you can follow for your business.
The Importance Of Nurturing Leads In The eLearning Niche
To begin with, visitors who come to your eLearning website for the first time usually do not intend to buy your product or service. Perhaps these leads searched for a term you're ranking for. Or maybe they were looking for a guide on how to do something. That's why this first encounter is so substantial for lead nurturing in the eLearning niche. So, please ensure that you nurture your eLearning leads at this initial buyer journey stage. An easy step is to start providing easy-to-digest information to them. Don't forget to define the actions they need to take if they want to solve their problem. And please make it as clear as possible.
Once you've created your lead nurture campaigns, new prospects enter at least one of them, and then you can guide them one step at a time until the sale. Hence, classifying your leads and working out different scenarios is a must. Just make sure that you're capturing leads from the very start into a lead generation funnel. In fact, by doing so, the number of conversions and sales revenue can increase by almost 50%.
Let's face it, folks; prospects don't really want to speak to a salesperson during the awareness process. At least not the majority of them. So, instead, you're better off applying different lead nurturing strategies to provide prospects with the information they are interested in. And that's the magic of nurturing leads. You take advantage of the right time to feed them with the information they are looking for.
Talking about the right timing and affecting purchase decisions, you'll enjoy learning more about lead time in marketing; I analyze everything to a tee.
Proven Lead Nurturing Strategies And Examples
Nurturing your leads is key to increasing your revenue. Sure, everyone wants to drive sales, but this strategy offers many more benefits. For one, you can introduce prospects to your company. Consequently, you'll get the chance to teach prospects about your eLearning products and services. With conscious lead nurturing strategies, potential customers can get a complete picture of your brand identity and what you can do for them.
Best of all, nurturing leads helps you gain your audience's trust. By demonstrating that you comprehend their pain points, they get a sense of caring. Plus, by giving them useful tips and sharing your knowledge freely, you let them know that you're not all about making a sale. So, they'll definitely give you a one-up for providing them with the necessary tools and information. That's how you can become a thought leader.
As long as you create thoughtful and relevant content, you're on the right path to becoming a go-to source. Keep lead-nurturing your ideal audience, and who knows, you might boost your reputation and be seen as one of the most promising eLearning thought leaders sooner than you think.
1. Mapping Content To Nurture Leads Interested In eLearning Solutions
In this section, we'll go through several best practices, strategies, and examples so that every eLearning marketer can nurture leads and increase sales. When creating content for lead nurturing, the most important thing is to centralize your content according to a sales funnel. Don't forget to personalize what you write whenever you can. Of course, doing timely follow-ups is critical. Please make an effort to create content that resonates with your leads, focusing on their wants, needs, and problems. You'll find that providing guides with marketing automation can bring better results. And always, always don't forget to use a call-to-action (CTA). Now that we've got the main things down, let's dig deeper into why lead nurturing content is going to be one of your favorite strategies.
Here's an example of how to execute the strategy correctly based on an imaginary conversion pathway example:
Visit X eLearning blog
Convert on New Employee Training Software eBook
Click through to site on nurturing campaign "Best LMS Tools for Employee Training"
Navigate to LMS product pages
Click through to site on LMS case study nurture email and download How To Find Value For Money LMS
Receive LMS free trial
Take free trial and become a customer
By taking a closer look, you'll see that you can leverage different content asset types moving along from "awareness" assets (like an eBook or blog) to "evaluation" assets (like a case study, curated top list, or product page user reviews) to "purchase" assets (like a free trial). The combinations you can make are endless. Through each stage, you'll manage to evaluate and qualify your leads as well. Then you'll know when it's the right time to hit them with a new offer.
2. Create Content That Covers Every Stage Of The Buyer's Journey
Truth be told, no one wakes up in the morning and decides to just go and buy something. Most people go through a path until they make a purchase. And this usually includes lots of research and evaluation, especially if they're going to spend a considerable amount. Then, they might be ready to commit to a sales call. That path to purchase is what we marketers know as "the buyer's journey." Today, consumers have access to lots of information. Hence, they are more empowered than ever. For this reason alone, it is vital that you understand your buyer persona deeply. Consequently, you need to understand their journey as well. This alone will help you create content that helps them along their path. At the same time, you'll manage to position your eLearning brand as an authority in your space.
Let's say that an individual wants to start creating training courses for monetization. They may not immediately decide to purchase an LMS. Instead, they'll search online to learn more. Then, they'll make decisions as they progress through the different stages of their buyer's journey. And an eLearning marketer's job is to assist them in that decision-making process. So, make sure to create content for all the stages of the buyer journey: awareness, consideration, and decision.
To do it right, you might want to turn to SEO, as it can help you identify what people are searching for in the SERPs. If you want to learn more, take a look at the following:
3. Automating The Way You Nurture Leads
When attempting to implement a lead nurturing strategy, your timing should be perfect. Obviously, you can leverage many ways to nurture a lead, but there are several factors you need to consider. For example, it has to do with your industry specialization and goals. But it also depends on your organization and where the lead is in the funnel. So, you'll agree with me that lead time in marketing is essential. That's how marketers manage to affect purchase decisions.
Your lead nurturing campaign strategies might differ depending on the user's actions. Hence, you should consider automating your lead nurturing process to make things easier and drive more conversions. After all, when you have a massive database of users and leads, sending out nurturing emails manually is impossible. Not to mention how complex things get with all the different criteria, segments, and funnel positions.
No matter the size of your database, be it 100 contacts or 100,000 people, email automation will make your life easier. Plus, it will help you keep better track of what actions visitors take. At the same time, you'll be able to get more qualified leads. The best thing you can do is set up triggered emails that launch based on user behaviors and actions taken. Also, don't forget to send offers along the way. By understanding the exact position of a lead within their journey, you can get the results you need.
If you need to expand your email marketing lists, you should focus on finding ways to increase lead generation. One great solution could be a 360 inbound marketing approach. Or you can leverage an already built-in eLearning audience to send out your email marketing campaigns. All you need to do is craft the perfect email copy or content and seal the deal.
4. Analyze, Measure Performance, And Optimize For Improvement
By utilizing lead nurturing, eLearning marketers can learn what interests potential customers. How? Well, the type of content website visitors view and download is a great indication of what interests your audience. Tracking content performance metrics is also crucial, as the results can help you make adjustments. For instance, you can use the results for landing page optimization and conversion rate optimization. That way, you'll manage to improve the performance of each campaign gradually.
However, when trying to measure the performance of each lead nurturing campaign along with the different types of content, you might get lost in the translation. Tracking performance metrics will undoubtedly need an inbound marketing software platform. That's how you receive real-time analytics on each piece of content you promote. Be it content published on social media, your eLearning blog, guest posts, email newsletter, etc., you need answers to specific questions. It's important to know how to measure content marketing performance.
You'll agree that knowing when your content was viewed and by whom is essential. Or what the lead's following action or download was. Information like the interval between each visit or the effectiveness of an email subject line is vital, as well as knowing the conversion rate of CTA texts and how they correlate with prospects' pain points. For instance, there might be certain phases that generate more activity. If you know that, you can land more conversions.
Here are some lead nurturing campaign examples we've found to be working well:
Content marketing and blog posts
Email newsletters or drip campaigns
Welcome campaigns, targeted and customized emails, top-of-the-funnel awareness campaigns
Industry expert campaigns and competitive marketing campaigns
Product campaigns and re-engagement campaigns
Sales calls and direct mail
Key Takeaway
Nurturing your leads means you focus on taking care of what eLearning buyers need by actively helping them find solutions to their problems. If you want eLearning prospects to convert, you must provide useful information via your marketing campaigns.
Forget about bluntly selling your eLearning services to them. Sure, your lead generation strategy might be doing fine, but unless new leads convert to paying clients, you won't see growth and success any time soon.
I hope this article explains what makes the need to nurture your leads even more important. And that you found our lead nurturing examples and strategies helpful.
If you don't know which actionable techniques to take on first or how to do it, feel free to book a call so that I can share extra tips and advice based on our proven strategies.