What Does It Take To Get To The Top Of Google Search?
If organic search is most often the primary source of website traffic, it goes without saying that it should be amongst your top goals to rank high in Google. Nowadays everyone should have a website which simultaneously acts as a business card. Adding legitimacy, credibility, and authority to your brand. The way the site is designed will send subliminal messages to its viewers about the quality of the brand, too. How fast does it load? Is it user-friendly and clear? These elements transcend on to the observing client. If the website isn't up to par, then what does that say about the work? Is the product worth the investment, or if they don't even invest do they know how to invest properly in their own brand image?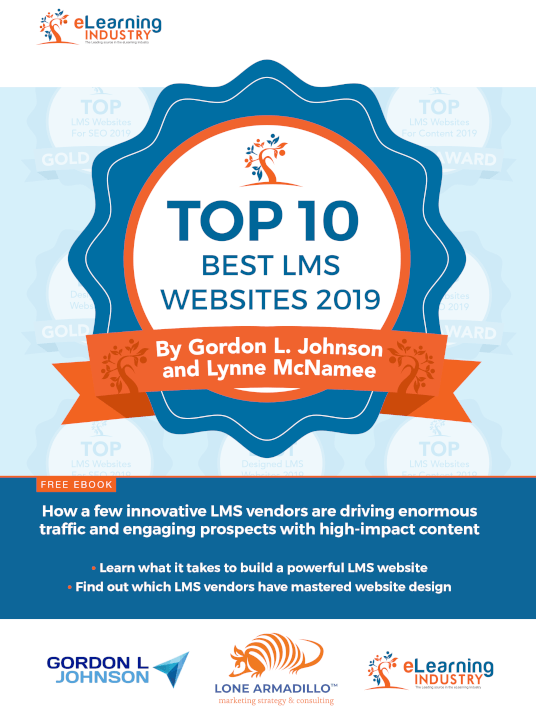 eBook Release
Top 10 Best LMS Websites 2019
Learn what it takes to build a powerful LMS website and find out which LMS vendors have mastered website SEO!
Hold Your Horses
However, before we even embark on making a site look professional and aesthetically appealing, we must make sure people can find it on the web. With over 4 million blog posts published on the Internet every day, over 500 million tweets sent every day and over 5 billion Google searches you will have to do your utmost to pop-up above the rest and capture some of that online attention. "SEO" or Search Engine Optimization is needed to make sure you are findable as a website and can be found as accurately as possible for those who seek to find you. In other words, that someone looking for "best microlearning LMS" finds you and not a company selling something entirely unrelated, such as Laboratory for Manufacturing Systems & Automation — LMS.
The Almighty Google
Google categorizes all this information in such a manner that information is portrayed adequately to the searcher and to make sure that search queries are matched with nearly perfect answers. This can be realized by programming on the website to make sure there is alignment between how the search engine evaluates a site and how the website is built.
Furthermore, there can be a lot of work put into an efficient implementation and equal distribution of keywords. So the question remains: how do you provide the best answer to the question asked? In the end, it's humans asking human questions. They are the guinea pigs testing the realm of the web. At the same time, they are the only ones who need to be catered to. So besides the bots and acclimatizing to algorithms, it makes sense to benefit and serve the reader when you optimize your very own search engine optimization.
Analyzing The LMS Websites Algorithms
As SEO algorithms constantly change, you must adapt to or at least try to stay up to date with digital evolutions. There were black-hat SEO techniques which are now a thing of the past, where people would stuff sites with keywords, countdown banners, and visitor counters. Google changed that a long time ago as they wanted to be able to not only convey a sense of trust but deliver real trust as well. It's their main selling point. It would be nice to assume that other search engines do that too; sell trust. Due to Google's ambition to become a reliable business, they have gradually managed to become the biggest possible search engine.
For those trying to defeat the algorithms, the algorithmic change is an ever ongoing game. It becomes a necessity in the field of search engine optimation to be dynamic and flexible. A website is never truly finished. Instead, it continually requires readjustment and finetuning. It needs a constant update with high-quality content. This helps it rank highly, and makes it competitive compared to the rest of websites out there which are selling the same product.
Stats
Google indicated a long time ago that by 2014 mobile search will have taken over desktop search, which seems to have been accurate in retrospect. Now for us, this is very important. People may search for technology solutions on a desktop computer, such as Learning Management Systems, Learning Experience Platforms, Learning Content Management Systems, or content libraries. But the websites won't appear in search results unless they have been optimized. It's highly essential to make the mobile search results count. Where you make no distinction between desktop and mobile.
You might have put all the focus into B2B SEO optimized site solutions, but you definitely need to make it mobile friendly to have a chance to be seen on desktops. Don't forget the community curation element from above, though. It still plays an important part, so make sure there is a good User Experience on mobile. It is estimated that over 40.000 searches are handled by Google every second, which amounts to 3,5 billion a day. It is highly unadvised to disregard this fact in your approach to SEO and overall ranking online. You get to determine which direction your site is headed and which positive influence you can reap from Google's tech.
In Technical Conclusion
It's complex trying to funnel down the specific information of what key considerations one has to apply to make a website work optimally. It's not only the algorithmic side you have to deal with. It's just as much the humans who use the sites, the choices they make and the queries they enter, which are ever-changing as well. Who clicks on what, where and when? The topic is complicated. Instead of going with a gut feeling, perhaps it's best to go with the data.
Find out more with this eBook: Top 10 Best LMS Websites 2019 to empower yourself to make some proper choices. You can add a natural creative flair at a later stage. As long as you make sure you implement the computer metrics before you implement the human ones. As to always prevent human error. Also, grab the opportunity to discover more about how to build a powerful LMS website by joining the webinar What The Best LMS Websites Do...And You Don't and learn how to rise in the ranks on Google and win a future eLearning Industry LMS Website award!