How To Promote Your eLearning Event Using Twitter
From PPC ads to trending hashtags, Twitter is the ideal platform to market your eLearning event. But how do you know where to start? More importantly, what promotional techniques are going to offer the best return on your investment? In this article, I'll explore 8 tried and true tactics to promote your eLearning event using Twitter and make the most of your eLearning marketing budget. You don't have to be social media guru to engage with your audience and build your signup sheet.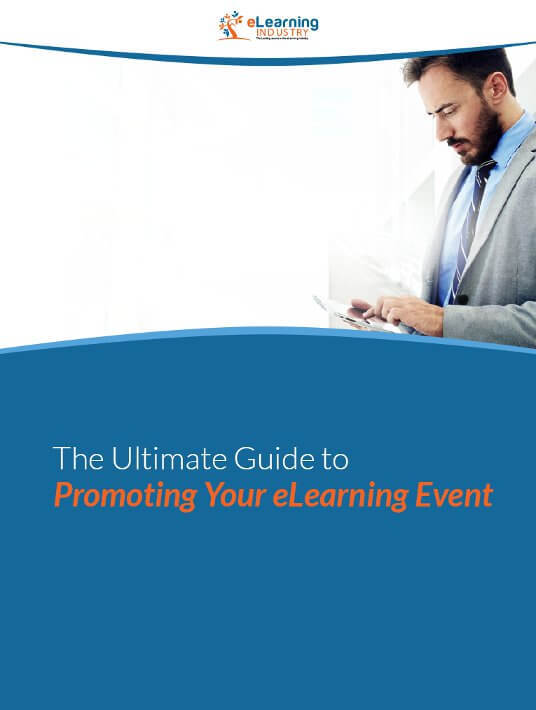 eBook Release
The Ultimate Guide to Promoting Your eLearning Event
Download our free eBook and start promoting your eLearning Events.
1. Use A Buzzworthy eLearning Event Hashtag
Hashtags allow attendees to discuss the eLearning event in one centralized location. They also help your tweets stand out from the crowd, which increases your eLearning marketing power. There are generally two approaches for using promotional hashtags. You can either create your own memorable tag or use an existing one. If you're going with a DIY hashtag, make it unique and catchy. People are going to come across your tag on sites, blogs, and other eLearning marketing materials. As such, they must remember it until they get a chance to look it up on Twitter. If you opt for a premade hashtag, ensure that it's not overly saturated and that it pertains to your eLearning event. For example #popstar may be hot at the moment, but it probably doesn't tie into your eLearning event.
2. Share Images From Past eLearning Events
Twitter is known for its short text snippets. But it's also a great place to share images. More specifically, photos from past eLearning events that give attendees a glimpse of what's to come. You can also feature images of guest speakers, or even your eLearning event venue. The purpose is to visually engage your audience so that they picture themselves in the crowd. They want to be part of the fun and get the same benefits.
3. Purchase PPC Ads
Twitter offers pay-per-click ads, also known as promoted tweets. You have the ability to custom tailor your ad campaign based on keyword, demographic, and other criteria. Ads show up on user's timeline, at the top of the search page, or personal profiles. Best of all, you get to put a cap on your spending so that you never go over budget. Lastly, users can still interact with PPC ads as they would with regular tweets. They have the chance to retweet it, leave a comment, or give it a "like."
4. Hold A Contest For "One Free Admission"
There's nothing like a contest to generate interest in your eLearning event and bring new followers into the fold. Tweet the big announcement and ask users to like the post to enter. They must also follow you on Twitter and retweet it to their network. Be sure to include additional instructions and rules so that there isn't any confusion. The prize doesn't necessarily have to be free admission to your eLearning event. For example, you can give away a signed copy of your eLearning book or a one-on-one consultation.
5. Post Guest Tweets From Notable Speakers
Guest speakers are usually one the main selling points of your eLearning event. They are there to share unique experiences, skills, and insight to help attendees achieve their goal. As such, you should invite them to tweet quotes, facts, and tips before the eLearning event. Attendees get excited about everything they'll learn from the expert. On the other hand, those who are still undecided get to know the speaker and are more likely to RSVP.
6. Tweet Your Promo Video
In addition to compelling images, tweet your promo videos to make it even more interactive. Feature snippets from past eLearning events, footage of your venue or guest speaker recordings. Keep it under a minute so that users have time to watch it from start to finish. You can also include background music, sound effects, and stock images. There are a variety of free video creation tools that allow you to produce eLearning event promos on a budget.
7. Schedule A Live Q&A
You may already host Q&A on your online forum, but Twitter is also a great platform for live eLearning events. Post your eLearning event link a week or two before the Q&A, and then invite your followers to submit questions. This prompts them to read the eLearning event announcement, learn about the benefits, and formulate their thoughts. Another option is hosting a live webinar and using Twitter as your interactive platform. For example, attendees watch the webinar on the video conferencing site and then tweet their questions and comments.
8. Give Twitter Followers An eLearning Event Preview
Some of your followers may need a bit more convincing. For one reason or another, they're still hesitant to click that signup button. An eLearning event preview may be just the thing they need to make their final decision. Give them a sneak peek of the eLearning materials, pictures from the venue, or snippets from your introduction speech. Create slideshows that highlight the benefits of the event or guest speaker bios. Give them exclusive info about your function in order to form a connection. This is also a great way to expand your email list. If they want to receive further updates about the eLearning event they need to opt-in and become a follower. Just make sure that you don't give too much away. Reserve some surprises for them to enjoy during the function. For example, an unexpected speaker who isn't on the marketing materials.
These Twitter marketing techniques allow you to promote your eLearning event on a shoestring budget. You can mix and match them to create the ideal marketing strategy. Or give each a try to cover all your Twitter bases. Just make sure that you identify your target audience beforehand so that you can create a customized approach.
Are you looking for an experienced eLearning marketing service that doesn't cost a small fortune? Post your eLearning event in eLearning Industry to reach over 90,000 weekly email newsletter subscribers and 500,000 readers each month.