How To Create A Polished eLearning Event Announcement
Hosting an eLearning event can be overwhelming. There are so many tasks to tackle and the clock is always ticking. Marketing your function is typically one of the most challenging aspects of the process. You have to ensure that you have enough people through the door to get a positive ROI. Low attendance figures prevent you from promoting your product or service to eLearning industry professionals. Thankfully, submitting a polished eLearning event can turn the marketing tides and make your next function a major success.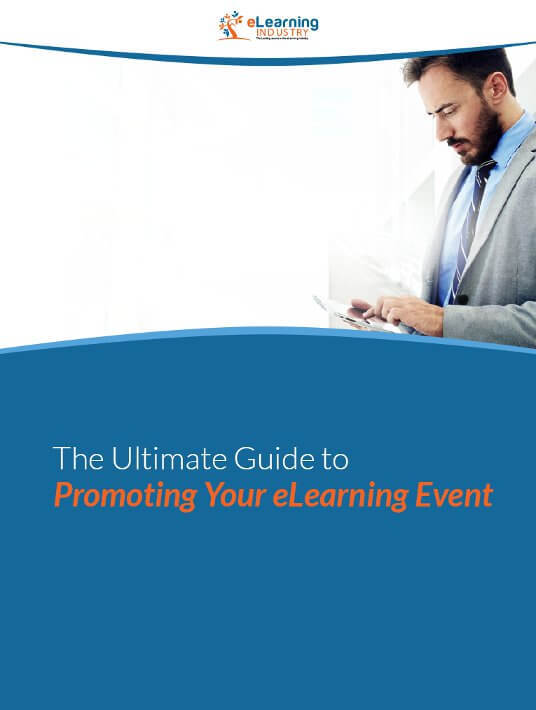 eBook Release
The Ultimate Guide to Promoting Your eLearning Event
Download our free eBook and start promoting your eLearning Events.
1. Stress The Benefits Right From The Start
Readers don't have a lot of time to read the eLearning event announcement. As such, you must emphasize the benefits as soon as you can to draw them in. That being said, you also want to leave something to the imagination so that they keep reading. Highlight the top 2 to 3 benefits of attending the eLearning event in the beginning, but let them know that more is in store. The advantages you lead off with should be things that set you apart from the crowd. For example, building skills that can help them move up the corporate ladder or overcome a personal challenge. You might also include secondary benefits in the body of your eLearning event announcement, such as free accommodation or training materials.
2. Integrate Social Media Links
Social media links give readers the opportunity to learn more about your eLearning event and ask questions directly. It also drives traffic to your social media pages and groups, which can lead to more followers. This expands your social network so that you can promote future eLearning events, products, and services to a broader audience. Furthermore, attendees can view pictures and videos from past eLearning events, as well as chat with other people who have RSVP'd. They become more excited about the upcoming eLearning event and actively engage with your online learning community.
3. Structure It Around The Sales Pitch
Your eLearning event announcement shouldn't be one long sales pitch that's full of gimmicks and marketing jargon. However, it should create a sales pitch that serves as a general guideline. Write a succinct 1 or 2 sentence pitch that sums up your main points. This includes the benefits, notable speakers, and discussion points. Avoid guarantees that exaggerate the advantages. The key is to encourage readers to visit your eLearning event page, but not under false pretenses. Crafting the perfect sales pitch requires in depth audience research. You must know what your attendees are looking for and which problems you can help them overcome.
4. Leave It On A Cliffhanger
People love a good mystery. Even if it comes in the form of an eLearning event announcement. You can pique their interest by giving them the basic information, but leaving out a few exciting details. For example, mention that they need to visit your eLearning event page if they want to learn about a special guest speaker. Or omit a few perks from the eLearning event announcement and direct them to your social media page for more information. Cliffhangers have the power to drive traffic to other online platforms, which gives you more time to promote your eLearning event. For instance, people may still be undecided after reading the eLearning event announcement. But visiting your site gives them the nudge they need to sign up. It also builds credibility and enhances your brand image. This is thanks to the fact that readers become familiar with your organization by exploring your site.
5. Enlist The Aid Of An eLearning Industry Expert
One way to make your eLearning event announcement more informative and engaging is to include valuable tips and tricks. Give them a preview of what's to come if they decide to attend your function. If you don't have the information on hand, enlist the help of your guest speakers and eLearning industry experts. Ask them to provide you with a brief quote or fact that readers may find interesting or helpful. This also gives them the opportunity to introduce themselves to the attendees and promote their social media pages. For example, in exchange for using their quote you highlight their details on your site in a guest speaker "showcase."
6. Add Contact Details
This is a two-fold tip. Firstly, you should include your online contact details so that attendees can familiarize themselves with your brand. Mention your website URL, email address, blog URL, and social media profiles. Secondly, include the contact details for your eLearning event venue. Attendees need this information to book their flight and arrange accommodations. If you are hosting virtual eLearning events, give readers more information about the site or hosting platform.
7. Proofread It!
The eLearning Industry reviews all of the eLearning events to ensure that they meet the standards. However, you need to proofread and revise your own eLearning event before submission. It should be free of grammar or spelling errors and adhere to the formatting guidelines. Obtain written consent for quotes that you use in your eLearning event announcement and fact-check with reliable sources. Ask a colleague to read the eLearning event and offer their input. Sometimes it takes a fresh set of eyes and an unbiased perspective to spot the mistakes. Lastly, verify that your links are active and update your contact details. Your main contact should be available when the eLearning event is posted to answer questions and follow-up with potential attendees.
Marketing your eLearning event doesn't have to be time consuming and expensive. In fact, you can use these 7 tips to create a polished eLearning event that is seen by hundreds of thousands of eLearning professionals. That much exposure can increase your sales, build your client base, and enhance your brand image.
Are you ready to submit your polished eLearning event? Visit our Event Marketing Services to discover the benefits you can expect to receive, as well as details about the marketing packages that are available.
Trainery
Our smart eLearning suite provides you with the content and tools to deliver and manage workforce training, compliance & performance management. Every solution provides an engaging learning experience and a time-saving dashboard for administrators.