How To Promote eLearning Press Releases Using Twitter
140 characters may not seem like enough, especially when it comes to promoting your eLearning press release. But you'd be surprised by how much buzz Twitter can bring to your newsworthy eLearning event. Whether you're announcing your new eLearning product launch or raising awareness of noteworthy cause, social media is a powerful tool. Here are 8 helpful tips to help you promote eLearning press releases through Twitter.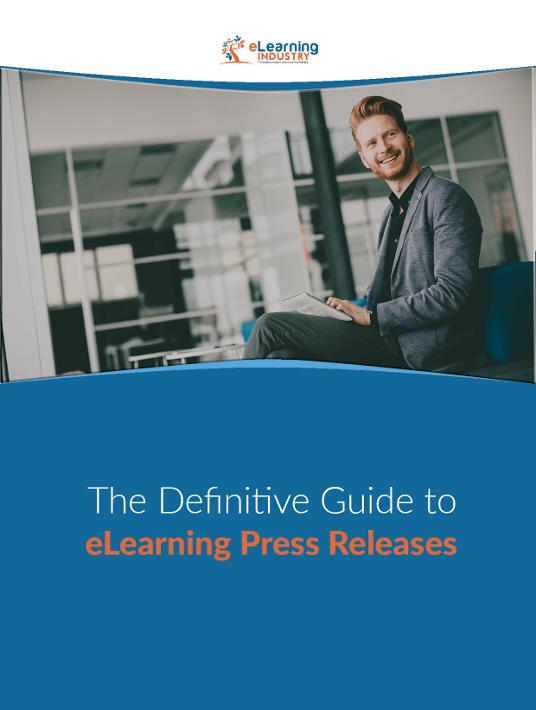 eBook Release
The Definitive Guide to eLearning Press Releases
Download our free eBook and start optimizing your eLearning Press Releases.
1. Create A Trending Hashtag
Who knew that the pound sign could stir up such a frenzy? Trending hashtags can drive traffic to your eLearning press release and draw media attention. The key is finding a hashtag that's catchy, memorable, and innovative. If you find the perfect combination of words, it's like catching lightning in a bottle. Get creative by putting a unique twist on a catchphrase or call to action. You can also use existing hashtags to capitalize on hot trends. For example, incorporating "#pressrelease" in your tweet will automatically add it to that thread. Do some hashtag research to identify hot trends or use keyword tools to gauge competitiveness. Avoid keywords that rank high on the competition scale, as your tweet may get lost in the shuffle.
2. Include A Retweet Link
Some of your Twitter followers may need a little nudge to share the eLearning press release with their friends and colleagues. This comes in the form of a retweet link or button. You can also just ask them to retweet the link outright. However, keep in mind that tweets shouldn't be sales gimmicks. Think of inventive ways to boost your retweets. For example, hosting a Twitter contest. Followers must tweet the link to their network to enter the giveaway. Or share an interesting fact or stat that they can't resist sharing.
3. Buy Twitter Ad Space
Many people know about Google and Facebook pay-per-click ads. However, Twitter also has a sponsored ad program that promotes your tweets. You can even target your campaign to reach certain niche groups and users. For example, the ad appears when someone searches for eLearning events or eLearning courses. The service features a spending cap that disables the ads once the limit is reached. Thus, you don't have to worry about going over budget.
4. Tweet An eLearning Press Release Teaser
Gaining more Twitter followers is just an added bonus. The main goal is to bring people to your eLearning press release so that they learn about your eLearning product, service or event. As such, you should leave them in suspense. Tweet a brief teaser that highlights an intriguing fact or asks a thought provoking question. Include a quote that makes click on your link and get the important details. In fact, you may want to create a variety of teasers to promote eLearning press releases. Post a new one every day and see which works best. Different teasers are going to entice different people. You never know what is going to prompt them to click that hyperlink.
5. Incorporate SEO
Twitter posts are also indexed in search engines. Therefore, you should add targeted keywords and links to improve your SEO. Do your keyword research to find the ideal terms and phrase, and then naturally integrate them into your post. Keep in mind that tweets follow the same rules as articles and blog posts. So, don't oversaturate your content with keywords and backlinks. You may end up in hot water with the major search engines.
6. Add Compelling Images
Uploaded images automatically appear below your tweet. As such, you can add a visual element to boost engagement and drive more traffic to your eLearning press release. Bear in mind that Twitter displays a smaller thumbnail image that users click to expand. Detailed photos may get lost in translation. So, you should opt for an image that looks great in any size. You also have the option to redirect your followers to Instagram and Facebook by embedding your posts. However, integrating your image directly is more convenient and interactive. There are a number of royalty free stock photo sites where you can find free or low-cost images. Alternatively, snap your own shots of your product packaging or top team members to add a personal touch.
7. Embed Video Links
Do you already have a promo video to accompany your eLearning press release? Embed the link into your tweet to make it more dynamic. If you don't have a promo video, consider producing a brief commercial for your eLearning product or service with a free editing tool. Use images from royalty free sites, add some background music, and narrate highlights from your eLearning press release. For example, notable quotes or surprising stats.
8. Host A Twitter Q&A
Invite your followers to post questions and then host a live Q&A. Create a hashtag for the eLearning event so that the posts appear in one location. This gives you the opportunity to interact with users directly and promote eLearning press releases. Ideally, you should post the eLearning press release a day or two before the eLearning event. That way they have plenty of time to read the eLearning press release and formulate their questions. Alternatively, host a Twitter tip series where you offer a new bit of advice each day. People appreciate the fact that you're taking the time to share insights. As a result, they are more likely to click on your eLearning press release link.
Twitter doesn't leave room for wordy posts or detailed explanations. However, it's the perfect platform for sharing your eLearning press release with the masses. You can use images, videos, and other multimedia elements to make it interactive. And you have the power to pique their interest with sneak peeks and catchy headlines.
The eLearning Industry offers eLearning press release marketing services for every budget. If you're ready to distribute and promote your eLearning press release, feel free to review our guidelines and choose the package that's right for you.