3 Channels To Promote Your eLearning eBook For Maximum Effect
Content marketing is one of the most competitive marketing tactics, and the industry grows more saturated every day. In fact, the competition has contributed to a number of companies cutting the amount of content they share on social media in half since 2015, according to BuzzSumo's "Content Trends 2018" report [1]. Because your eBook has to stand out in an already cluttered sea of content, having a long-term, organic marketing plan to promote it is important.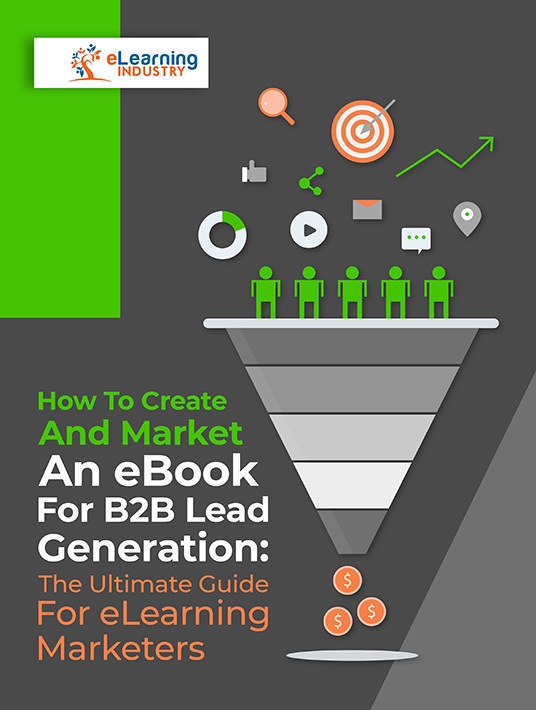 eBook Release
How To Create And Market An eBook For B2B Lead Generation: The Ultimate Guide For eLearning Marketers
Learn how you can optimize the B2B lead generation process and its ROI while discovering tips on quantity vs. quality.
Remember that organic promotion is a marathon, not a sprint. You'll likely promote your eBook for several weeks or even months. Every element of the content you share should be adaptable, from chapters to paragraphs to quotes to statistics, so you can appeal to different audiences and provide relevant content that cuts through the noise [2]. This is a dynamic promotion.
Building A Dynamic Promotion Plan To Promote Your eBook
Keeping your content promotion plan dynamic and the channels you plan to use diverse is especially important when you're promoting the same eBook for a long period of time. While sharing your content on social media will certainly play a role, audiences on these platforms will quickly grow bored if the messages stay the same. Luckily, there are a number of channels and mediums that allow you to tailor your promotion to different audiences.
Start by determining which channels will allow different messages to carry the most weight for different people [3]. Consider the demographics and geographic locations of your audience, the type of content they prefer to see on certain mediums, and whether your brand goals can be achieved on these channels. Take into account the time you'll need to consistently engage with audiences on each platform, too.
To better understand which channels can be used for which of your eBook promotional goals, look at this list to understand the best practices and advantages of each.
1. Your Own Published Content And Resources
One of the greatest benefits of a well-structured and informative eBook is that you can boost its relevance. Feature it in different places on your own website, sending parts of it to your audience in newsletters. Promote it through push notifications and social media channels. For each channel, you can tailor what content you share. And how you share it, to keep your message and delivery consistent.
For example, you can post quotes from the eBook as images on Instagram and link back to the eBook in your bio. Or you can share relevant tips and stats from a specific chapter in an infographic. You can even turn each chapter into a blog post and start a conversation about it on Twitter. Your owned channels are a powerful tool for promoting content [4].
2. Websites And Communities Of Info-Seeking Professionals
Build a resource bank for professionals seeking information. For example, eLearning niche-specific websites offer libraries of free resources to their audiences. By contributing pieces of your eBook to platforms like these and including appropriate metadata and keywords to optimize its performance, you can drive traffic to your content and website through natural, relevant link-building. Plus, you can generate leads and take advantage of these platforms' qualified audience of professionals.
Consider hosting webinars as one of the resources you offer. These allow you to have the author or authors of your eBook host a discussion alongside other thought leaders. Simultaneously, adding value to the content while also promoting it. You can hold these conversations in written form, too. Contribute ideas from your eBook content in guest-contributed blogs and articles to be shared on other respected sites and platforms.
By promoting your eBook content in broader communities of eLearning professionals, influencers, and industries at large, you achieve a wider reach and more success. Regardless of which communities you choose to promote within, be sure to add appropriate Calls-To-Action to guide qualified leads toward conversion.
3. Paid Advertising On Social Media And Other Platforms
The goal of promoting your eBook on different channels is to build its organic reach. You shouldn't, however, completely discount paid advertising on social media and other platforms. When appropriate, paid ads can help you more effectively target qualified leads on social media. Encourage users to share your content with their own connections. Social media can also be used to facilitate influencer marketing, which gives powerful voices in your industry the ability to call attention to your eBook.
One of the most effective paid promotion techniques to promote your eBook is native advertising. Which allows you to use a chapter as sponsored content in an outside publication. Another option is to use Google AdWords, if you have it, to promote through paid search advertising, which boosts the rankings of your content in search results.
Going Beyond The Basics
Strategically using a variety of channels will help you widen the reach of your eBook's most useful content. If the eBook itself proves relevant, useful, and engaging. Moreover, it can lead to several promotion opportunities outside of your own channels. Like mentions in other respected publications. Or speaking opportunities for the authors, and invitations to contribute in webinars hosted by other thought leaders. These aren't always direct promotion opportunities for your eBook itself, but they will help you improve your position as a trusted leader and brand.
Ultimately, promoting your eBook on the right channels, where your buyer personas are, diversifying the channels you use, and tailoring your messages and tactics for each will establish your brand's credibility and create opportunities to continually market your eBook content in the future.
eLearning marketers may sometimes feel overwhelmed when they're in the process of finding the best ways to create and market an eBook for B2B lead generation. Download our free eBook How To Create And Market An eBook For B2B Lead Generation: The Ultimate Guide For eLearning Marketers to discover how to create and market a B2B lead generation eBook that addresses the topic with the authority of an eLearning marketing expert but in a friendly tone.
References:
[1] Content Trends 2018: BuzzSumo Research Report
[2] 5 Advanced Methods To Promote Your Content In 2018
[3] Road Map To Success: Content Distribution Essentials That Win Eyeballs