How To Leverage Content Marketing Strategy As eLearning Company
When most people think "marketing," they envision flashy billboards and online pop-up ads. But advertising is just one small facet of a much broader marketing landscape — and today, content is the most powerful driver of marketing strategies.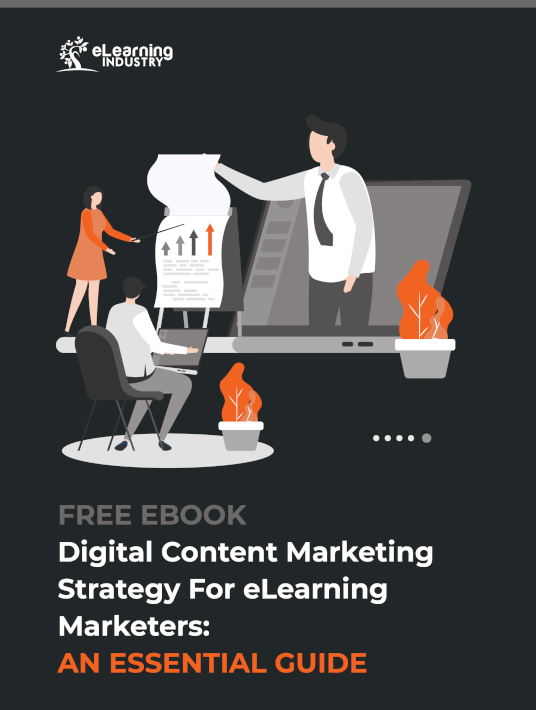 eBook Release
Digital Content Marketing Strategy For eLearning Marketers: An Essential Guide
Find out what to consider as eLearning Marketer when developing your Content Marketing plan.
Modern audiences have an insatiable appetite for educational, entertaining and otherwise interesting content. They consume it on mobile devices, through emails, physical media and everywhere else where they engage with brands.
That hunger allows teams to leverage content to accomplish a variety of goals [1]. Marketers can generate and nurture leads (which content marketing does three times better than paid search advertising). Content can also help sales teams close deals. In 2016, 47 percent of buyers viewed three to five pieces of content before they ever spoke with a sales rep.
Content builds brands and nurtures leads like nothing else, but it also serves an internal purpose. Companies with steady streams of high-quality content are better able to recruit top talent, educate their teams and keep the company's mission and values top of mind.
Today, about 90 percent of business-to-business marketers use content marketing [2]. 72 percent of all marketers can draw a direct line between the content they produce and increased lead generation [2]. This success has caused companies to double down on content: 70 percent of marketers expect to increase production this year [2], while in the corporate eLearning niche, the expected growth rate is closer to 90% since eLearning marketers were slower to adopt content marketing than other B2B verticals.
Content works because it shows audiences that your brand has valuable insight that it's willing to share. People are starving for high-quality information from reliable sources, especially if those sources communicate in compelling and entertaining ways. When a company creates a great piece of content, audiences enjoy it, share it and discuss it within their social circles.
The Long-Term Applications Of Content
It's important to note that content isn't a get-rich-quick scheme. It's a long-term investment with long-term payouts, and it doesn't end with marketing.
Every part of your organization can benefit from great content. Sales teams can use content to answer prospects' questions and establish thought leadership personas that help them close deals. Human resources can use content to attract better candidates and train new hires. Executives represent their brands through content and leverage thought leadership pieces to increase brand trust and woo potential investors.
Even front-line customer service reps can lean on content. When customers ask common questions, reps can introduce them to valuable pieces of content that offer relevant answers. If a rep sees an opportunity to upsell or retain an existing customer, content can outline the advantages of further investment.
From the CEO to the newest service rep, content is for everyone. Only one question remains: What's the secret to crafting a content marketing strategy?
The Components Of A Killer Content Marketing Strategy
Before you dive in and start cranking out blog posts about your NextGen learning experience platform, LMS, content authoring tool or your eLearning custom content creation methodology, pause to consider why content works. Smart companies consistently generate high-quality content and distribute it to places where their audiences can easily find it. Blogs are great, but they aren't effective if nobody reads them.
A comprehensive content strategy should include tactics for guest posts in major publications, public relations, paid distribution and data analysis. Once you've created enough high-quality content, it's time to place that content in front of audiences via blogs, external publications, social media, and email (among other avenues). Truly meaningful content keeps a finger on the pulse of your industry to clue in audiences on what's happening behind the scenes.
Of course, entertaining and educational content doesn't drive revenue just because it's enjoyable. Marketers also must include relevant links back to their brands, enticing calls to action, and other forms of continued engagement to turn interest into conversions. This system creates a content marketing funnel in which audiences satisfy their initial craving with introductory content and then follow a trail of breadcrumbs toward more profound engagement with the brand.
Harmony Between eLearning And Content
The eLearning community knows plenty about educating audiences, and content is the most powerful tool for that job. From short articles to full-length books and complex games, content educates like nothing else.
In eLearning, content should help audiences solve a problem or learn more about a topic while building awareness of the associated brand. Audience members should come away knowing what the company does, what services it offers, how it compares to its competition, where it is located and who they should contact if they have questions or want to learn more.
With so many competing eLearning companies on the market, the odds are that multiple organizations are offering similar solutions. To solve that problem, brands can use content to establish credibility. Which educational brand is more likely to win a new customer: the one with the pretty logo or the one that offers a library of useful content?
Content establishes trust between a brand and its audience before the two ever meet. Prospective customers can feel out the brand through articles and videos. They can even learn about the company's mission and strategy by reading thought leadership from executives.
Once customers convert, they expect that stream of content to continue. eLearning companies should not only create steady streams of content aimed at prospects but also invest in existing customers. The more current customers engage with a brand, the deeper their connection to that brand becomes. And the more likely they are to shift from casual users to loyalists and advocates.
If you run an eLearning company, try this experiment: Create a compelling piece of long-form content. Put that content behind a gated section of your website, and offer a free copy to anyone who enrolls in your courses, signs up for a free trial, or simply subscribes to your email list. To increase even more your eLearning content ROI you should also seek industry respected publications to break out of your own reach and have the publication gate it and distribute it to their audience. Long-form content (like ebooks and whitepapers) is more labor-intensive than shorter content (like blog posts), but these in-depth pieces are potent tools to attract new customers and boost customer engagement. If your content distribution is sufficient, using the top industry-related online communities and your own channels, you'll be rewarded with a lengthy list of leads in a few weeks.
Companies in the eLearning market have more to gain than most by executing thoughtful content strategies. eLearning audiences regularly seek new, informative content to make or influence more educated purchasing decisions, and they reward the companies that provide that content with their attention, investment, and loyalty.
Content Marketing serves the purpose of improving conversions using a very strategic approach, connecting and supplying leads and potential customers with real value. Download the free eBook Digital Content Marketing Strategy For eLearning Marketers: An Essential Guide to delve into an excellent method to start building long-lasting relationships by establishing trust, and see conversions skyrocket by giving users the information they need to make an informed purchasing decision.
References:
[1] The Ultimate List of Marketing Statistics for 2018