Using Work Samples And Tests To Assess Skills When Interviewing Temporary Learning And Development Talent
Let's talk about that big Learning and Development initiative on your horizon. Even though your team is in place, you realize that in order to be firing on all cylinders, you're going to need to augment your team with temporary Learning and Development talent.
Naturally, the person you're searching for -that perfect fit- is someone with the experience, skills, and attitude to make a positive impact and help get your work done. To find your diamond, you've got to do some drilling. It's not enough to find and interview your selection of candidates. You need to drill down into specific skills and experience - and this can be accomplished only by seeing what your candidates can really do.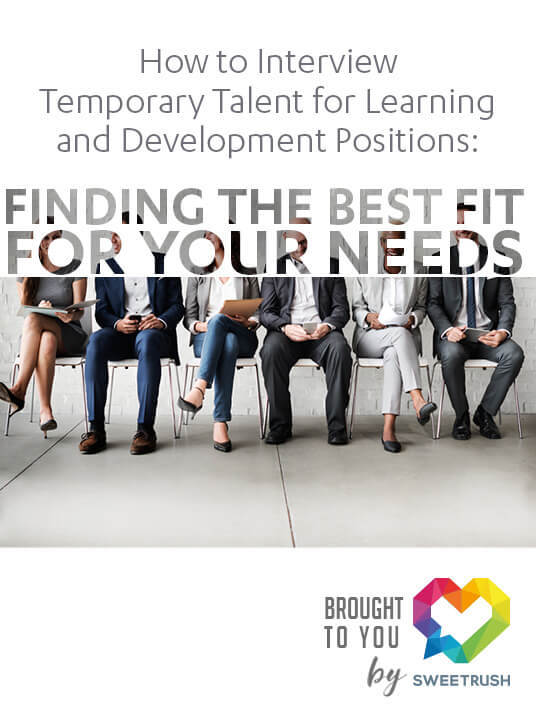 eBook Release
How To Interview Temporary Talent For Learning And Development Positions
SweetRush is excited to share its experience-based best practices for the interview process.
Work Samples Align Capabilities With Requirements
The brand of talent you're going after needs to be able to hit the ground running. This person can efficiently and thoughtfully produce an eLearning course, maybe conduct a needs analysis, craft a curriculum map, or even provide a roadmap for integrating games into your eLearning. Whatever it is that represents a skill gap in your organization, there's someone out there who can fit the bill. You may have a great track record with your full-time hires, but hiring temporary learning and development talent is really quite different.
Many of your temporary Learning and Development candidates can interview well. But once they're on board, they'll need to do more than talk a good game. For this reason, it's becoming popular for employers to request work samples to assess whether candidates have the necessary chops. However, you should look out for a few things.
First and foremost, respect confidentiality and insist that your candidate do the same. Seasoned temporary Learning and Development professionals are accustomed to work sample requests and should be able to furnish materials that don't violate nondisclosure agreements. If a candidate fails to respect a former employer's intellectual property, you should assume they won't respect yours after they've moved on.
In addition to the deliverable itself, your candidate should provide background on the project, business objectives, any learning requirements, and the impact the deliverable or project had on the business.
Audition Temporary Learning And Development Talent With An Assessment
Another increasingly popular option to evaluate temporary Learning and Development talent is to issue some form of assessment. Think less in the way of Myers-Briggs and more in terms of an assignment or scenario he or she might encounter on the job.
A short writing assignment or an outline of  a process or strategy based on a scenario you provide will give you insight into the way he or she approaches projects. As an added bonus, you'll get a good sense of your candidate's skills as a communicator.
Be mindful that any test requires additional time from your candidate and that you'll need to review the submission and provide feedback. In addition, you may want to build in some time for your candidate to submit a revised version after your feedback.
Evaluation Criteria
Before you issue any tests or request any work samples, it's a good idea to determine your success criteria. Use a rubric to establish what differentiates a subpar submission from an outstanding one before you begin to evaluate any work. This will help you maintain objectivity and integrity throughout this valuable step in the recruiting process.
During your evaluation, consider not only the work samples or tests themselves but also their "weight" or importance as it pertains to the job at hand. For example, if you have an Instructional Design role in which the candidate will work with a team of graphic designers and developers, weigh the writing, organization of content, and the instructional creativity more heavily than the graphic design.
Final Thoughts
Temporary Learning and Development talent isn't a resource you'll use only once. You'll find yourself calling this person again when you need someone who can execute your specific learning and development tasks. To that end, it's worth your time and effort to dig as deep as you would for full-time hires - and find those diamonds you know are there.
If you're interested in more tips for interviewing temporary Learning and Development talent, check out SweetRush's eBook How To Interview Temporary Learning And Development Talent: Finding The Best Fit For Your Needs.
Related articles:
1. 5 Top Interview Questions For Temporary Learning And Development Talent
2. 4 Questions For Evaluating Temporary Learning And Development Talent

SweetRush
Our job is to help you achieve your objectives and be successful. Engage us at any point, from analysis to custom development (including e-learning, mobile, gamification, and ILT) to evaluation.