How To Become A Better eLearning Designer
No matter whether you're just starting your eLearning career or you've been building courses for decades, every one of us should always be looking for ways to get better. No matter what your experience level, here are 5 ways anyone can become a better eLearning designer.
Feel free to skip around this list. Try all 5 or start with your favorites. There are no wrong answers. If you see something in particular on this list that speaks to you, dive in and start there. Learning is messy and that's ok. The more mistakes you make, the more you're learning.
Are you ready? Fasten your seatbelts. Here we go...
1. Observe The World Around You
This first step is the easiest. Just look around. No matter where you are, you're usually swimming in a sea of design. From the billboards you pass on your daily commute to the labels on the food in your kitchen, you're never far from a potentially inspiring design.
One of my favorite sources of design ideas is the information display in our local library. Other rich resources include things like magazine ads, billboards, television commercials, event posters, book covers, packaging, and so much more.
Give it a try. Next time you need some fresh design ideas, just go take a look around at the world all around you. You won't even have to leave the comfort of home. Just open your eyes and pay attention.
2. Create A Swipe File
Anyone who has ever found themselves staring at their screen fighting creative block and just trying to get started on a big project with a looming deadline can tell you the value of having a swipe file. A swipe file is a common practice adopted from the advertising world where copywriters collect their favorite successful ad copy and sales letters so they'll always have a rich source of ideas to pull from for their own future projects.
Obviously, copywriters do not have a monopoly on the need for a ready source of project ideas; creating a swipe file of eLearning design ideas is the perfect match for all the things you're finding from step number one above.
There are many options for creating your own swipe file. You can create a folder on your computer, save things to a Pinterest board, save them as online bookmarks or whatever process that works best for you.
Here are a few handy tips for getting started:
Use an app like Evernote to help you capture and organize the things you want to save. (There are other good options like OneNote, Google Keep, and many more.)
Use the Evernote web clipper to save things from the web as you browse.
Grab the mobile app for your phone so you can capture things no matter where you are.
Your eLearning swipe file might contain templates or examples you come across, creative navigation, unique slide layouts, attractive fonts, or anything else you might use in an eLearning project.
For a jump start, try subscribing to the weekly newsletters from SlideModel and Slideshop. They'll send you a slide layout template every week for free. Tuck those away somewhere safe until you need an idea for a future project. Boom! Swipe file created.
Do you already have a swipe file? What types of things do you put in it? What is your process for saving and organizing the things you find? Leave a comment below and share what works best for you.
3. Learn A Tool
There will always be a lively debate about which eLearning tool is best. But don't worry about. It doesn't matter. Talented designers can create great learning experiences with almost any tool. Pick one and dive in.
Don't just accept all the defaults and call yourself an expert. Dig deeper to familiarize yourself with your tool of choice. Learn the shortcuts. Download plugins, add-ons, and templates. Look for tools that can support or enhance what you're doing. Your authoring tool should never be an excuse for bad eLearning.
Articulate's E-Learning Heroes community is a good place to learn what other eLearning professionals are doing with their tools. You'll find more than just Articulate product information too. Everything from ebooks and Powerpoint templates to discussions on LMS topics and a wide range of eLearning-related advice.
4. Steal Like An Artist
A good artist knows that nothing is completely original and all creative work is built on a foundation of things that came before it. For more on this and other excellent advice, check out Austin Kleon's book "Steal Like an Artist".
Following someone else's tutorial will let you pick up new techniques without the extra challenge of having to invent them from scratch on your own. There are so many generous eLearning designers like Montse Anderson and others who share ideas, tutorials and even source files for you to learn from. The E-learning Weekly Challenge has over 200 unique design challenges with numerous examples to check out in each.
Find great designs and reverse engineer them. Try to recreate them with your own tools. A great source to start with is Julie Terberg's #SlideADay project.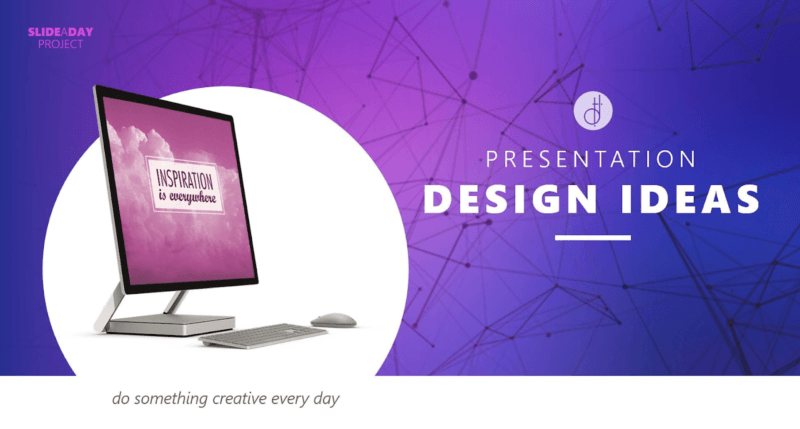 Note that "steal" doesn't mean plagiarize.
5. Do The Reading
The reading is what Seth Godin calls it when you do the difficult work of learning to think with the best, to stay caught up, to understand. Just like you don't want your surgeon operating on you with decades-old tools and techniques, you shouldn't build eLearning that way either.
There is no shortage of great resources for reading up on eLearning. Here are some good recommendations to get you started:
The reading encompasses much more than just books. Keeping up with the field means having conversations, attending conferences, following the research, and staying current with the latest developments.
As Seth says, "If you haven't done the reading, why expect to be treated as a professional?"
As you might suspect, I'm a huge advocate of life-long learning. Even the most accomplished experts continue improving their skills and learning new things.
"Knowledge has to be improved, challenged, and increased constantly, or it vanishes." - Peter Drucker
Which of these are you already doing? Are there any you will try? I'd love to hear what you're doing to get better at what you do and what is working well for you.