7 Blended Learning Myths And What To Know About Blended Learning LMS Implementation
Blended learning still has a lot of mystery surrounding it. What exactly does it entail? Is face-to-face training absolutely essential? Are learners expected to rely heavily on virtual training tools, with only small bits of ILT sessions interspersed? In fact, there are so many misconceptions swirling around this training approach that many organizations avoid it altogether. But, today, I'm here to set the record straight and dispel some of the most common blended learning software myths and reveal the truth behind blended learning LMS implementation.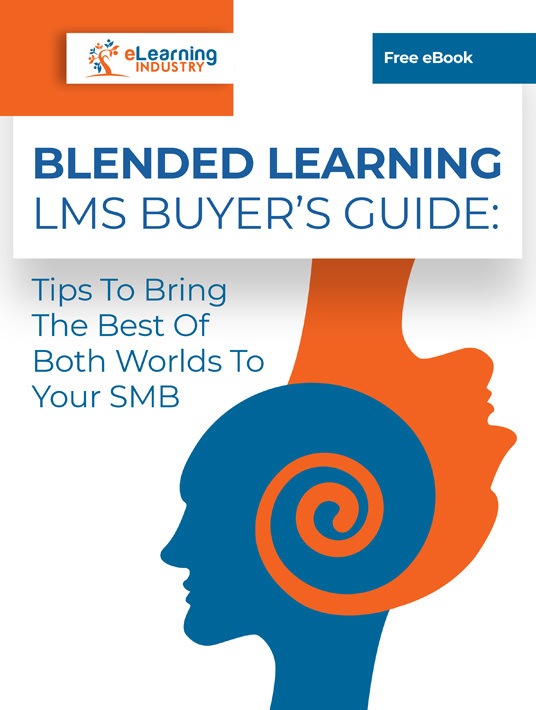 eBook Release
Blended Learning LMS Buyer's Guide: Tips To Bring The Best Of Both Worlds To Your SMB
Discover how to remedy traditional training gaps and bring the best in your SMB using a blended learning LMS
1. Blended Learning Costs More Than Traditional Training
Most people who are against the idea of blended learning tout the fact that it's more expensive. Implementing a blended learning software will push them over budget, especially when compared to traditional training. The truth is that a blended learning approach can reduce costs. There's no longer a need to print materials or hire on-site instructors. The costlier tasks can be taken care of online, thanks to the blended learning LMS. Another expense that's often mentioned is the devices. How will learners access the training resources and who is footing the bill? To alleviate this financial burden, you can launch a BYOD strategy, wherein learners must supply their own smartphones or tablets. That way, they can customize their own device preferences and get the training tools they need anytime, anywhere.
2. Instructors/Facilitators Are Excluded In Blended Learning Environments
A popular misconception is that instructors and facilitators are left sitting on the sidelines, along the same lines as machines stealing jobs in factories. As a matter of fact, they can do their jobs more effectively with a blended learning platform. Their roles simply change and evolve. For example, they can use LMS metrics to evaluate employee performance. Or help develop an online curriculum to supplement the ILT session and enrich the experience. They're even able to host live events to save themselves the time, and you, the expense of traveling to remote branches for training.
3. Face-To-Face Instruction Is A Crucial Blended Learning Requirement
One of the biggest misconceptions about blended learning LMS solutions is that there must be an on-site instruction. After all, that's one half of the blended training equation, right? In reality, you can use video conferencing tools and other LMS features to take care of the ILT component. For example, host an online event or social media roundtable to incorporate the human element. Then follow up with LMS support resources to ensure that employees understand the concepts. Such as infographics or videos to reinforce the task steps.
4. Blended Training Compromises Employee Engagement
As soon as you get rid of the on-site training, employee engagement goes out of the window. They simply don't have the motivation or self-initiative to see it through without an instructor on-hand. This couldn't be further from the truth, given that there are many ways to fuel employee engagement with a blended learning platform. From launching a gamified training strategy that features badges and points to creating individualized paths that allow them to set their own goals.
5. Blended Learning Platforms Depersonalize The Training Process
Many L&D teams are afraid that blended training will depersonalize the process. That employees won't be able to interact with peers and instructors as often as they should. Their concern is based on the fact that we're social creatures. But a blended learning platform doesn't rob employees of this opportunity. Instead, they're able to interact with co-workers from around the world and learn from experts in other regions. Furthermore, every learner has the chance to pursue their own path by accessing online support tools that cater to their needs. Such as demos or online training tutorials to bridge a skill gap or help them solve a common problem.
6. All Of Your Employees Need To Be Tech-Savvy To Access Online Training Resources
A particularly damaging blended learning myth is that everyone on your team has to know the LMS like the back of their hand. They must be tech-savvy in order to access online training resources and get the information they need. However, the great thing about blended learning is that it eases them into the tech aspect of your new training strategy. They attend the ILT session, then follow up with online support tools to broaden their experience. For example, the face-to-face course taught them how to perform a sales task. Or has introduced them to a new product. They're able to login to the blended learning LMS to access walkthroughs, product demos, and task checklists to reinforce that knowledge. As well as simulations and scenarios that allow them to apply what they've learned.
7. Blended Learning Is Merely A Stepping Stone Between ILT And Online Training
Some organizations do use blended learning software to wade into the waters of full-fledged online training. However, may implement a blended learning platform to simply bring learning technologies and Instructor-Led training to their employees, creating a holistic strategy that accommodates different learning preferences and needs. There's no ulterior motive or 5-year plan that leads to strictly online delivery methods.
These popular blended learning platform myths prevent some organizations from implementing this cost-effective strategy. They let the misconceptions stand in the way of bringing their employees the best of both worlds. Use this article as a guide to win over stakeholders and show them that blended learning is a viable option. Who knows? You might even convince those staunch traditional training advocates who are against the idea of Learning Management Systems altogether.
How is conventional training problematic, and how can the blended learning approach fix it? Is there any way to convince employers blended learning software is the way to go? Download our eBook Blended Learning LMS Buyer's Guide: Tips To Bring The Best Of Both Worlds To Your SMB and discover how to remedy traditional training gaps, leverage your blended learning platform for managing online training, and how to bring the best in your SMB by using a blended learning LMS.