Launch A Successful Blended Learning Strategy—The Rapid eLearning Way
What are the benefits and drawbacks of blended learning that every company should consider? Can you fit VILT into your strategy? How do you find the right outsourcing partner? This eBook shows you how to implement blended learning on a tight timeline. You'll discover the many reasons why the rapid eLearning way can help you increase employee engagement, stretch resources, and enhance L&D immersion.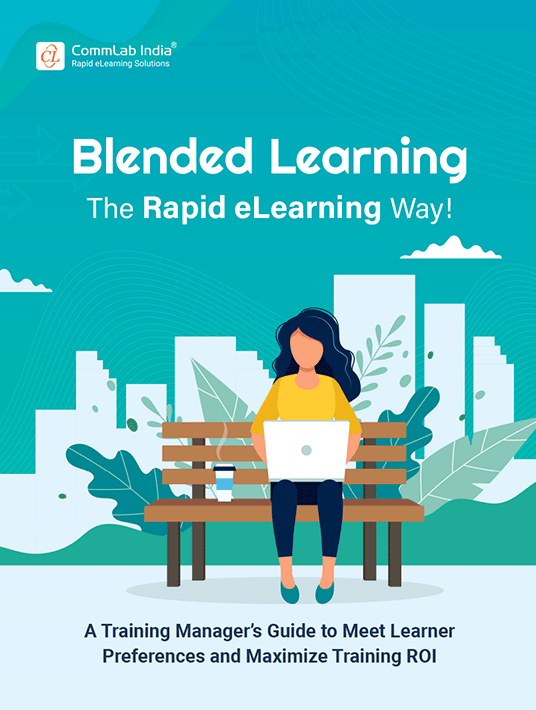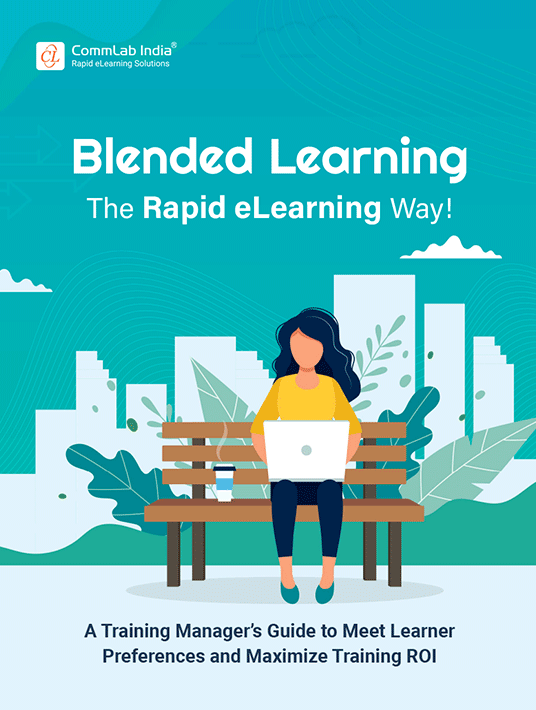 eBook Release
Blended Learning – The Rapid eLearning Way
Is rapid blended learning the best solution? Discover how blended learning can be leveraged to meet corporate training needs and address modern learning preferences.
Hybrid Versus Blended Learning
While the terms are often used interchangeably, there are differences between hybrid and blended learning. First and foremost, hybrid learning is all about flexibility at the individual level. Employees can choose to attend virtual training sessions or on-site L&D. It usually boils down to personal preferences, schedules, and organizational needs. For example, your company may choose to host certain events online, while others are better suited for face-to-face training courses or workshops.
On the other hand, blended learning centers on a combination of VILT or ILT and online training methodologies. For instance, an employee attends a virtual training session where they can ask questions in real time and learn from an industry expert. After the fact, they participate in task simulations and scenarios to broaden their knowledge and reinforce what they've learned. The face-to-face component is sometimes debated. Some L&D professionals believe that pure blended learning experiences involve on-site instruction while others think that VILT is an ideal addition to their blended learning plan.
Is Rapid Blended Learning Best?
Now, the question is: Should you deploy a rapid blended learning strategy for your workforce? Let's look at some of the most notable advantages of blended learning—the rapid eLearning way.
Reduce L&D Costs
You have the opportunity to cut your L&D expenses, even if you just move some of your training online. As an example, you now offer JIT support and online certifications. Thus, you no longer need to host ILT sessions that require site rental fees, printed materials, travel expenses, etc. Employees still expand their knowledge and skillset, minus the hefty face-to-face training bill. Another perk is mitigating safety risks that are posed by the COVID crisis.
Enhance Personalization
One of the most amazing things about blended learning is that everyone gets something from the experience. Employees get to choose resources that resonate with them, their job duties, and their training preferences. For instance, a customer service staff member can bridge gaps on the spot and brush up on their compliance know-how with the JIT support library. Another might opt for peer coaching and live events to get the info they need. In short, every member of your team has the power to customize a training plan that suits them best, even if they have busy work schedules.
Improve Employee Retention
Employees are more likely to stay with your company if they receive new and exciting training opportunities. Therefore, blended learning can help you hold on to top talent talent and acquire new employees who have what it takes. For example, a new sales rep needs to brush up on their interpersonal skills and product knowledge. So, they attend ILT/VILT events to build a foundation, then access the online training library to supplement their experience. Job candidates are also looking for hiring packages that include continual training that's adaptable and easily accessible.
About This eBook
Whether you're new to the world of rapid eLearning or just need to fine-tune your existing strategy, this eBook is an essential read. Here's a brief glimpse of what you'll find inside:
Fast Friends: Why Blended Learning Strategies Are A Training Manager's True Companion?
Hot Blended Learning Trends—A Bird's Eye View
Dynamic Duo: 3 Reasons Virtual Instructor-led Training Is An Indispensable Part Of Blended Learning Today
Microlearning in Blended Learning—A Trail Mix Of Opportunities In L&D
Words Of Wisdom: Expert Advice On Designing A Blended Learning Program
Time For A Knowledge Check: How To Use Your LMS For Blended Learning Assessments
Vendor Vetting Tips: What To Look For When Outsourcing Blended Learning
Conclusion
Download the eBook Blended Learning—The Rapid eLearning Way to get insights on how you can launch a successful rapid blended learning program. Also, join the webinar to learn how to design holistic blended learning solutions for your team.