How To Become A Subject Matter Expert Based On Your Niche Know-How
Contrary to popular belief, a Subject Matter Expert isn't a "know it all." However, they are well versed on their topic of choice and know how to convey the information succinctly. They possess unique insights, skills, and experience. This makes them the go-to source of information for L&D design. One of the best things about this career path is that you get to turn your passion into a rewarding profession. The caveat is that you need to find your niche and ensure that there's a demand for your services. In other words, are you filling a hole in the market or addressing client pain points?
This article highlights all the essentials, from tips to find your niche and develop the right qualifications to the roles and responsibilities that SMEs handle in the learning sector. I'll even walk you through the steps of establishing yourself as a Subject Matter Expert and start building your client base. Without further ado, let's look at some of the best ways to identify your strengths and choose the right SME topic. Here's a quick overview of all the info you'll find in this epic guide...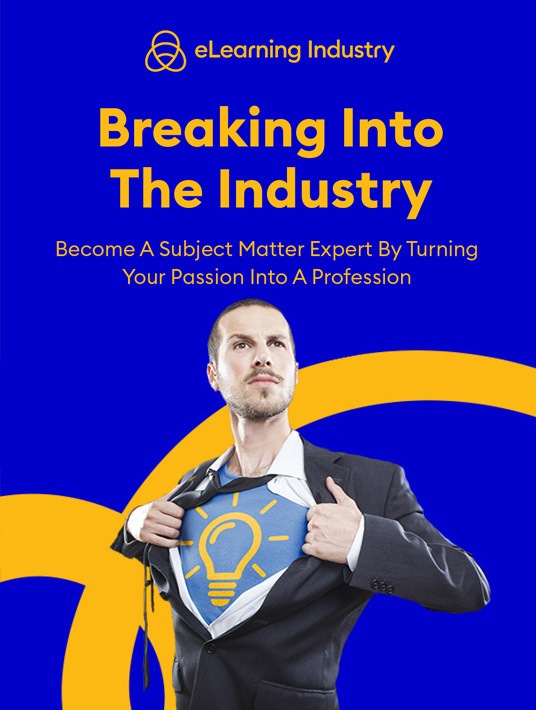 eBook Release
Breaking Into The Industry: Become A Subject Matter Expert By Turning Your Passion Into A Profession
Learn how to launch your eLearning SME career and land your first client.
1. Becoming A Subject Matter Expert: 5 Tips To Find Your Niche
Why do you want to become an SME? Why is it important to become an SME? What is the exact SME definition? These are all questions that are probably at the forefront of your mind as you consider this profession. In short, a Subject Matter Expert is someone who's built authority on a particular topic, task, or sector. Outside the eLearning industry, there are different types of SMEs. Some might be expert IT troubleshooters who know the software inside out. Or they've mastered the hiring and recruiting process to the point that organizations hire them as HR consultants. In the case of L&D Subject Matter Experts, it's primarily about content. You help organizations develop meaningful and engaging courses or support resources based on their objectives. But first, you need to find the right niche. Here are a few tips to help you choose the best topic based on your talents and experience level.
Ask Why You Want To Become An SME
Why have you decided to investigate the eLearning SME career path? Is it because you want to do something that you love and share your insights? Or do you want to "get rich quick" by tapping into your expertise? The simple truth is that becoming a Subject Matter Expert takes time and patience. There are ways to jumpstart your career. But you need to be ready and willing to put in the work. For instance, you want to help organizations develop more memorable content and bridge existing gaps. As well as immerse learners in the subject matter so that they, in turn, are passionate about the topic. That said, it's always good to have some career goals in place and, of course, you need to make a living with a steady Subject Matter Expert salary.
Assess Your Strengths
What are you good at? Are there any niche skills you already have that give you a head start? It's important to evaluate your strengths and weaknesses so that you know what to work on. For example, you're an adept problem solver and communicator. But you may need to focus on your business and project management skills. The reality is that becoming an SME is a balancing act. Even if you have niche expertise, you still need to be able to work with L&D teams and develop strong business practices. This can even help you find your niche based on your strong suits and personal areas for improvement. Let's say that you're trying to decide between two topics. If one involves more diversity and a targeted skillset, this might make your decision much easier.
Research The L&D Industry
You may want to build your eLearning SME career on a topic, but is there really a demand for it? Do organizations need it to achieve their objectives and develop human resources? Research the L&D industry to see if your idea is viable. Are organizations hiring L&D pros for this category? Is your topic commonly discussed in online articles and social media posts? Are there directories that include SMEs who cater to this niche?
Choose Something You're Passionate About
Ideally, you want to find a niche you're passionate about. Something that speaks to you on a personal level. Health and safety compliance might be bland and boring for some people. But SMEs who specialize in this topic might think it's riveting. They seize every opportunity to share what they know and get people enthusiastic about policies. A great exercise is to jot down all the topics you excel in and then ask whether it's career-worthy. Do you want to talk about it every day? Can you sum it up concisely and effectively communicate the takeaways?
Determine The Amount Of SME Training Involved
You may have to go through some additional training to become an SME for certain topics. For example, obtain certifications to prove your expertise and mitigate compliance risks for your clients. In some cases, you might elect for training simply to broaden your knowledge and tap into new markets. For this reason, you should research the amount of training that's involved before choosing your niche. You don't want to dive headfirst into building your consultancy firm only to discover that there's a month of training ahead of you.
2. What Are The Essential SME Skills And Qualifications?
What qualifies someone as an SME? One of the most effective approaches for how to become a Subject Matter Expert in eLearning is to hone your skills. Of course, doing your homework and keeping up with current eLearning trends is a must. But you should also develop core competencies that help you collaborate with clients and meet their expectations. Or even secure your first SME job position within an organization. Below are a few crucial skills and qualifications that every Subject Matter Expert should possess.
Niche Expertise
One of the most obvious qualifications and skills required for Subject Matter Experts is knowing the topic. This goes beyond the basics. For instance, you must be able to summarize the main ideas and concepts as well as figure out what learners need to know based on their goals and gaps. You also need to understand related topics that may have a bearing on the subject matter, such as tasks, skills, and common mistakes that are involved.
Time Management
There are actually two time management skills you need to focus on. The first is how you manage your own time during L&D projects. For instance, you must be able to meet deadlines and follow clients' (or employers') timetables. The second is distilling the information in such a way that reduces seat time without diminishing quality. Learners must still walk away with all the necessary info and fully understand the basics.
Communication Skills
Effective communication skills extend to every aspect of the SME profession. You need to convey the key discussion points and articulate your thoughts. You must also communicate with clients or other members of the team to achieve the best results. Thus, SMEs also have to be expert communicators.
Adaptability
Subject Matter Experts should be able to adapt to different situations. You may be called on for your niche know-how. But there are various contexts and sub-topics involved. For example, one project might focus on leadership development skills while another covers the tasks and protocols managers need to know. You also need to adapt to different work environments and client expectations.
Thirst For Knowledge
SMEs are known for being adept researchers. If they don't know something, they feel compelled to look it up and fill in the blanks. Thus, they have a constant thirst for knowledge whether it pertains to their niche or involves a related topic so that they can broaden their mental schema. That said, you shouldn't try to stretch yourself too thin when it comes to specializations.
Strong Work Ethic
Successful subject experts are go-getters. They're proactive and possess a strong work ethic. This applies to all facets of their career. For instance, a Subject Matter Expert might work overtime to help their collaborators finish content. Or go the extra mile by curating resources to enrich the online training experience. The caveat is that you need to strike a work/life balance to avoid burnout.
Problem-Solving Skills
Subject matter specialists are also great problem-solvers because eLearning design is all about finding the right approach. You need to distill the data in a way that's easy to comprehend. They find the best way to improve knowledge assimilation and learner engagement. However, you may have to solve other problems over the course of your SME career. Such as reducing seat time, stretching resources, and addressing important pain points. Not to mention, reducing cognitive overload.
Business Acumen
If you plan to launch your own consultancy firm, business acumen is essential. This covers everything from contract negotiations to improving client relations. You need to have solid business practices to attract new clients and keep them content. This also helps you keep your image intact and establish yourself as a credible source of information.
Project Management Skills
PM skills are one of the most integral qualifications for SMEs because you need to understand your role and delegate tasks. Especially if you're working in a team setting or managing your own consultancy business. For instance, this collaborator must research certain tasks and compliance policies. You need to point them in the right direction, then compile the information for the client.
3. Subject Matter Expert Roles And Responsibilities In The L&D Industry
How do information experts fit in the grand scheme of things? There are many Subject Matter Expert roles in the L&D sector. However, your responsibilities may vary based on the organizations and their needs. For example, they may already have an ID or graphic designer on-hand. So, you don't need to worry about content development. Instead, you're tasked with topic research and narrowing down the key takeaways. Then again, you may land a job or contract that requires you to take on all the following roles.
Primary Source Of Knowledge
One of the most integral Subject Matter Expert responsibilities is to serve as the main source of knowledge. They're the person everyone on the team turns to for clarification and insider expertise. Particularly for rapid eLearning development projects that involve minimal timelines and staff members. That said, you should define expectations in advance to avoid a stressful workload. For instance, more involved topics may call for more than one SME. Or maybe you're dealing with a training area that involves your niche and tasks that fall outside your purview.
Define Key Takeaways
A quintessential function of the SME is to identify information learners need to know versus extraneous data. You must be able to define the key takeaways to prevent cognitive overload and get your message across. That way, organizations achieve the desired outcomes and learners get a firm understanding of the subject matter instead of making staffers endure an hour-long course that covers too much ground and bores them to tears.
Reevaluate L&D Objectives
A Subject Matter Expert also helps clarify and/or create objective statements. For example, employees must understand these 5 ideas or develop these integral skills by the end of the course. Maybe the online training objectives no longer align with the organization's work practices. Or staffers require additional competencies or talents in order to fulfill their job duties.
Find The Ideal Delivery Method
I've already touched on this briefly, but it warrants a deep dive. Delivery methods refer to the vehicle for all the information you want learners to absorb, from simulations and branching scenarios to modules that cover specific tasks. You should also keep ID and psychological principles in mind to facilitate knowledge transfer. Simply put, how do you deliver the data so that it makes a lasting impression? Many organizations consult with SMEs not necessarily to create this content but to find the best approach.
Collaborate With Instructional Designers
Most SMEs have to work with other members of the eLearning team, even if it's in a supporting and consulting capacity. Namely, Instructional Designers who develop meaningful online training experiences using ID models and theories. You'll often work closely with these professionals to condense the information and package it up as well as modify existing content based on emerging gaps.
Give And Receive Feedback
This is a crucial job requirement for all subject experts. You need to give feedback to improve the quality of the content and fill in the gaps. But you must also be prepared to receive feedback from clients and online learners. For instance, you may have to revise the takeaways or topic scope if clients want to zero in on certain pain points.
4. 5 Steps To Establish Yourself As A Successful Subject Matter Expert
Many new SMEs wonder how to become an instant Subject Matter Expert. However, this process generally doesn't happen overnight. The exception to the rule is people who've already studied or have real-world experience before their SME ambitions. For example, you have subject matter expertise in HR compliance because you've worked in that field for years. Or maybe you've gone through SME training without even realizing it, thanks to your sales manager experience. So, once you've pinpointed your niche, how do you establish yourself as a successful SME and build authority?
Do Your Homework
How well do you really know the subject matter? Are there certain ideas or tasks that are still a bit shaky? The first step to establish yourself as an SME is to do your research. Even if you think you know the topic inside out, it's still wise to brush up on the essentials and look for overlap areas. For example, this task may not pertain to your niche (at the moment). However, many organizations are quickly adopting it in their work practices, and you should stay on top of trends. So, why not sign up for online courses, attend live events, or read an article every day to expand your horizons.
Evaluate Clients' Needs And Expectations
If you plan to start your own consultancy business, you need to assess clients' needs, expectations, and pain points. What information are they looking for? What are some sample objectives? Which challenges do they face and how can your subject matter expertise help them overcome them? SMEs offer fresh ideas and/or come up with creative ways to rehash old ones.
Find The Right Publishing Platform
Even if you've explored the far reaches of the eLearning topic, you still need to find your audience. In other words, choose the best platform to establish your authority and connect with potential clients. If you're applying for a job, posts make a more attractive candidate. The key is to publish wisely. Of course, your content should be high quality, accurate, and error-free. Beyond that, the site you use must be reliable. Preferably, an industry thought leader that already has a loyal reader base. Then you can publish articles, tip sheets, and informative guides.
Gather A Personal Knowledge Base
It's not only about the information you give, but what's coming in. You should have your go-to resources that you use for projects. As well as to build vital skills and bridge personal knowledge gaps. For example, a list of sites, articles, or videos that help refresh your memory and reinforce key concepts. You should also frequently expand this list as you gain more experience and identify emerging pain points of your own. Another option is to sign up for alerts so that you get an email every time new online content is posted.
Stay Active On Social Media
There are plenty of social media groups, blogs, and forums where you can find information about your topic. As well as business pointers and even tips to land your dream SME job. So, stay active on social media and consider launching your own page. For instance, you can create a group exclusively for readers who want insider secrets. These followers are potential business prospects.
5. How To Find Subject Matter Expert Jobs In Various Industries
There are generally two paths you can take. The first is to start your own consultancy or freelancing business as a Subject Matter Expert. The second is to find a job. The latter often involves more security and work with the same L&D and HR pros for every project. If you choose this route, how do you land Subject Matter Expert jobs that are personally rewarding?
Create An Online Portfolio
Much like graphic designers and Instructional Designers, Subject Matter Experts should have an online portfolio. This shows off your expertise, background experience, and skillset. You can include past deliverables you've worked on or storyboards that include the objective statements, delivery method recommendations, takeaways, and outcomes. Some SMEs even develop online training courses to show their skills in action. The goal is for employers to see the breadth of your knowledge and work approach.
Update Your Resume
Per their nature, SMEs are always learning new things. Be sure to update your resume before you start the job hunt so that it reflects all of your qualifications. Including other sectors that you venture into and skills that give you an edge over the competition. In fact, it's best to use a template that allows you to quickly add or amend your resume. Or even change things up based on the job description and organizational requirements.
Reach Out To Organizations In Your Niche
Send resumes to organizations that may be looking for a new SME. Or contact them directly to see if there are job openings. You can even visit their social media page to see if they mention L&D vacancies. Keep in mind that this is often hit or miss because you never know if organizations are focusing on eLearning enrichment right now. At the very least, it can help you test the waters to see if there's even interest in your topic expertise.
Build An Online Network
It's all about networking and making connections. With the right people, that is. LinkedIn and Facebook are two great places to look for L&D communities. You can also answer questions to establish yourself as an industry expert and build a rapport. For instance, you're the person that everyone turns to for onboarding or sales enablement training tips.
Search Job Boards
Many employers post SME openings on forums and job boards. As a matter of fact, you should probably check them out before starting your SME career since it gives you a better idea of the job requirements and what organizations are looking for in a candidate. Look for sites with built-in search filters so that it's easier to peruse job listings. For example, you can search by function, industry, or location.
6. 6 Tips To Launch Your SME Consultancy Business Based On Your Topic Expertise
Providing consulting services is another path to become a Subject Matter Expert. If you have an entrepreneurial spirit and prefer to work on different types of projects, it's a great alternative. The catch is that you often have to wear many hats. For example, market your own services and finalize client contracts on your own. That said, many SMEs get to a point in their careers where they can hire a team and/or outsource these responsibilities. Below are 6 tips to launch your SME consultancy business and springboard success based on your topic expertise.
Find Gaps In The Market
You don't necessarily have to reinvent the wheel. However, you should try to look for gaps in the market that you can fill with your SME consultancy business. Is there a growing demand for your services in certain industries or locations? Which L&D challenges do your clients face and how can you tackle them head-on? Can you competitively price your SME fees to edge out the competition—without undervaluing yourself? Is there a way to position yourself in the top SME spot by focusing on overlooked pain points?
Fine-Tune Your USP
Market analysis can also help you identify USPs. What sets your services apart? This is also a good time to scope out the competition. What's their business strategy and marketing approach? Which target audience are they trying to attract? The SME profession is competitive but usually less so than other fields due to the fact that there's a limited number of people who possess your level of knowledge in the sector. The exception being highly saturated markets, which is another reason why it's essential to research your target market and fine-tune your unique selling proposition.
Develop A Marketing Strategy
Regardless of your budget and buyer persona, you need a sound marketing strategy. There is a variety of low-cost ways to promote your services. In fact, our SME eBook features a bonus section that covers promotional tips and tricks. The link to download that is at the end of the article. The key to developing an effective advertising campaign is to know your outlets. Should you guest post? What about banner ads? Can you launch a social media campaign to draw in potential clients? Our SME ultimate guide also features tips to get recognition in your field and promote your services online.
Identify Your Price Point
Valuing your services is one of the most challenging aspects of becoming aν SME. It's not just your knowledge but all the time and effort you put into every project. As well as the tools and resources you need to meet the client's expectations. Research the going rate for your sector and what the price entails. For example, this is the average hourly or per-project fee that includes additional client support or needs analysis. Bear in mind that your service prices typically increase over time as you gain more experience since clients can see you have a proven track record.
Create A Contract Template
Contracts are one of the most powerful tools in your arsenal. Every SME should have a contract template on-hand to avoid conflicts and improve client relations. The great thing about templates is that you can add/remove services and support based on the project scope. You may want to hire a legal expert to draw up the initial contract so that you cover all the terms and conditions. Then simply adjust the agreement to include pricing, communication guidelines, and deliverables for each client.
Find The Right Collaborators
Many SMEs start out on their own and then gradually expand their team. Like hiring additional subject experts in related fields or designers to create eLearning content. Then again, many choose to outsource these tasks instead of hiring employees. Whatever route you take, it's important to choose the right collaborators. Preferably, professionals who complement your skillset and bring something new to the table.
7. 5 Secrets To Streamline Collaboration With Clients
There are countless articles and guides that offer tips for working with Subject Matter Experts. However, clients shouldn't have to prepare for this collaboration mentally and emotionally. In fact, there is a variety of ways you can improve client relations and build your SME business quickly. Here are 5 insider secrets to streamline collaboration and create a thriving consultancy firm.
Maintain Transparency
Everything should be fully transparent about your work process, from contract negotiations to business practices. Clients are more likely to work with you again if they know what to expect and there are no unwanted surprises. Like hidden fees that weren't included in the initial estimate or agreement. You should also be upfront about your limitations. For instance, you aren't well versed on the topic of customer service employee development, but you can help with their sales training program.
Open The Lines Of Communication
Clients expect a two-way dialogue where they can make suggestions and welcome your input. Thus, you need to open the lines of communication and let them dictate the terms. As an example, some clients prefer to be involved in every step of the way. While others want a more hands-off approach. You need to specify this beforehand so that everyone is on the same page.
Get Everything In Writing
I cannot stress enough how important it is to get everything on paper. You can always refer to the contract if there's any confusion. You're also able to remind the client of payment details and project phases. Plus, it's nice to have that fail-safe in place if there are any disagreements. To illustrate, the client might say that you promised services that aren't covered in the contract.
Outline Your Workflow
Many organizations choose SME outsourcing versus in-house because it's more cost-effective. They can allocate their resources elsewhere and let you work your L&D magic. That said, they should still have a general idea of your workflow and the steps involved. Like how often you submit milestones or which resources you need from their team and by when. In fact, you can include a detailed timeline in the contract that still gives you a little leeway. Just in case you run into any problems or unexpected delays.
Define Roles And Expectations
Since subject experts often work closely with other L&D professionals, it's vital to outline all the roles and expectations. How will you interact or collaborate with their team? Are they responsible for tie-in tasks, like submitting research data or reusable content? Does the client have specific due dates in mind? Discuss these key issues with them before finalizing the contract to ensure everything runs smoothly.
8. Why Should Subject Matter Experts Focus On Guest Blogging?
Guest blogging is one of the best ways to attract new clients and continually expand your knowledge base. As a matter of fact, many successful Subject Matter Experts use it as a cost-effective marketing tool. Since you can promote your services and build a loyal following with targeted guest posts. So, what benefits can blogging bring to eLearning SMEs?
Build Industry Authority
Guest posting on a credible site helps you build authority and establish yourself as an expert in your field. You're automatically associated with a thought leader that has high traffic stats. This means that you can reach more people and offer your unique insights on a public platform. In many cases, this is the first time that potential clients or employers learn about you. As such, it's important to make a great impression and provide value-added content. While marketing might be your main goal, you need to focus on forming that all-important connection. Readers who respect what you have to say are more likely to invest in your services.
Create A Rapport With Your Target Audience
If you give it some thought, most of us seem to gravitate toward the same sources of info. They're our go-to websites, social media pages, and YouTube channels. They've earned this spot because they've proven their worth. They've invested time and energy into providing us with accurate tips or stats. Essentially, they've built a rapport. You need to do the same for your SME consulting business.
Stretch Your Marketing Spend
Guest blogging allows you to make the most of your start-up marketing budget. The only investment is time. You get to promote your know-how and reach a niche audience rapidly, without breaking the bank. This means that you can spend more on other promotions to build your SME brand or simply reduce costs. Our SME eBook also includes marketing tips to help you get more recognition and stretch your budget.
Enhance Your Credibility
Readers appreciate the fact that you're offering your expertise with no strings attached. If you craft accurate and engaging articles, this goes a long way in terms of credibility. Especially if you focus on challenges your potential clients currently face and provide viable solutions. Even if it's not necessarily hiring your SME consultancy business. You never know who will bookmark the article or jot down your name for future reference. For example, when it's time to invest in a Subject Matter Expert for their online training program.
Expand Your Social Media Reach
Guest posts on eLearning Industry are also promoted on social media, which gives your post even more online exposure. People learn about your insider tips and share them with their network. It's a marketing ripple effect that can help you tap into new markets without investing a cent. For that matter, you can even promote your own posts on LinkedIn and your social media pages to maximize the benefits.
Refresh Your SME Knowledge
Writing about your beloved eLearning topic can help you refresh your memory and explore related ideas. For instance, you're creating content about interpersonal skills for customer service staffers. In the process, you learn more about competencies that tie into this skillset and how to bridge existing gaps. You might even discover innovative ways to address L&D issues that you can use for your next project.
Conclusion
Successful Subject Matter Experts are always on a quest for knowledge. They aren't satisfied with the status quo or skill stagnation. However, all their hard work and homework pays off in the form of a fulfilling career that they're passionate about. Use this ultimate guide to identify the perfect niche and establish yourself as an eLearning SME. You can also guest post on eLearning Industry to build authority and promote your niche know-how since eLI gets more than 900,000 visitors every month…and counting.
Looking for tips to get recognition in your field and promote your SME services? Download Breaking Into The Industry: Become A Subject Matter Expert By Turning Your Passion Into A Profession for exclusive content. We'll show you how to use social media, live events, and eBooks to expand your client base.