All You Want To Know About Collaborative Authoring Tools
eLearning authoring tools have slowly become the mainstay for eLearning developers and course creators since the past few years. Authoring tools essentially allow eLearning professionals to develop course content independently without relying on expert programmers or other technical experts. eLearning authoring tools until a few years ago were predominantly desktop-based applications. eLearning authors would at every stage of the project share content back and forth with team members for review, feedback, revisions via emails. This was a time consuming process and an arduous exercise to keep track of team member's comments, feedback across versions of the content which severely impacted productivity. Given these constraints in recent years, many eLearning developers have begun to transition towards web- or cloud-based collaborative authoring tools that offer much more flexibility and facilitate collaboration.
What Are Collaborative Authoring Tools?
Web-based authoring tools (Cloud) have a collaborative dimension. In a nutshell, 'collaborative authoring tools' allow multiple stakeholders on an eLearning project such as course developers, Subject Matter Experts, and reviewers to collaborate and interact with each other simultaneously while working on a project. Users of the authoring tools can access and track progress of the course, communicate, give feedback, implement revisions, and seamlessly review their peers' contribution, their course's progress and evolution from a central point, whether team members physically work together as a team or work remotely.
What Are Some Key Benefits Of Collaborative Authoring Tools?
1. Flexibility
Web-based authoring tools allow you to easily upgrade to different packages to accommodate changing needs of your organisation or requirements of your eLearning course development. You would also benefit from ongoing product developments.
2. Ease Of Access
Since no installation or software needs to be downloaded, access to a cloud-based authoring tool is instant. You can therefore access it to review or work on your eLearning project from anywhere on any device as long as there is an internet connection.
3. Safer Storage
Users can upload their graphics, video, audio and other files while creating their courses and have it stored in the cloud. Since there is no local data storage, it is protected from unexpected hardware failures and pre-empts loss of data. Retrieval of data is also quicker for re-use.
4. Cost Effective
Cloud-based authoring tools are often more cost effective because they have flexible pricing options and may allow you to pay according to number of authors, number of projects and sometimes even according to the storage capacity utilized by authors.
6 Popular Collaborative Authoring Tools
Here are some of the most popular collaborative authoring tools, their key features, and pricing: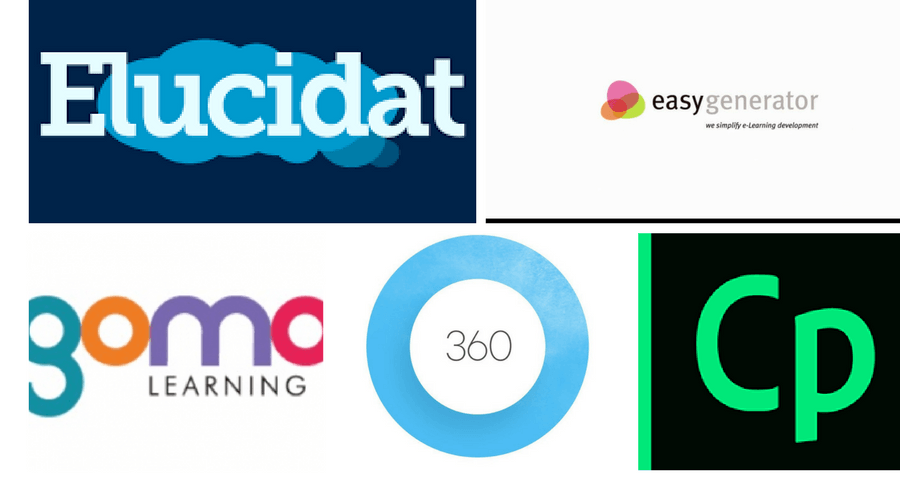 1. Elucidat
Users: Online training organizations and large companies.
Key features: A web-based authoring tool which offers pre-built themes and interactions. It puts great stress on being 'user friendly' and its targeted users includes 'non-technical content creators'. Its granular analytics helps course creators understand how learners respond to course content. Elucidat allows you to build responsive eLearning courses and its 'inbuilt responsive slider' allows you to simultaneously test your content across tablet, desktop, and mobile screens by merely adjusting the slider. Elucidat has a unique feature called Rapid ReleaseTM that allows you to update your course content in the Learning Management System directly from Elucidat without uploading files over and over.
Pricing: Elucidat offers a 14-day free trial. Its pricing starts at $2500 per user per year.
2. Composica
Users: Large eLearning development teams worldwide
Key features: Composica is another web-based authoring tool that empowers organizations to create highly interactive eLearning courses in any language.
It claims to put users in complete control of course's design by allowing them to customize/style or modify any object and provides an extensive library of themes, templates.
Existing PowerPoint presentations can be imported and any other imported content becomes editable. It takes 'sharing' a step ahead by allowing even learners to comment on any piece of content that can be shared with everyone else. Collaboration features allow team members to see what everyone is currently working on; open tasks and review notes, post on respective project's wall and even group chat.
Pricing: Composica offers a free trial. Its pricing starts at $99 per user per month if billed annually and users have unlimited storage, courses and reviewers.
3. EasyGenerator
Users: Corporations (big and small), educational institutes, non-profits, and governments.
Key features: EasyGenerator is another cloud-based authoring tool that assures users that there is 'no learning curve'. It offers authors/users a wide range of templates which are editable and allows you to create content courses with your own branding. It enables tracking of learner progress and achievements with ease and facilitates co-authoring of courses. Data can be backed up and restored with ease to prevent loss of data. It also has a robust user authentication process.
Pricing: There is a 'free' package to create simple courses. The paid starter package starts from $29 per month per author and allows creating a maximum of 10 courses. Other packages range between $49–$69 per month per author.
4. Gomo Learning
Users: Non-programmers who want to create responsive and interaction eLearning content with relative ease.
Key features: A variety of themes can be customized to include your branding and design. With Gomo Learning you can even customize navigation controls, buttons, headers and footers and also opt for pre-configured templates to create interactive content with ease. With respect to collaboration, user roles can be defined. Authors are permitted to work on the same course and share content across courses. There's a safeguard against modification of same content by two authors simultaneously to prevent errors. Team members and clients can review courses online, and comments/feedback are collated in one central point.
Pricing: Gomo offers a 21 day free trial. Its pricing begins at $890 per year for one user log-in for a personal plan. For multiple people collaborating, prices jump to $2490 per year.
Recently, even some of the most popular desktop authoring tools have added a collaborative dimension to their products. 
5. Articulate 360
Articulate, widely recognized as creators of the world's best eLearning solutions, introduced a partial cloud-based authoring tool called Articulate 360 a few months ago. It is a suite of 9 applications and with a yearly subscription allows access to its best products including Storyline, Studio, Rise, Preso. It is designed to be a one-stop shop to satisfy an eLearning developer's requirements comprehensively while creating course content.
A standout feature of Articulate 360 is the Articulate Review. The Articulate Review is a dedicated collaboration tool that empowers testers, Subject Matter Experts, and content stakeholders to review their course content and share feedback with each during the development phase. Course content can be uploaded online via any of the apps and can be viewed by the entire team from their respective web browsers.
Pricing: For Articulate 360 is $999 per user per year. There are separate pricing plans for individuals and teams and significant discounts for existing users.
6. Adobe Captivate Draft
Adobe Captivate 9, also one of the world's largest creators of eLearning authoring tools, recently introduced the application Adobe Captivate Draft. This app allows course developers to create a "pre-production workflow" for Captivate. Unlike Articulate 360, the collaboration feature in this application is limited to collaborating and real-time preview over storyboards. Reviewers can add comments in a box or even doodle on onto the slides. Post the feedback stage, comments can be incorporated into the storyboards with ease. Uniquely, the reviewers on eLearning projects are not required to be users of this application or Adobe Captivate.
Pricing: Adobe Captivate's pricing starts from $29/month for a subscription. There are varied plans for a fully licensed plan and for use of students and teachers.
Final Thoughts
Depending on your organization's needs, varied authoring tools ranging from completely collaborative to partially collaborative are available. For users of existing authoring tools, that currently include collaborative features, there are several excellent choices available in the form of third-party tools.
ZipBoard is one such tool that enables visual feedback and real-time collaboration among authors, users, reviewers during the development stage of course content. It can be used to collaborate throughout the development journey, from mockups to a live website and is compatible with the biggest eLearning authoring tools including Articulate, Adobe Captivate, iSpring, Lectora, and others.