3 Strategies To Embrace And Enhance Collaborative Leadership
Market conditions today demand more of leaders. Your teams need to innovate, be more agile, and do more with less. We've all heard the corny adages, like "teamwork makes the dream work," and have built Lego towers in team-building workshops. The concept goes by many names, like collaborative leadership or servant leadership, but how do you effectively "lead from behind" on a regular basis?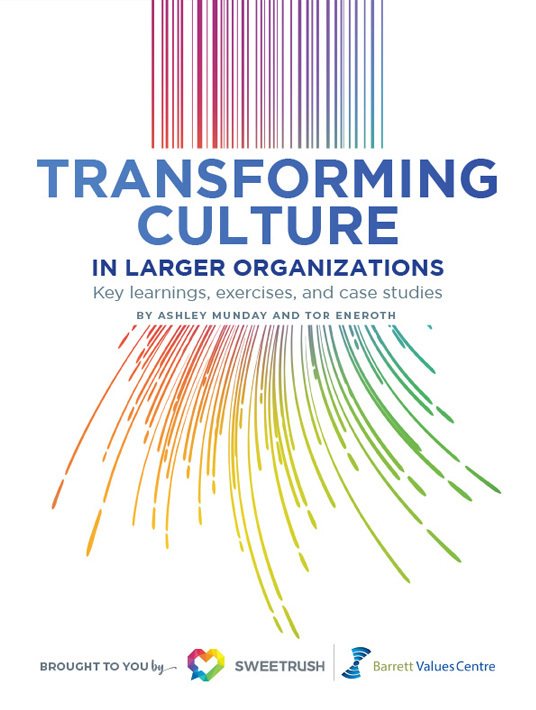 eBook Release
Transforming Culture In Larger Organizations
Discover key learnings, smart exercises, and 3 great case studies that will help you identify your next steps in fostering a vibrant, high-performing work culture.
A newly appointed CEO of a South American multinational consumer goods company wondered just that. He was young (early 40s) with ideas about how to work collaboratively, after successfully turning around their South African company. The culture around him, however, had been trained by the previous command-and-control–style CEO. They waited for dictates at the top to implement.
The CEO knew that the way forward was an engaged and innovative workforce. He undertook a multiyear journey with the board, executive team, and 250 top managers, blending solid strategy with values-based culture, which resulted in significant increases in revenue and customer satisfaction. Revenue, estimated at three billion dollars, grew by 7% within a year and into double digits within two years. Employees were happier as well. The measure of cultural dysfunction dropped from 37%, a level which has been associated with financial distress, to 10% in three years.
Each team culture is unique, and so is the path to effective collaboration. There's also fine balance between connection and navel-gazing. Goals still need to be made, the core business run, and sometimes you may not be sure that the team workshops are an effective use of your time.
Here are 3 proven approaches to operationalize collaborative leadership and support your business goals.
1. The Blueprint Of We
The Blueprint of We [1] is a collaboration document and ongoing process used to mindfully custom design business and personal relationships. You personally write the document along with those involved, whether two people or 20,000+. It captures what draws each individual to the situation, enables you to let others know how you work best, helps you mindfully design the framework of the collaboration, and provides a path back to peace when the need arises. As an ongoing collaborative process, it wires your brain for more connection and compassion and enables groups of all sizes to continually find clarity. It is often being used to replace or enhance traditional legal contracts.
2. MurderBoarding
MurderBoarding™ [2] provides a framework for a group to arrive at a shared decision around one direction. While many resources offer frameworks for brainstorming, divergence of thinking, and effectively whiteboarding, this is a framework and a method to make decision-making, and tough choices with a team, so that convergence happens.
Note: MurderBoarding is from the book The New How.
3. The Cultural Transformation Tools (CTT)
The Cultural Transformation Tools (CTT) [3] are comprehensive cultural diagnostics and values assessment instruments designed to support leaders in building high-performance, values-driven cultures that attract and keep talented people and increase staff engagement. The surveys provide the input you need to plan and manage your change initiatives, your cultural transformation programs, your diversity interventions, your talent management and leadership development initiatives, and your customer feedback. They make the intangibles tangible and provide lead indicators for measuring individual and collective performance.
Giving all voices at the table a chance to be heard, and determining the best ways to work with one another, are critical to team success. It can be easy to assume that the dynamics will work themselves out in the process of working together, but without clear intention, it often leads to missed opportunities, unnecessary misunderstandings, and silent grudges.
These are 3 approaches to collaborative leadership that can exponentially increase the speed of trust and performance of your teams. To read more about how to create a high-performing team and organization, download the eBook Transforming Culture in Larger Organizations. The lessons apply not only to organizations, but for any teams.
References: 
[1] http://www.blueprintofwe.com/
[2] https://www.forbes.com/2009/10/07/murderboarding-management-innovation-intelligent-technology-oreilly.html#5d7cdd7461a5
[3] https://www.valuescentre.com/our-products/cultural-transformation-tools

SweetRush
Our job is to help you achieve your objectives and be successful. Engage us at any point, from analysis to custom development (including e-learning, mobile, gamification, and ILT) to evaluation.