Reasons Why You Should Couple A Learning Management System With An Authoring Tool
At Coassemble, we ask customers what they're looking for when they sign up for our product, and why they want to switch from their current training platform in the first place. In recent times, we've had corporate clients come to us frustrated with the current state of affairs in eLearning. These are C-Suite executives and Learning and Development (L&D) leaders on enterprise plans, managers of mid-tier businesses looking to scale - even specialized organizations delivering compliance training. Their frustration stems back to the separation between the creation and delivery of eLearning.
The Current State Of eLearning
It appears our clients are not alone. A 2016 Learning Technology Study by Brandon Hall Group found that 66% of companies looking to switch LMS are doing so because they want 'better integration of systems'. 'Better integration of systems' can be seen not only as better integration with popular SaaS platforms, but with other eLearning systems too. The Learning Management System and the authoring tool are disconnected, and this disconnection can make eLearning expensive and cumbersome.
The Issues With Disconnected eLearning Platforms
For a start, companies must pay for 2 products. The average LMS costs anywhere from $25,000 to $190,000 a year, including licensing fees and support teams. This includes so-called 'free' LMS options such as Moodle, which can work out to be just as, or more expensive than, paid LMS options, if companies want to customize their experience and add workflows and branding. And that's just delivering content - the Chapman Alliance estimates that it costs $10,000 to outsource the creation of 1 hour of moderately interactive eLearning content to Instructional Designers.
But it's not just the cost of 2 platforms that makes the separation of LMS and authoring tool frustrating. It's also the cumbersome nature of the eLearning development process, which I'll call the SCORM workflow. In the traditional SCORM workflow, eLearning content is created in an authoring tool by an Instructional Designer, then exported to SCORM and uploaded to the client's LMS to be reviewed by management. Management reviews the content and requests changes, which results in the Instructional Designer going back to the authoring tool, making said changes, and repeating the exporting and uploading process. For every added review and revision, the process is repeated. Improvements in integration languages such as xAPI and LTI (Learning Tools Interoperability, a standard created by the IMS Global Learning Consortium that links content and resources to learning platforms) have improved the original SCORM workflow, however they are still highly complex to configure on most LMS's and the majority of businesses would have similar issues with their implementation. For large courses and highly interactive content, the SCORM workflow is par for the course; but for smaller chunks of content, it is time-consuming and inefficient.
The Shift To Bite-Sized Learning
In terms of the content being created for corporate training, managers are beginning to move away from the traditional online training model: Large, bespoke, highly interactive courses, the creation of which are outsourced to Instructional Designers. Instead, managers are shifting to microlearning. In a recent 2017-2021 trends report, Docebo declared "corporations can use microlearning for formal training as well as for learning on the job. Microlearning is ideal for distracted or busy corporate learners… it gives them the opportunity to build their knowledge base when it's most convenient for them".
Bite-sized content is also highly suited to the mobile revolution. Research by Fosway Group found that 89% of managers say they expect to increase their reliance on mobile learning, with Sierra Cedar predicting average workforce adoption of mobile training to double in the next 12 months. Smaller chunks of eLearning content adapt well to the small screen, especially since employees who are using their mobile to train are on the go, and thus have less time to do so.
Is Coupling The LMS And Authoring Tool The Answer?
It's clear that the SCORM workflow, with a feedback process best suited to larger blocks of content, is not the best method for creating bite-sized learning - so what is? Coupling the Learning Management System and the authoring tool may prove the answer.
At Coassemble, we've integrated a fully-fledged LMS with a cloud-based authoring tool, meaning that users can create eLearning content and deliver it from the same dashboard. The authoring tool component is designed to be simple enough to be used by individuals with basic design knowledge, negating the need for design experts, but powerful enough to create strong content. It makes sense for internal training managers to be creating smaller chunks of content - not just because of the exorbitant cost of Instructional Designers, but because these employees better know internal company information and would be acting as Subject Matter Experts for Instructional Designers anyway.
Coupling the authoring tool and the LMS could see companies shift from outsourcing eLearning content creation to having employees author bite-sized content, and disseminate it across the workforce. Rapid authoring and seamless integration with an LMS allows managers to fill training gaps when they arise and avoid the cumbersome SCORM workflow. If done right, coupling the LMS and the authoring tool may not only serve to accommodate future eLearning trends, but give rise to new ones, such as user-generated content.
There has been a rise in recent LMS offerings with built-in authoring tool capabilities. Canvas LMS is an example of this. However, to truly solve the issue of LMS and authoring tool disconnection, improvements need to be made. Currently, authoring tools that have been built into LMS offerings have a 'tacked on' feel, with noticeably less appealing content design and layout.
The shift to the cloud offers proof that the eLearning industry has revolutionized its platforms and processes before. Gartner estimates that $111 billion was spent shifting IT offerings to the cloud in 2016, with that figure projected to rise to $216 billion in 2020. Whether the coupling of the LMS and the authoring tool will happen is a whole different question - but it has potential to prepare the eLearning industry for the future.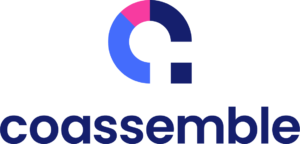 Coassemble
A new next-gen microlearning platform