How To Reduce The Complexity Of Custom eLearning Development
You are the head of Learning and Development at a large manufacturing company that employs over 3,000 people. The executive team is reporting that, with the latest hiring initiative 6 months ago, productivity has taken a dive. They are placing the blame on poor training. People don't seem to know how to do key parts of their job, and even when they have been trained, performance is often inconsistent, with multiple people doing the same task in different ways.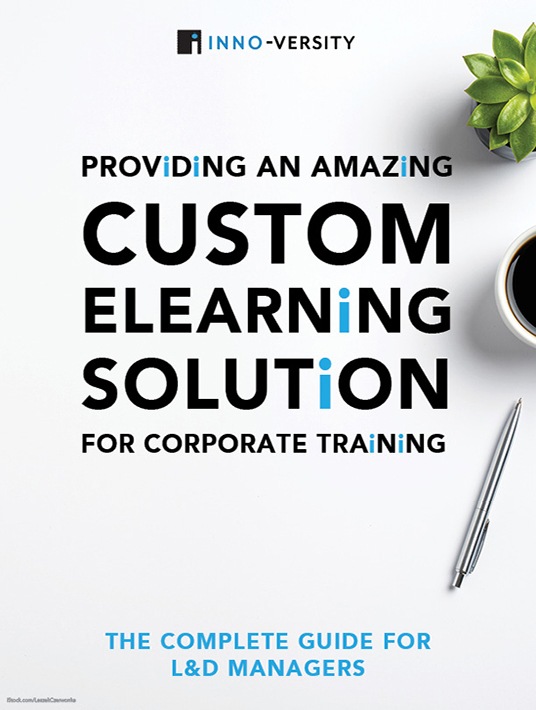 eBook Release
Providing An Amazing Custom eLearning Solution For Corporate Training
Inno-Versity offers a marvelous custom eLearning solution for corporate training and provides a complete guide for L&D professionals.
You have a small team, 4 people including yourself, who mostly help with the administration of your Learning Management System (LMS), run reports to ensure that everyone is compliant with regulatory requirements and conduct classroom training on basic onboarding topics, such as corporate compliance and workplace safety.
Your directive is to "revamp training" to an eLearning format so that it is relevant, consistent and cost-effective. The executive team is also asking you to develop new training for tasks on the line to ensure consistency, something that was previously done by each employee's supervisor.
You go back to your office after the meeting and immediately feel the weight of the project on your shoulders. Where do you even begin tackling such a project?
Take a deep breath.
And consider the following tips to help you reduce the complexity of the project:
1. Question, Question, Question
When beginning the process of developing a custom eLearning solution, you typically have some idea of what it will look like in the end, so it's easy to just dive in and get moving. But in doing this, you overlook a simple, yet crucial step; asking questions. Questions like:
What does the learner have to know, believe or actually do on the job?
What are the goals of the eLearning?
Who is the target audience?
Who are experts in the content?
What information can be presented in job aids or supplemental materials?
How will learners access eLearning?
How will success be measured?
In documenting the answers to these important questions for each eLearning solution, the roadmap for the project is laid out. Knowing the answers to these questions will help with virtually every decision you make, including how information is presented, the tone in which it is presented, the development tool that is used, and even the mode of delivery.
2. Partner With Experts
There are two partnerships that impact the success of any eLearning project and help to reduce complexity: your partnership with Subject Matter Experts, or SMEs, who have a thorough understanding of the topic at hand, and your partnership with Instructional Designers and the development team.
Carefully choosing the appropriate SME will ensure that all the information that is pertinent to the learning content is available. Think of the SME as a warehouse of useful inventory. The warehouse may include old PowerPoints, documents, job aids, work instructions, and articles, as well as a whole lot of personal experiences and on-the-job know-how. It even includes a gut instinct and natural ability to get the job done. While it may be tempting to seek out the supervisor of a specific department, consider using a "front line" staff member who may have more applicable hands-on experience.
Like many companies, you don't have the luxury of a large team of in-house designers and developers to create your eLearning solutions. That's where third-party learning companies come in. The choice of a company can make or break an eLearning project. Choose a learning company that is as invested in the success of the project as you are. How do you determine this? At initial meetings, pay attention to the types of questions the company asks. Are they trying to really understand your company and the content, or are they trying to pigeon-hole your training into existing solutions that may not fit your vision? Do Instructional Designers speak as knowledgeably about the content as your SMEs, or does it feel like they just don't get it? A third-party learning company does not just focus on design and development. They can alleviate the pressure that comes with complex projects by helping to outline a strategic plan, providing a Project Manager to tend to the tiniest of details, laying out a communication plan, and using their expertise in learning theory to design and develop impactful solutions.
3. Identify The BEST Development Tool And Format For Delivery
Not all eLearning solutions are created equal. The selected development tool and the way that the eLearning is delivered can mean the difference between learners walking away feeling confident in their abilities and those who are frustrated because the eLearning "didn't work" or they "couldn't access it". Many third-party learning companies are experienced in a number of development tools and can make recommendations on the best one to use, based on the vision for the course. In addition, a comprehensive assessment of an LMS, in use or under consideration, should be completed to ensure that it meets the needs of the company.
4. Identify A Way To Measure Success
You will not know how far you have come if you don't know where you started. One key question to consider is, how will success be measured? Are there existing tools in use? Or does a measurement tool need to be developed? You know that the dive in productivity precipitated this new project, so use productivity as one of your measurements for success. Measurements are already taken weekly, so consider comparing the numbers before and after the eLearning solution is rolled out. By doing this, you can get solid, quantitative data that demonstrate the level of effectiveness of your new eLearning solution. This way you can go back to that executive team and provide solid data on how your solution is impacting the company.
5.  Shout Your Success From The Rooftops
Once you achieve what you initially set out to do, share the good news! Report your success, not only at your meeting with executives but also on a shared company page or communication system, so that learners and supervisors can own a part of that success as well. With your executive team, identify the reasons why it was a success, so it can be replicated and held up as a best practice.
6. Tweak, Tweak, Tweak
It's a natural tendency to devote our greatest attention to the project at hand, so revisiting a project after it has already been implemented can get overlooked within the scope of the project. When evaluating a third-party learning company, pay attention to whether the project comes to an abrupt halt when it is rolled out or if there are plans to continuously assess applicability, learner satisfaction and effectiveness.
A good learning company will help you to revisit your eLearning solution after a specified period of time to ensure that it is meeting the objectives. This can be done through satisfaction surveys and analyzing measures of success. Tweaking content to address any identified issues ensures that the content stays relevant and that learners' feedback is taken into account.
So relax. Yes, you have a big job ahead, but if you keep in mind these tips, you'll have a solid approach to planning and a map to ensure success.
Are you an L&D professional looking forward to adopting great corporate training practices which employees will find more than useful? Download our eBook Providing An Amazing Custom eLearning Solution For Corporate Training to discover when companies should invest in custom eLearning, the factors to determine the appropriate level of interactivity needed, the stages of the custom eLearning development process, and much more...
There are many ways to dive deep into custom eLearning development processes. But how do you reduce the complexity of custom eLearning development? Learn more about it by checking the webinar Developing Custom eLearning For Corporate Training. This webinar will be led by experts who have led some of the largest eLearning projects in the world.