Which Parts Of Custom eLearning Development Can Be Outsourced?
As a training manager, you must have grappled with this question often: Should I create eLearning courses or outsource custom eLearning development? If so, you must also be thinking about all the roadblocks you would have to manage if you go either way. For instance, the time and resources required for in-house development versus working with an external team. However, the good news is, you can outsource just parts of eLearning development or the whole process. For instance, you might do the storyboarding in-house and outsource development or eLearning translation services. Let's look at the 6 aspects of custom eLearning development you can outsource.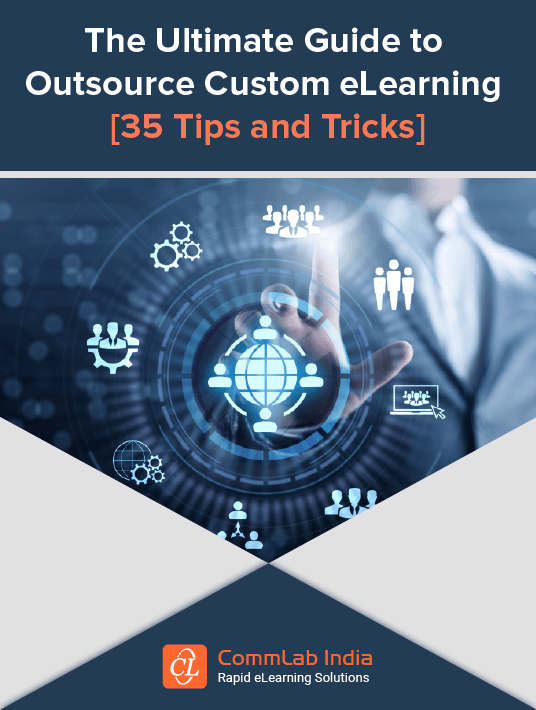 eBook Release
The Ultimate Guide To Outsource Custom eLearning
Read up on practical ideas on designing learner-centric courses within set parameters, without compromising quality.
1. Training Framework Consultation In Custom eLearning Development
The results of Training Needs Analysis must have helped in identifying knowledge gaps, prioritizing training needs, deciding who should attend training sessions and so forth. However, is your in-house team finding it hard to decide which training format will work best and when? If your answer is yes, outsourcing this part will be the best decision.
Let's consider this example.
The TNA reveals your employees are often on-the-go and hard-pressed for time. In such situations, lengthy eLearning courses will certainly be time-consuming and put off your learners.
Here, you can outsource the task of deciding the ideal format for your training requirements. An experienced eLearning vendor will suggest microlearning in this instance. It offers learning in short bursts, enough for learners to achieve one actionable objective faster. Microlearning is a perfect match for your employees who can access it on their mobile devices.
 2. Instructional Design
Let's say your in-house team has strong knowledge of the subject matter but does not possess learning design capabilities. In such scenarios, it's always better to outsource this part of custom eLearning course development to an expert.
While SMEs have domain knowledge, Instructional Designers have a strong hold on ID and adult learning principles. The external team will provide expert insights on:
Framing relevant performance-based learning objectives
Selecting the right instructional design strategies
Creating assessments
Similarly, good Instructional Design skill is also important to create question pools. For instance, a question bank with questions of various difficulty levels. Or scenario-based questions that can be pushed to learners periodically to test their retention and application. These question pools also help test learners without having to repeat questions.
3. Multimedia Components' Development
If your in-house team holds strong Instructional Design capabilities but needs help developing multimedia components, you should outsource this task to a specialist. For instance, it can be developing complex animations, interactivities, graphics, or videos, which require customization or programming.
eLearning vendors with expertise in leveraging authoring tools will help you do all this—quickly. This also saves you from the cost of purchasing video editors, authoring tools or software, and managing resources in-house. After all, you don't want to end up with an impeccable Instructional Design strategy, but loosely created media elements that fail to strike a chord with learners.
4. Custom eLearning Course Development
You can choose to outsource manual, technical work if your in-house team has strong design knowledge in place but lacks expertise in authoring tools. Your team can prepare the storyboards and pass them over to the vendor's expert development team for turning them into fully functional eLearning courses.
Moreover, it enables scaling up when required. The onus of developing eLearning rapidly, without compromising on the quality, shifts to the vendor you choose to partner with. However, to ensure custom eLearning development stays on track, ensure you pass on:
Development: ready storyboards with the onscreen text and clear notes to developers
Access to image libraries if your courses need proprietary images
Templates, if you have any
Your style guide
5. eLearning Translation And Localization
If you are a global organization with a geographically diverse workforce, translating and localizing eLearning courses becomes imperative to create maximum impact. Just to recap, translation converts text from the source to the target language, whereas localization ensures the content suits the sensibilities of the target locale. If you don't have an in-house translation team, you can always choose to outsource. This ensures your eLearning courses are handled by competent, experienced native translators—who are also domain experts. A competent vendor will:
Follow streamlined processes
Have translators and narrators with expertise in various languages and domains—this saves you the hassle of working with multiple vendors
Ensure the accuracy of translated courses is not compromised
6. Digital Learning Assets For Performance Support
No matter how experienced your employees are, they would need refreshers at their various moment of need. So, if your team can't get their head around how to make effective and engaging performance support assets, outsource.  An eLearning vendor will use various digital assets rather than conventional quick-reference guides and manuals. For instance, they will leverage microlearning assets such as how-to-videos, infographics, podcasts, interactive PDFs, and eBooks. It's all about making them light, easily accessible, and searchable to aid immediate performance. Apart from these 6 parts, you can even outsource LMS support services. This saves your time and efforts in implementing, managing and maintaining these systems.
Download the eBook The Ultimate Guide To Outsource Custom eLearning to observe which parts of Custom eLearning Development you can outsource! We hope this article has revealed a new perspective when you think of outsourcing custom eLearning development. For more insights on outsourcing custom eLearning, join this webinar by CommLab India, which will help make it a pleasurable journey.
CommLab India Rapid eLearning Solutions
Working with multiple outsourcing vendors can be stressful, and a waste of time & money. With CommLab India Rapid eLearning Solutions, all your online training needs are taken care of, rapidly and economically.