Where To Start If You Are Considering To Outsource Custom eLearning
Even if you have been outsourcing custom eLearning for a while now, you will benefit from the tips and workarounds shared in this eBook. You can use them to nurture a long-term relationship with your vendor while at the same time leveraging each other's strengths. CommLab has over 2 decades of experience in working on custom eLearning projects for more than 100 customers across 30 countries. It's safe to say that this is a solid source of information.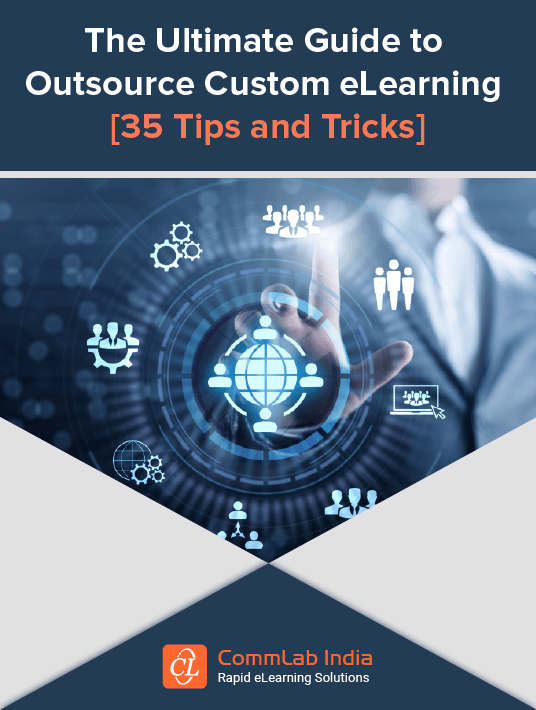 eBook Release
The Ultimate Guide To Outsource Custom eLearning
Read up on practical ideas on designing learner-centric courses within set parameters, without compromising quality.
About The eBook
The Ultimate Guide To Outsource Custom eLearning delves into various methodologies you can use when you are looking to outsource custom eLearning.
The following chapters are covered:
3 Reasons To Outsource Custom eLearning Development
6 Parts Of Custom eLearning Development You Can Outsource
4 Ways Setting The Right Learning Objectives Saves Time And Cost
3 Things To Expect When Outsourcing Custom eLearning Development
4 Essential Steps Before Outsourcing Custom eLearning
6 Key Factors For Outsourcing On A Budget
4 Practical Tips To Maximize ROI
5-Point Checklist To Find The Right Outsourcing Partner
The process of custom eLearning development requires a variety of different professions with different skillsets to work together. Professions, such as Instructional Designers, authoring tool experts, Subject Matter Experts, as well as a lot of careful planning and project management are needed to facilitate the development of learner-centric courses. Let's say you already have an in-house team in your organization for eLearning development, why do you need to talk about outsourcing? This is something the eBook delves into. When you outsource eLearning development, it is guaranteed that you will cut down costs without compromising on quality, provided you choose a good outsourcing partner. Your vendor will be able to suggest the best solution for your training needs. Most eLearning courses today have a short shelf-life due to the changes in your industry/domain. Outsourcing makes sense when you need to roll out new courses in a moment-of-need manner.
Further Along In The eBook
What you learn throughout the eBook is that if you are wondering to yourself about whether or not you should develop courses in-house or outsource eLearning development, you must be also thinking of all the roadblocks you would have to manage either way. For instance, the time and resources required for in-house development versus working with an external team. One of the discoveries I made while reading about outsourcing custom eLearning was that you can outsource just parts of eLearning development or the whole process. You might do the storyboarding in-house and outsource development. Let's say your in-house team has strong knowledge of the subject matter but does not possess learning design capabilities. In such scenarios, it's always better to outsource Instructional Design to an expert. If your in-house team has strong Instructional Design capabilities but needs help developing multimedia components, you should outsource this task to a specialist.
You can also choose to outsource manual, technical work if your in-house team has strong design capability, but lacks expertise in authoring tools. If you are a global organization with a geographically diverse workforce, translating and localizing eLearning courses becomes necessary to create maximum impact. No matter how experienced your employees are, they will need refreshers during their moment of need. That is why it is important to outsource custom eLearning.
Learning Objectives Whilst Communicating With Your eLearning Vendor
Learning objectives refer to the specific knowledge, skills, or attitudes learners will gain and display as a result of going through the training program. What inputs should you be providing your eLearning vendor with so that they can write the right learning objectives for custom eLearning? In the eBook, you will find some questions you can expect from your eLearning vendor. A good learning objective has the following 3 critical components.
Performance
Condition
Criteria
L&D departments are increasingly being tasked with creating efficient training courses within stringent budgets. Outsourcing eLearning development can help cut the overall training development costs, along with boosting employee performance and giving a competitive edge.
After this initial valuable content, the eBook proceeds to speak about the steps you must take before outsourcing in order to ensure a smooth process. It also explains how to proceed if you are working within a tight budget. So, if you are looking to outsource on a tight budget, this eBook is a great source of information. CommLab also helps you discover how to maximize the ROI of dollars spent. Finally, they offer a 5-point checklist to find the right outsourcing partner.
Is eLearning design and development their core strength?
What is their expertise in Instructional Design?
What is their proficiency in using authoring tools?
Is their Project Management process efficient?
Does the vendor provide additional services (translation and LMS)?
What Does It All Mean—Making Long-Lasting And Significant Choices
The tips and tricks discussed in this eBook give you a very clear idea of how to ensure that custom eLearning design and development outsourcing becomes a win-win for both you and your vendor. Do your homework and pick the right vendor who will be able to deliver high-quality, learner-centric courses that adhere to your timelines and budget, without getting bogged down with cultural and linguistic differences. Download the eBook The Ultimate Guide To Outsource Custom eLearning to see how effective custom eLearning can be for your company. Learn all the ins and outs before you consider to outsource custom eLearning development.