How To Maximize ROI While Using These 4 Tips
As a training manager, you are always tasked with nurturing talent to meet your organization's goals. Now, it's an open secret that you have to do so with shrinking training budgets and fewer resources, and that's not likely to change anytime soon. Every dollar must be justified, more so if you are outsourcing custom eLearning development. Proving the returns over cost is the essence of Return-On-Investment (ROI). And considering it's not so easy to get stakeholders' buy-in, proving that the outsourcing venture will maximize returns is even more important for you. If you are brainstorming for some practical tips on how to do so, you can't miss reading this blog. In a nutshell, you can outsource just parts where you lack in-house capabilities, use SME time economically, select a good vendor, and implement certain cost control measures. Let's review 4 practical tips that can help you maximize ROI from outsourcing custom eLearning development.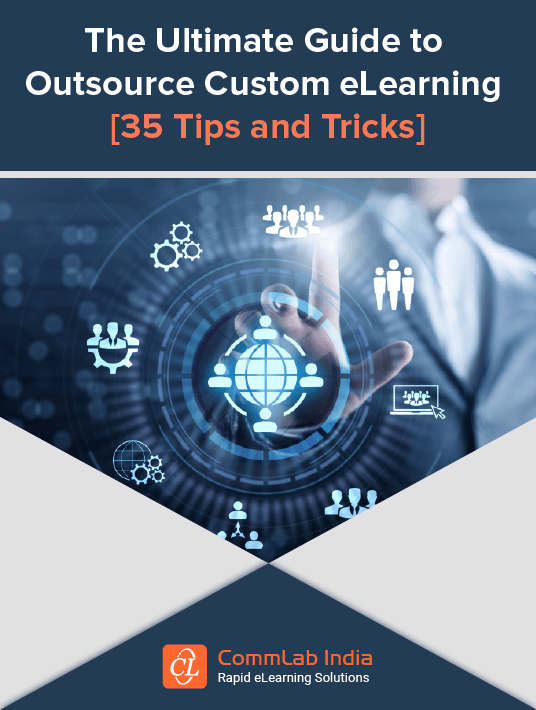 eBook Release
The Ultimate Guide To Outsource Custom eLearning
Learn how to implement practical ideas on designing learner-centric courses within set parameters, without compromising quality.
Maximizing ROI From Outsourcing Custom eLearning Development From Four Corners
1. Outsource Parts Of Development Where The In-House Team Lacks Expertise
You can always outsource only those aspects where your in-house team lacks the skills. Explore 6 likely areas in this blog. When experts handle the development, the process becomes faster and better. This is because they are better equipped to deliver quickly while ensuring quality output. Let's consider 2 instances where outsourcing can help you make the most of your precious training dollars.
If your in-house team is skilled in Instructional Design, do the designing yourself and outsource just the development. This helps you save on the cost of authoring tools and software. Moreover, the development process speeds up since your internal team isn't large enough to absorb the overload of work.
If your organization is new to eLearning, it's a smart move to outsource both design and development. You will have access to a pool of experts—instructional designers, authoring tool experts—who can produce effective courses from the available training material you have. Your in-house team can continue focusing on their strategic functions and enhance business performance.
2. Make The Most Of Your Subject Matter Experts' Time
SMEs are high-value professionals, with access to proprietary information, and their primary job is not training. They are usually on the go, traveling to client locations and resolving million-dollar issues. Reviewing eLearning courses certainly isn't really their priority. However, considering their domain knowledge, their role is undeniable in creating learner-centric courses that have a direct impact on learners' jobs, maximizing training ROI.
Here are 3 simple tips to get the maximum output without taking too much of your SMEs' time.
Get SMEs to share their inputs through a simple PPT deck or a quick recording on his/her phone, for the eLearning vendor to begin with. These can be converted into instructionally-sound micro nuggets.
Ensure SMEs are informed well in advance of the scheduled timelines for clarifications or reviews and agree to them.
Try using collaborative eLearning authoring tools, such as Lectora Online, to ensure SMEs have it easy when reviewing courses.
3. Analyze The Strengths Of The eLearning Vendor Before Outsourcing
The next step is to look for a vendor whose strengths are your in-house team's weakness. Partner with someone who understands your organization's needs and follows well-defined processes that focus on maintaining quality and constant communication. This helps in negating errors and reducing cost on reworks in custom eLearning development. Here are some tips to ensure maximum results on your relationship with the vendor.
Don't miss getting a prototype developed. An eLearning prototype will help you analyze the capabilities of the vendor while determining the ambiguities at an initial stage
Ensure they have enough resources for scaling up. Faster turnaround enables faster implementation which results in courses being delivered quickly, leading to improvements in employee performance.
Ensure that the vendor has a set process to manage time zone differences. For instance, the time zone difference between India and California, USA is 12 hours. So, if you review an eLearning course during your daytime, the vendor will implement the feedback during your night. Hence, you get more work done per day.
Look for a vendor who uses online collaboration tools for faster review and feedback. Reviewers can access courses via a link, put in-context feedback, resolve conflicting feedback (in case there are multiple reviewers), and send it to the vendor for implementation—everything in one place!
4. Implement Cost Control Measures
You can reduce cost and time at various stages while outsourcing custom eLearning development and this is something top management will look forward to in your business case. Here are some insider tips:
Provide available resources or inputs to the vendor to reduce efforts on recreation.
Ask them to make the maximum use of in-built templates and interactivities offered by eLearning authoring tools.
Use audio judiciously. Include narration only when it needs to add to the on-screen content. Use machine voice to reduce cost further.
While translating, use memory tools to save time and cost on translating similar content.
So, there you have it—4 simple tips to get the maximum Return-On-Investment from your custom eLearning development initiative. For more insights on outsourcing custom eLearning development, download the eBook The Ultimate Guide To Outsource Custom eLearning today!
CommLab India Rapid eLearning Solutions
Working with multiple outsourcing vendors can be stressful, and a waste of time & money. With CommLab India Rapid eLearning Solutions, all your online training needs are taken care of, rapidly and economically.