Custom eLearning Solution: What To Consider When Choosing An eLearning Company
When developing a custom eLearning solution, it's likely that you will leverage the expertise of an eLearning company to handle much of the development. Many people approach this partnership with trepidation. What happens if it doesn't work out? Will they really understand what we are going for? How can they understand our culture if they don't work here?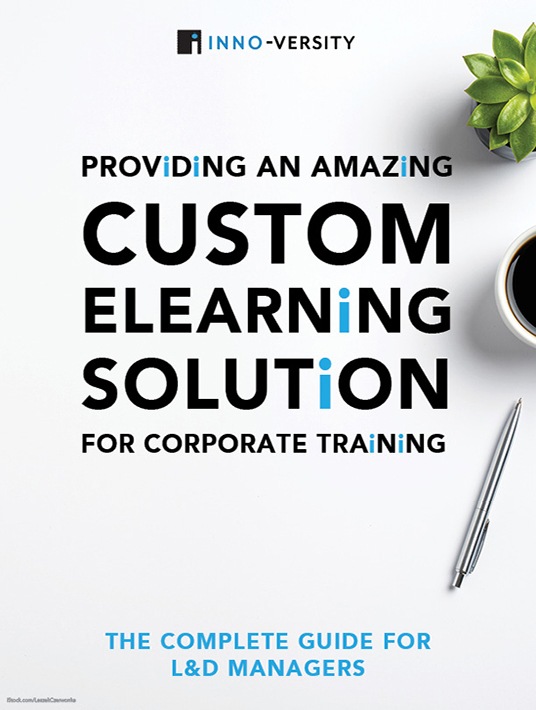 eBook Release
Providing An Amazing Custom eLearning Solution For Corporate Training
Inno-Versity offers a marvelous custom eLearning solution for corporate training and provides a complete guide for L&D professionals.
These are valid concerns. After all, when these concerns play out, it can lead to wasted money and time, irrelevant and inaccurate content and a learning experience that doesn't fit your company's culture.
But what does it look like when you choose the right eLearning company? It's easy to be drawn to companies who create courses with beautiful animations or products that seem to be on the cutting edge. But there's more to it. A portfolio of eye-catching and interactive eLearning courses is just one factor that you should consider when choosing the right eLearning company. Here are a few others:
Strategic Planning
The right eLearning company is not only concerned with your content and the creation of learning solutions but also your strategic plan. They will help you answer questions like: what does the culture of learning look like at your company?; does leadership place a high value on the continuous development of employees?; or is learning purely reactive, implemented because of a compliance requirement or crisis? The right eLearning company will immerse themselves in your culture to gain a thorough understanding of what drives your employees to learn and how they learn best. Most eLearning companies are passionate about learning and will help you funnel that same passion into your company's culture by doing the following:
Helping you integrate learning into employee development plans.
Providing opportunities to help employees become better at their jobs or more innovative in their fields helps them to take ownership of their Learning and Development at your company.
Conveying the value of learning at your company and creating excitement for the learning opportunities that are provided.
This could involve internal marketing campaigns that communicate your investment in employees' continuous development.
Tending to the tiniest of details when creating learning opportunities.
Ensuring that classrooms are set up appropriately or directions on how to access the LMS are provided so that employees know what to do, may seem like small tasks, but they have a huge impact on an employee's learning experience.
Recognize employees for newly acquired skills or completed competencies. This helps employees to see how their accomplishments feed into the success of the company as a whole and reinforce the importance of continuous learning at your company.
Seeking regular feedback on instructional materials and helping you develop a formalized revision process.
Great learning can become stale quickly, but with good feedback and some simple changes, it can stay relevant for a long time.
Communication
An eLearning company can help you translate your vision for a culture of learning into an effective internal marketing campaign where employees feel valued and have ownership in their learning.
People who work in a culture of learning understand that their company is invested in them. Communication about learning opportunities should reflect this investment. This may include helping you design fun challenges, where employees compete to win a prize or leveraging your LMS to create a healthy competition between departments to achieve a learning-related goal.
Project Mangement
Good Project Management is something you don't notice when it happens. It just means that everything went as it was supposed to go. Unfortunately, when there is poor Project Management, everyone sees it immediately. Team projects can get bogged down if proper planning is not put into place. The right eLearning company will help you create a solid project timeline, to which both parties agree, that guides the design and development process. Good Project Management is team based. You'll know that you are working with the right eLearning company when their team feels like an extension of your own. Weekly check-in meetings, multiple opportunities for content review, and sign-offs at various stages of the design and development process ensure that projects come in on time and within budget.
Design
Great content presented poorly will have minimal impact on performance. Custom eLearning courses should be memorable, engaging and practical, presented in a way that is immediately useful. And this only happens with good design.
Design affects our ability to learn and apply what is presented. We all know that a good story will grab our attention and stay with us, whereas a list of facts is immediately forgotten. A good eLearning company uses a wide array of methods to ensure that your learning solutions not only cover the content required but presents it in a way that facilitates genuine comprehension and allows the learner to practice new skills in "real-life" situations. Design elements may include custom-made graphics, eye-catching animations, and engaging interactions.
Learning
Learning begins with a deficit. Someone needs to know, do or believe something. In order to create good material, the right eLearning company will look closely at each of these elements: who are the learners?; what are their needs?; how do we best fill that gap?; and to what level do we want to see change?
In ideal situations, learning is proactive, looking to prevent a problem before it becomes embedded or teach skills that will be necessary for the future, but with many organizations, learning is reactive to a newly identified problem or compliance requirement. Regardless of your situation, an eLearning company should be excited to come alongside you, recognizing that the best instruction is custom-made for learners and their environment.
By keeping these factors in mind, you can ensure that you forge a partnership with an eLearning company that will help you make your vision of Learning and Development a reality.
Are you an L&D professional looking forward to adopting great corporate training practices which employees will find more than useful? Download our eBook Providing An Amazing Custom eLearning Solution For Corporate Training to discover when companies should invest in custom eLearning, the factors to determine the appropriate level of interactivity needed, the stages of the custom eLearning development process, and much more...
If you need to learn more about making the right choice when it comes to choosing an eLearning Company, you should take a look at the following webinar Developing Custom eLearning For Corporate Training. This webinar will be led by experts who have managed some of the most significant eLearning projects in the world.

MindSpring
MindSpring is an award-winning agency focused on delivering engaging and transformative digital content. We create digital experiences using exceptional creativity, the best of learning science, and innovative technology. (Previously Inno-Versity)